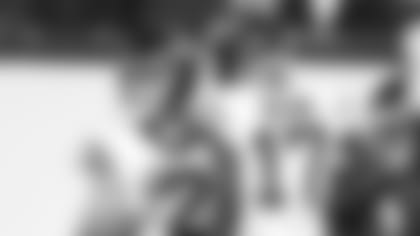 Throughout the offseason, NewYorkJets.com reporters Eric Allen, Ethan Greenberg, Randy Lange, Caroline Hendershot and John Pullano will give their responses to a series of questions regarding this year's Jets.
Today's question: Which Wilson will star on Sunday in Jets-Broncos?
EA: Ah, the Wilson dilemma. Zach Wilson is arguably coming off his best game as a pro, the trimmed-down Russell Wilson is 3-0 vs. the Jets and has posted a higher career passer rating against the Green & White than any QB, and Garrett Wilson was targeted 14 times against the Chiefs and went 9-60.
I'm taking G. Wilson. Breece Hall should have a productive/big day in his return to Denver and that should open some things up down the field. I liked the Jets' aggressive approach on first down last week and OC Nathaniel Hackett is growing more comfortable with his young QB.
R. Wilson has quietly had a solid season, but I just watched this defense neutralize Josh Allen and Patrick Mahomes.
Garrett Wilson will reach 100 yards for the first time in 2023 as the Jets offense features balance and rhythm at Mile High.
EG: This is hard to forecast between Zach, Garrett and Russell Wilson. Statistically, you would lean with either Z.Wilson or G.Wilson because the Broncos rank last in the NFL in total defense and No. 31 against the pass. Denver's defense, however, has one of the NFL's best cornerbacks in Patrick Surtain II, who was a first-team All-Pro last season and could line up against G.Wilson. So I'd say one of the quarterbacks – Zach or Russell Wilson. Z.Wilson is coming off his best game of the season against the Chiefs defense that was top-6 entering Week 4 and will now face a Broncos defense that Robert Saleh is on the cusp of finding its stride. R.Wilson has been quietly have a very good year. He's third in the NFL in passer rating and is the only QB with at least 9 passing TDs and fewer than 2 INT. But the Jets defense is one of the best in the league, so it's hard for me to say that he will star Sunday when the two-time NFL MVP Patrick Mahomes and Josh Allen did not perform well against the Jets.
RL: My first impression is to say both the wideout and the quarterback will rise up in the rarefied air of Denver, since if the pitching's great, the catching will be great, too, and vice versa. But forced to pick one, I'll say it's Garrett Wilson's time to elevate. Last year, as the emerging NFL Offensive Rookie of the Year, G.Wilson had 83 catches for 1,103 yards and 4 TDs. This season, Garrett is actually getting slightly more targets and catches, but his yardage is down almost 3 yards/game (13.3 yards/catch to 10.7). But he built to a season-high 14 targets and tied his career high with 9 receptions vs. KC. That plus those TD catches from Zach in the first two games suggest an eruption could be near. Something else suggests that, too: The Broncos' pass defense is 30th in yards allowed/game and 32nd in yards allowed/pass play, first downs allowed, and opponents' passer rating — an eye-popping 133.4. Unless the Jets running game hogs the stat sheet or the Broncs rise up to resemble last season's 12th-ranked pass defense, I'm rolling with G.Wilson for my offensive star of the game.
CH: I think Garrett Wilson will shine on Sunday. While Zach Wilson is coming off his best game of the season against the Kansas City Chiefs, completing 71.8% of his passes, throwing for a season-high 245 yards, 2 touchdowns, and converting a 2-point attempt, I think G.Wilson will thrive against the Broncos defense. If Z.Wilson can continue to move the ball around like he did against the reigning Super Bowl Champions, I think he will find G.Wilson frequently downfield on Sunday. The Jets WR is going up against a Broncos passing defense that ranks 31st in the league and 32nd overall. Last week G.Wilson became the fastest player in franchise history to 100 receptions, doing so in only 21 games. On the flipside, the Broncos have allowed 10 players to catch a touchdown pass this season. On top of all of that, G.Wilson scored a touchdown in each of the first two games of the season and has yet to score the last two, so I think he's due for a score or two this weekend.
JP: Despite 1-3 start, Broncos quarterback Russell Wilson has gotten off of to a fast start. Wilson has thrown for 9 touchdowns – third most in the NFL – and two interceptions to lead the league's No. 10 scoring offense – 25 points per game. Last season it took Wilson 14 weeks – 12 games – to reach nine passing scores. However, the right answer here is the Jets starting quarterback Zach Wilson. Wilson put together his best start of the season against the Kansas City Chiefs last week with two touchdowns and no interceptions. And in the days leading up to a Week 5 matchup with a struggling Broncos secondary, Z.Wilson has displayed no complacency and is focused on growing and getting his team a victory. The Broncos defense has allowed a league worst 150 points and 13 passing touchdowns this season. Before coming back from down 28-7 to beat the Bears in Week 4, the Broncos had given up points 19 times – 18 touchdowns and a field goal – over a 25-possession span. The Jets' Wilson under center is poised for a another standout performance.