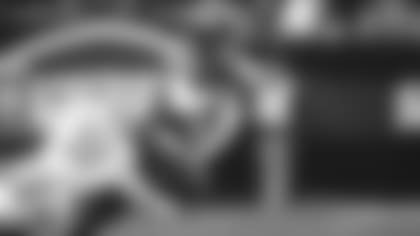 Throughout the offseason, NewYorkJets.com reporters Eric Allen, Ethan Greenberg, Randy Lange, Caroline Hendershot and John Pullano will each give their predictions to a series of questions regarding this year's Jets.
Today's question: Which rookie in Jets-Seahawks has the most difficult matchup Sunday?
EA: I'd love to watch the Jets' two outside corners — Pro Bowler Sauce Gardner and former Seahawks standout D.J. Reed — lock horns with D.K. Metcalf and Tyler Lockett (questionable, fractured hand). The Jets have the league's top outside duo, and I wonder if they would consider traveling Sauce with Metcalf and Reed with Lockett considering body types. If Abraham Lucas (knee) is healthy enough to play, the 'Hawks rookie tackles -- Lucas and LT Charles Cross -- should have their hands full with John Franklin-Myers and Carl Lawson. The possibility of a few snaps of Seahawks CB Tariq Woolen vs. Garrett Wilson is enticing, and a sneaky good matchup will be slot Elijah Moore vs. 'Hawks nickel Coby Bryant. I think Wilson and Moore will post impressive numbers Sunday, but the toughest task will be for the Seattle Ts vs. the Jets DEs. Geno Smith has been sacked 39 times and he will face intense pressure up the middle from Quinnen Williams. If Seattle can't hold up on the outside, Smith could have a long afternoon.
EG: Seahawks fourth-round CB Coby Bryant has the most difficult matchup Sunday, guarding the Jets' slot receivers whether it be Elijah Moore, Garrett Wilson, Corey Davis or Braxton Berrios. Wilson is averaging 111.7 yards per game with Mike White under center and has 2 touchdowns in those three games. The Ohio State product has taken 276 snaps in the slot, one less than Moore (277). Moore (5-10, 178) and Wilson (6-0, 192) lead the team in snaps from the slot. Wilson, the No. 10 overall pick, leads all NFL wideouts with +135 receiving yards over expected on intermediate passes this season, 102 of which came with White as the starter. Moore's two most productive games this season came with White as the signal-caller. Bryant (6-1, 198), who was teammates at Cincinnati with Sauce Gardner, has been good this season, totaling 60 tackles, 4 pass defenses, 4 forced fumbles and 1 sack in 15 games (5 starts).
RL: EA covered many of the main matchups in his response. I could go with any of them, but I'll throw a changeup and pick rookie free agent Zonovan "Bam" Knight and second-rounder Kenneth Walker III as my rookies with not the most difficult matchups but the most difficult tasks. Bam, as the Jets' featured runner down the stretch, had a powerful first three games, not so much the last three. He and the Jets O-line and ground attack have to show they're much better than Knight's minus-2 yards and the Jets' 66 rush yards against the Jaguars. The matchup's favorable since Seattle's run defense over the past five weeks is 32nd in yards/game and 29th in yards/carry. Walker has been strong with 4.6 yards/carry and an NFL-rookies-leading 9 rush TDs. But the Jets' 11th-ranked run defense, not as crisp lately as it had been, has been put on notice, and Walker has been playing through ankle and back issues in recent weeks. The goal for each offense is balance. The back that gives his offense the better balance could also provide a crucial key to victory.
CH: The rookie with the most difficult matchup on Sunday will be Tariq Woolen if he ends up covering Garrett Wilson. Woolen leads the NFL with 6 interceptions and is tied for fourth with 14 PDs. Woolen also has speed; he ran 22.93 mph against the Saints in October which was the fastest recorded speed in the NFL since 2020. With that being said, if Woolen goes against Wilson, I think he will have a difficult time containing him. Wilson is the Jets leader in receptions with 71 and in yards with 996. Wilson is also only one of two rookies in the league to register 100+ receiving yards in three separate games this season. So while Woolen is explosive and the ability to take the ball away, I don't think he will have the opportunity to use those skills with Wilson because of the receiver's ability to get the ball and take off with it.
JP: Despite faring well in matchups with some of the league's best receivers this season, CB Sauce Gardner has the toughest matchup Sunday with Seattle's D.K. Metcalf. In Gardner's first season, he has played across from multiple All-Pro wideouts in Miami's Tyreek Hill, Cincinnati's Ja'Marr Chase and Buffalo's Stefon Diggs, and the Jets secondary has combined to surrender 21 receptions, 206 yards and 1 touchdown to that threesome in 4 games this season. Sunday, against Metcalf, will be another stout challenge, and a unique one at that. Metcalf is 6-4, 235 pounds and ran a 4.33 in the 40-yard dash at the 2020 NFL Draft Combine – the fastest ever recorded for a player 225 pounds or heavier. "He's a great physical receiver," Gardner said of the Ole Miss product. Metcalf has 86 receptions for 1,005 yards and 6 touchdowns this season. At 6-3, 200 pounds with an 80-inch wingspan, Gardner will try to match Metcalf's impressive physical attributes with his own.