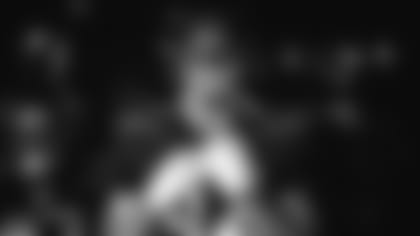 While no one wishes injuries on teammates in the NFL, they can sometimes provide a silver lining for backups. Such is the case for Jets TE Ryan Griffin, who joined the team in July, and has started every game with TE Chris Herndon enduring a lost second season due to a four-game suspension in addition to hamstring and rib injuries.
"That's why I'm here," Griffin said. "We didn't know what the future was going to hold with Chris. I had a chance to come out and play the first four games and it's extended. It's just what it is, it's the nature of the business. Obviously we want Chris to be back healthy, but I had to step in and play some tight end for this Jets team, and I'm really looking forward to doing it for a while."
The seventh year-pro spent his first six seasons with the Texans, the club that selected him in the sixth round of the 2013 Draft, but was released in May. When he signed with the Jets, he knew he was going to start the first four games of the season because Herndon was set to serve a suspension. Since walking in the doors at the Atlantic Health Jets Training Center, Griffin has been a reliable performer in all facets, which earned him praise from both head coach Adam Gase and offensive coordinator Dowell Loggains.
"We're lucky we have him," Gase said. "He has been probably our most consistent guy throughout the entire year. His play is not peaks and valleys, he just consistently gets better, he makes plays. When his numbers called, he makes the play." 
"He's a pro. That's what Ryan is," Loggains said. "He's a smart football player. There are things that happen in the game that we don't talk about in here and you guys don't see, but he's a guy that does a lot of line of scrimmage. He's just a smart savvy player and helps the young guys. … He sees the big picture."
After a rather quiet first seven games — 9 receptions, 46 yards, 1 TD — Griffin has come on of late and recorded 10 catches for 116 yards and two scores in Weeks 8-9, and it would've been three touchdowns if not for an overturned call against the Dolphins. The 6'6", 255-pounder, who has been one of the offense's top blockers, has earned the trust of second-year QB Sam Darnold.
"It's spoken," Griffin said of the developing chemistry. "We talk about it a lot, that's why we're out here practicing. Sam is a great talent and I try to get open and catch a ball for him.
"There's a lot of talent spread out throughout the field. The tight end room, we don't see the ball all that much. So when we do, we have to take advantage of it."
For his career, the UConn product has totaled 1,651 yards and 10 touchdowns on 156 catches. Griffin's team-leading three touchdowns this season is already a career high and his 20 receptions are just four shy of his total last season.
After the Jets started the season's second half with a win over the Giants, Griffin hopes they can keep things moving in the right direction in Washington against the 1-8 Redskins.
"We had a tough couple of games. It's always big to come out at home against a crosstown rival and get a win," Griffin said. "That was huge for us and there were some questions out there about where we're going this season. But I think if we get this win, stack it, get this next one and who knows what could happen the rest of the year."
See Top Photos from the Practice Field Leading Up to the Matchup Against the Redskins