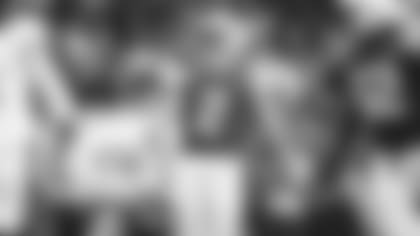 The Jets concluded their preseason with a 9-3 victory over the Eagles at Lincoln Financial Field. For many reserves hoping to earn depth positions, it was a final opportunity to state their case in order to earn a spot on the Green & White's roster. In less than 48 hours, all 32 NFL clubs must trim their roster from 90 players to 53.
"It's a tough time of year," head coach Todd Bowles said. "We have to make those types of decisions, so we'll watch the tape. It's the best 53 and the right 53. We're going to have to let go of some good football players, so we'll see.
"It's the best for the starters and some key backups and then it's the right 53 in terms of value for the team. Every position is going against each other for those last three or four spots. It'll be hard to say positions, but all of them had their opportunity to go against each other for the last three or four spots because they have to be value picks."
Myers Makes a Move
Perhaps no Jet had a better night than Jason Myers. He connected on a 58-yard field goal in the opening quarter and he tacked on a 43-yard field goal in the third stanza. Myers, in a battle with Taylor Bertolet, made a strong case to claim the kicking job.
"As a kicker, it's kind of similar no matter where you're at," Myers said. "You've got to get in rhythm with the snap and the hold, but I've been saying it all week, Thomas [Hennessy] and Lach [Edwards] are really good at that and it was real easy for me to kind of jump right in with those guys. I've been hitting the ball well all offseason, in Seattle and here, so I'm just kind of going day by day."
Rookie Trenton Cannon, who mishandled a couple punts in the preseason opener against the Falcons, returned a punt for 31 yards with 5:19 left in the first half.
Secondary Stars
The Jets had three takeaways on the night, victimizing former Green & White signal caller Christian Hackenberg. Cornerback Juston Burris and safety J.J. Wilcox both had interceptions and Wilcox had a the lead hand in the visitors' final takeaway. In the third quarter, Wilcox knocked the ball out of Hackenberg's hands and defensive lineman Xavier Cooper came up with the rock at the bottom of the pile.
Sixth-round pick Parry Nickerson was one of the defensive starters. The Tulane product sacked Eagles quarterback Joe Callahan in the final frame as he came off the blitz and showed off his speed. In the first quarter, Callahan took a deep shot with no safety over the top and Jets second-year corner Derrick Jones made a strong play to break up the pass. Then "Bones" added to his résumé with an interception of Callahan in the final quarter.
"It's a good feeling to go out and get as many reps as you can, get a feeling for the game," Jones said. "That's definitely a plus for me. I felt comfortable."
Copeland Returns to Philly
Brandon Copeland, a University of Pennsylvania product making a homecoming of sorts, had a solid night while racking up five tackles, one sack and a quarterback hit. The former Lion would like nothing better than to open up the 2018 regular season against the Lions in the Motor City.
"It was awesome," Copeland said of being back in Philadelphia. "I had a lot of former teammates, Penn football guys, coaches in the stands as well as my mom and wife. It was great. Before the game, I posted my play at Penn was a sack-safety. I was just trying to keep that kind of energy up. Coming out here, I felt really good with what I put on the field and having my friends and family watching was great."
Walford and Peake Pace Receivers
Tight end Clive Walford, one of Jets' five intriguing tight ends, led the team with 40 receiving yards on three catches. Charone Peake, who had a touchdown reception earlier in the preseason against the Redskins, also pitched in with three catches.