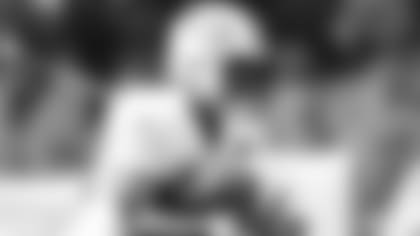 Throughout training camp,NewYorkJets.com reporters Eric Allen, Randy Lange, Ethan Greenberg and Olivia Landis will each give their answers to a series of questions regarding this year's camp.
EA: The most obvious answer is Sam Darnold. Jets head coach Todd Bowles said something to me the other day (you might see it on One Jets Drive Tuesday night) about Darnold being a gamer and stepping up when the lights are the brightest. This is just a preseason game, but it's Darnold's first professional action in front of the home fans at MetLife Stadium. He will make plays because he's done it at every camp practice he's participated in and there is a spark to his game that is going to play over well here in New York.
But the most remarkable story of the evening will be Teddy Bridgewater. Most men would have crumbled after suffering the kind of knee injury Bridgewater did in Minnesota. Bridgewater never once asked, "Why me?" With his mother Rose, who battled cancer with a positive attitude while never allowing her children to see her defeated, as his inspiration, he just went to work. He said there are so many people in the world who had it worse than him. He took a few snaps last season, but tonight is expected to be his first extended action in more than a couple of years. This has been a long road back and Bridgewater has been good at camp. He is mentally sharp and his teammates love him. This is a guy who was a 65% passer in Minnesota and his career was on the upswing before going down. Now it's all pointed up for Bridgewater and game action is another step. I hope the crowd gives him a thunderous ovation when he enters the game.
Honorable mentions: DL Nathan Shepherd, OLB Frankie Luvu, OLB Brandon Copeland, TE Chris Herndon, RB Trenton Cannon
RL: Trenton Cannon has been firing regularly these days. The sixth-round rookie from Division II Virginia State was one of the standouts at last Saturday's Green & White practice at Rutgers, turning the corner with speed off of sweeps and tosses, catching the ball effectively out of the backfield and turning on the jets on his kickoff and punt returns. Wednesday at practice, he got loose past a DB and gathered in an over-the-shoulder 55-yard touchdown grab from Sam Darnold in team drills. Now it's time to take it to the field against the proverbial guys in the different colored uniforms. Is Trenton ready for primetime? My guess is yes, and we'll get a lot of input on that in the preseason opener against Atlanta and in next week's practices with Washington and the Thursday night game against the Redskins on ESPN. Keeping an eye on No. 40 in green and white would be a capital idea.
EG: I'm excited to see a lot of players, but I'm curious to see second-year cornerback Derrick "Bones" Jones. Jones, a former wideout for Mississippi, has flashed in camp as he's recorded a couple interceptions in practice in 7-on-7 and team periods. Head coach Todd Bowles said Jones is mentally sharper than his rookie year and I'm interested to see how Jones fares against a different team in live action. Who will nail down the final cornerback spots on the team? It may boil down to who plays better under the lights.
Honorable mentions: All rookies.
OL: Preseason is an important time to see rookies and newcomers in action. With that being said, I think all eyes should be watching DL Nathan Shepherd. At almost 25 years old, he's not quite what you would call the traditional rookie. It's no secret this player has talent though, and he's worked extensively with the ones early in training camp. His work ethic and humility have been praised by both coaches and players. I think Shepherd can be a significant contributor immediately, and we may just see him win a starting spot this preseason.