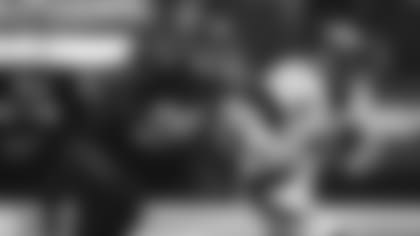 Throughout the offseason, NewYorkJets.com reporters Eric Allen, Ethan Greenberg, Randy Lange and Olivia Landis will each give their predictions to a series of questions regarding this year's Jets.
Today's question: Which Jets have stood out through the first nine games and who is set to flash over the next seven?
EA: Through the Jets' first nine games, the three players who stood out the most were LT Mekhi Becton, WR Jamison Crowder and DT Quinnen Williams. Becton was dominant at times, mauling defenders in the run game and showing great promise as a pass protector. Unfortunately, the rookie was limited to just 53 percent of the Jets' offensive snaps, the fewest of their offensive linemen. In five games, the smooth Crowder had 31 receptions for 409 yards with 3 TDs. He is one of the finest slot targets in football. Williams, who has played eight games, already has outdistanced his first year's totals with 31 stops and 3 sacks. He has rare ability and should only continue to grow.
After the bye, the Jets passing offense is poised to take the next step with Breshad Perriman healthy and Denzel Mims just getting started. Perriman took off late last season in Tampa and perhaps an encore is in store here in New York after his 5-101-2TD effort against the Patriots. Mims, who has 10 catches in three games, has less than 15 NFL practices on his resume. He is a big-bodied receiver who can run and pick up YAC. While the Jets are thin at inside linebacker, Harvey Langi was excellent Monday night alongside Neville Hewitt. Hewitt has quietly had a solid season and I'm interested to see how Langi, a physical player with a non-stop motor, finishes 2020. Finally, rookie safety Ashtyn Davis popped against the Pats while displaying speed and physicality and being used as a blitzer. I'm excited to see how Davis and veteran Marcus Maye develop as a pair down the stretch.
EG: Through the first nine games, DL Quinnen Williams and RT George Fant have stood out on defense and offense, respectively. Williams, 22, has taken a jump after a solid rookie performance in 2019. He's has been effective against both the pass and the run as he leads the Jets with 3 sacks and 7 tackles for loss. Williams ranks No. 2 in the NFL in run stop win rate for a defensive tackle and he's tied for No. 4 in pass rush win rate for DTs, according to ESPN. You don't often hear Fant's name, which is a good thing as an offensive lineman, and he's been called for one penalty. He's started at both left and right tackle, fought through a couple bumps and bruises and while he doesn't necessarily receive the same attention as fellow tackle Mekhi Becton, Fant has been a good addition to the roster. Looking ahead, I think WR Breshad Perriman and most of the rookie class could flash in the back half of the season. Perriman is coming off his best performance as a Jet (5-101-2) and playing with rookie Denzel Mims, the duo could provide a spark to the offense over the final seven games. I also have my eyes on S Ashtyn Davis. Davis started the past two games for the injured Bradley McDougald and you could see him begin to play a little faster against the Patriots in Week 9, which tells me he's feeling more comfortable.
OL: Over the season's first nine games, two Jets have stood out to me: LT Mekhi Becton and DT Quinnen Williams. Though only in his rookie season, "Mount Becton" has gained notoriety throughout the NFL due to his massive size, technique and ability that has allowed him to throw around some notable defenders. Injuries have unfortunately plagued the first-year OL, however he has been dominant at times when healthy. Williams, in his second campaign, has also been impressive as the team enters their bye weekend. Williams leads the defense in sacks (3) and has also tacked on 1 FF and 31 tackles. Entering this season, he talked about performing at a higher level, and so far, he's delivered on his promise. As far as who is set to flash over the next seven games — I will have my eye on WR Denzel Mims, who has already recorded 10 receptions and 146 yards over three games.
RL: Not many players stood out through the first nine games, primarily because many were injured. But the walking wounded are now running, catching, tackling and playing again, which should bode well for the final seven games. Of the rookie class, T Mekhi Becton (1st round) looks very good as billed and if he can stay healthy, his career could take off. Other draft class members who've flashed lately are WR Denzel Mims (2), S Ashtyn Davis (3A), RB La'Mical Perine (4A) and P Braden Mann (6). Among the veterans, it should be exciting to see what Jamison Crowder and Breshad Perriman can do when teamed with Mims and catching balls from Sam Darnold. DL Quinnen Williams has been playing better, sometimes dominantly, in his second year, and if Foley Fatukasi keeps coming on like he did vs. NE, that's a 1-2 punch for the future. It will be interesting to see which LB from among Tarell Basham, Harvey Langi and Bryce Huff can establish himself for 2021. My choice has been Huff, the free-agent rookie from Memphis. I'd love to see CB Bless Austin knock out the tough plays and include the outstanding plays. And another personal favorite is S Marcus Maye, who had a strong first quarter but a quiet second quarter. I'm looking for a bunch of Maye Dayes over the final seven games.