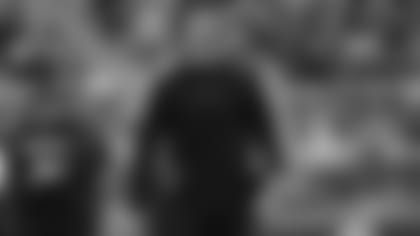 Throughout the offseason, NewYorkJets.com reporters Eric Allen, Ethan Greenberg, Randy Lange and Olivia Landis will each give their predictions to a series of questions regarding this year's Jets.
Today's question: What hiring on the Jets' new coaching staff intrigues you the most?
EA: The Jets have new signal-callers on both sides of the ball in OC Mike LaFleur and DC Jeff Ulbrichand they will deservedly get most of the attention. But the addition of John Benton as offensive line coach/run game coordinator caught my eye on a number of levels. I like the dynamic of matching the creative LaFleur, not yet 35 and the passing game coordinator of the 49ers the past two seasons, with the seasoned Benton, who will be coaching his 34th year and 18th year in the NFL. Jets GM Joe Douglas believes it all starts up front and Benton has a foundational piece to work with in LT Mekhi Becton plus Head Coach Robert Saleh has talked about the run mirroring the pass. Enter Benton, who was with Saleh not only in San Francisco, but Jacksonville and Houston as well. Despite injuries up front in 2019, the Niners had the NFL's No. 2 ranked-rushing offense (144.1 Yds/G) and that total was the fourth-most by the club since 1990. They also averaged 204 ground yards during their postseason run. At every stop during his NFL career, Benton has been part of offensive coaching staffs that have had success pounding the rock. Last season, the Jets tied for 31st with 9 rush TDs and they were 32nd in 20+ yard runs (4). There will be changes in the backfield, but everything starts up front and Benton will be a key figure for this offense.
EG: Offensive coordinator Mike LaFleur. While he has no prior play-calling experience, he's been with 49ers Head Coach Kyle Shanahan since 2014, when LaFleur first entered the NFL as an offensive assistant with the Browns. LaFleur, 31, has been tabbed as one of the bright young minds in the NFL and Jets Head Coach Robert Saleh said "nobody in the world knows [the Shanahan system] better then he does." This offense uses a lot of pre-snap motion, which helps the QB, and the 49ers led the NFL in shift/motion rate in each of the last three seasons. The scheme has helped QBs across the league put up career numbers, such as the 49ers' Jimmy Garoppolo, the Falcons' Matt Ryan, the Titans' Ryan Tannehill and the Packers' Aaron Rodgers, who's coached by LaFleur's older brother, Matt. The success of the Shanahan system, as Saleh pointed out on theNFL Hustle and Flow Podcast, dates to Jake Plummer and the Broncos with Mike Shanahan, Kyle's father. With the success of the system and the knowledge LaFleur has of it, I'm excited to see how he'll tailor it and what this Jets offense will look like in 2021.
RL: Robert Saleh's hiring of Jeff Ulbrich to be the Jets' new defensive coordinator intrigues me most. For starters, Saleh is a defensive dude by training so he knows D-coaches. And in announcing at his introductory news conference as Jets HC, he said he won't be calling the defensive plays. So he's turned over those duties to a trusted colleague in Ulbrich, who has a San Francisco tie-in but not with Saleh — he was a third-round pick and a 10-year linebacker with the 49ers, for whom he twice won their Ironman Award as their most courageous and inspirational defensive player. His Saleh connection comes from the time they spent together on Pete Carroll's Seattle staff in 2011. For the past six seasons he was Atlanta's LBs coach, and he's had playcalling experience with the Falcons. In 2019 he called plays on first and second down, then in October after HC Dan Quinn was let go, he stepped up to defensive coordinator. So he's got DC experience and now he's got the job he's planned for since retiring as a player. In a word, intriguing.