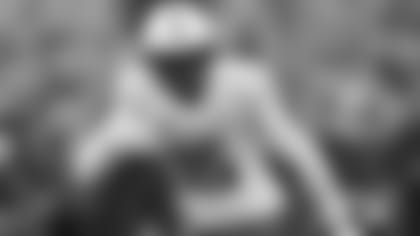 After his first draft as general manager of the New York Jets had concluded, GM Joe Douglas was pleased to acquire high-quality players and high-quality people but cautioned that time will tell how the 2020 draft class will measure up. And while that is certainly true, Douglas and the Jets have a pair of rookies on the offensive side of the ball ⁠— T Mekhi Becton and WR Denzel Mims⁠— who will start and/or play significant roles on a team that hopes to vault itself into a playoff contender in 2020.
T Mekhi Becton (Round 1, No. 11 Overall Selection)
The Jets will play their best five offensive linemen and they could have as many as four new starters. The 6'7", 364-pound Becton has perhaps the highest ceiling of any offensive lineman in the 2020 Draft Class.
"This is just a massive kid. He is such a smooth athlete," said Chad Alexander, the Jets director of player personnel. "He has clean feet, there's really not much that he's lacking. He has outstanding length, his punch in pass protection is outstanding and he's just a powerful guy. I think the term freak of nature gets thrown around there a lot when referencing Mekhi, but it's just uncommon for someone that size to move that well.
"And the other side of it, is he's a hard worker, he's a finisher and he plays with nasty. It's an attitude to play with that demeanor, it really goes a long way for helping the offense and helping the team as a whole. I love the fact that he has a lot of upside and potential to really be something special. The other part is he's a great kid."
Becton started 12 games at RT and 21 games at LT for Louisville. The Jets signed former Seahawks T George Fant in free agency and he's played on both sides as well, and Chuma Edoga, a third-round pick in 2019, started eight games as a rookie. There will be competition in camp, but Becton carries a big chip and he has plans to protect QB Sam Darnold and pave the way for Le'Veon Bell and company.
"He takes his job very seriously, he's very physical and he brings a nastiness to him," said head coach Adam Gase. "He loves playing the game and I think that's something you love to add in an O-line room."
WR Denzel Mims (Round 2, No. 59 Overall Selection)
Last season, the Jets finished 29th in passing (194.4 YPG) and their second-leading receiver and top vertical threat, Robby Anderson, departed in free agency. After Anderson (52-779-5TD) inked his deal in Carolina, Douglas transitioned and signed Breshad Perriman, a 6'2", 215-pounder with sub-4.4 speed who took off with the Buccaneers late last season and finished with 36 catches, 645 yards receiving and 6 TDs. Then he addressed wideout again early in the draft, trading down in the second round and picking up draft capital before landing former Baylor standout Denzel Mims.
"Denzel is going to be another big, fast, athletic target for us on the outside and he has the ability to play inside at the slot when we need him to in certain packages and situations," said Jets assistant GM Rex Hogan. "A big, fast guy who ran a 4.38, this is a guy who is a former track champion who has been extremely productive with three consecutive seasons of 50 catches or more. He showed really well at the Senior Bowl when he came on the scene there and took it to another level at the combine."
The Jets were 31st in scoring last season, averaging 17.3 PPG. The two participants in the Super Bowl — Kansas City (28.2 PPG) and San Francisco (29.9 PPG) — finished fifth and second respectively in scoring. Over his final three collegiate seasons, Mims amassed 28 scoring catches. He could line up across the way from Perriman with the underrated Jamison Crowder in the slot.
"He's got outstanding height, weight and speed for the position," Alexander said. "When the ball's in the air, look out because this guy can really play above the rim in that regard and he has really good body control. He's got nice size, he's a good red zone target, he's a good target for Sam. I think the game is going to translate really well for him because the coverage gets tighter at the next level, but he's still going to be 6'3" and running 4.3, so I think he's going to be at an advantage the way he uses his body to position himself to make contested plays."
The 6'3", 207-pound Mims, who had 11 career 100-yard receiving games and was only the third Bear in program history with multiple 1,000-yard receiving seasons (2017 and '19), was also cited for his tenacious blocking in the run game.