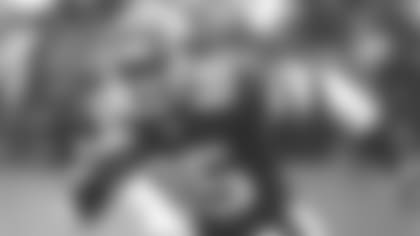 The Jets took a chance that could not have turned out much better during the 1977 NFL Draft when they selected Wesley Walker in the second round.
"My senior year, I had a very serious knee injury, so it scared a lot of teams. But all the scouts were saying I was still going in the first round," said Walker, a University of California All-America wide receiver. "I'm waiting for the phone call, it didn't come. And finally New Orleans called and said they're starting the second round and they're going to draft me.
"I get a call later and think it's New Orleans, and it was the Jets. I'm from California and I love the Raiders and San Francisco (49ers), but if I had a choice, New York would have been one of the teams I would have selected myself."
Walker's rookie season was also the third consecutive year that the Jets posted a 3-11 record. It wasn't enjoyable for the team off the field either.
"When I got there it seemed like everybody had their own little clichés. I wasn't like that. I was from Berkley and I was like a black hippie. I loved everybody, but I found there was a lot of racism," Walker said. "The black guys would keep to themselves. The white guys, they had their own things. Guys wouldn't invite you to certain places or parties.
"I always thought if we were together as we preached, as a family, as you're supposed to as a team, we would have maybe had a lot more success."
The San Bernardino, California native did, however, enjoy some success on the field. He caught 35 passes for 740 yards, a league-leading 21.1 yards-per-catch [ypc] average, and was named to the NFL's All-Rookie Team.
"I was very proud of that. I remember finishing second behind (Dallas Cowboys running back) Tony Dorsett. Obviously, you'd love to be the rookie of the year, but for a little guy that was said couldn't catch and too small and (legally) blind in one eye, I didn't do so bad," Walker said. "But I'm definitely proud that I had some success. Not the success I would have liked to have because it always could be better. I was a perfectionist. I was always frustrated for not being better than what I was."
But things were better the following season. The Jets went 8-8, and Walker led the NFL with 1,169 receiving yards and a 24.4 ypc average. In his first two years, he caught 83 passes for 1,909 yards, a 23 ypc average, for 11 touchdowns. How did he get a feel for the NFL so quickly?
"I think I was very lucky because I came from a pro-style offense-oriented school," Walker said. "I had quarterbacks – Vince Ferragamo, who got drafted by the Rams in the first round. Steve Bartkowski, who was drafted by the Atlanta Falcons in the first round. And a guy by the name of Joe Roth, who surpassed all the records and was the second coming of Joe Namath, but he passed away of cancer. I think I had that little bit of advance knowledge to be able to adjust to the NFL"
In 1978, Walker was named first-team All-Pro and selected to play in the Pro Bowl. He was also named as the team's MVP.
"Oh my God, it was like the best," Walker said. "When you get voted MVP, that's by team members, the people around you. When you're voted by your teammates, it doesn't get any better than that. I was just in awe. It was like a dream come true."
Walker, who retired in 1990 after playing 13 seasons for the Jets, is second to only Hall of Famer Don Maynard on the team's all-time receiving lists with 438 catches for 8,306 yards and 71 touchdowns. A two-time Pro Bowler, in 2012, he was placed in the Jets Ring of Honor.
Following football, Walker earned a master's degree in psychology from Mercy College and became a teacher.
"I always wanted to work with student-athletes. Not really coaching, but I would do that to help other athletes. The reason I was able to go to college (at Cal-Berkley) is because I was not only a great athlete, I was a good student. Grades are so important and that's what I wanted to give back to the student-athletes. That's why I got into teaching," Walker said.
"I didn't know where that was going to take me, but I taught every level, K-12. And to be honest with you, I taught (physical education and coached football and track) the last 16 years at Park View Elementary School in Kings Park, and that's the most fun I've ever had.
"The kids, I was very close to, and it gives you a chance to influence people. I've been able to influence people because of my blindness. People who had problems or incidents or they lost their eye, I've been able to encourage people. That makes me feel good. I never knew that an athlete could have the influence that you do."
Retiring for a second time in 2014, the father of three adult children and grandfather of four, Walker lives on Long Island and remains a positive influence on people as a volunteer.
"My fiancée, Barbara Ann Abbate, had started a business (Companionship Aid Services)," Walker said. "We help the elderly. It could be hospice; it could be people with dementia, Parkinson's. I assist families with their parents who are in assisted living-type homes or hospitals. Some of these clients, they get attached to you because you do a good job and people respect you.
"I've got one client, the husband is 90 and has problems with walking, which I have with all the injuries I've had, and the wife has dementia. It's very sad to see that aging process that takes place. It's almost like taking care of a baby. But they're very loving and affectionate. I appreciate the people that know that they're going to be taken care of. They appreciate you."