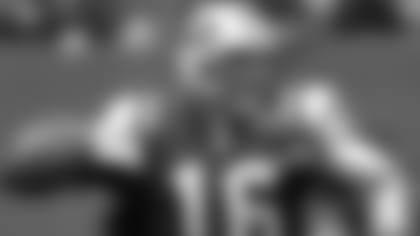 The NFL is about to embark on its 100th season. As incredible as it seems, Vinny Testaverde played in 21 of them, seven as quarterback for the Jets.
The first overall pick in the 1987 Draft by Tampa Bay, Testaverde spent six years with the Buccaneers, three with the Cleveland Browns and two with the Baltimore Ravens before he returned to his hometown team as a free agent in 1998.
"I used to go down to Hofstra and watch them practice, the Richard Todd years. But I was always a fan way back when (Joe) Namath played," Testaverde said. "Growing up, what I always liked about the Jets was their old uniforms. It just so happened that I think after Bill Parcells' first year (as the head coach in 1997), they changed the uniforms back to the old throwback uniforms, if you will, which I loved. I was happy to wear the older uniforms with the white helmets."
Beginning his time with the Jets as Glenn Foley's backup, Testaverde became the starter in the third game after Foley was injured. He then led New York to a 12-4 record and the AFC Championship Game against Denver.
"The one thing that I've always taken away from that season was how close the team became," Testaverde said. "We were having so much fun. Before practice every day, we had a group of guys that would put on a little skit in the locker room. We used to have a lot of laughs in there. A good part of that is what goes on in that locker room and how close the guys become throughout the year.
"I've been on a lot of good football teams, a lot of bad ones, but I think the teams that really have the best opportunity to win when you have good talent are ones that have the closeness with the players. They start playing for each other and not being selfish and not worrying about how much money the guy next to you makes. It's just about playing for each other and hopefully that leads to winning and having success."
Testaverde's first season with the Jets was also one of his most successful seasons. After leading the AFC in passing with 3,256 yards and 29 touchdowns, he was selected to play in the Pro Bowl, his second time, having done so two years earlier while with the Ravens.
"I think any time a player gets voted by his peers as one of the best, it's always a boost in confidence," he said. "It just validates the hard work and the effort, the things that you believe as a player to be true. It definitely was something that will always be special. That one in particular was very rewarding for me."
Having also played for Dallas, New England and Carolina, as well as Tampa Bay, Cleveland and Baltimore, what sets Jet fans apart from the others?
"There's a lot of passionate fans out there, but I think the Jet fans, they've been through so much, they want to see their team win," Testaverde said. "They're very passionate, they're very knowledgeable. When you win in New York, it's like no other place, and I got to experience that. Not only did I experience that, I got to do it in front of my family and friends. Being from there, that being my childhood team, it was just a great experience and something that I will never forget for the rest of my life."
Having spent most of his adult life playing in the NFL, where the average length of a player's career is just over three seasons, what does Testaverde attribute to being able to play for 21 years?
"Partly love for the game, passion for the game. Partly wanting to be successful at something. And then partly just being around the right people to help me and teach me how to go about taking care of my body. Nutrition, weight training. And also understanding the X's and O's of the game. It always wasn't that way for me at first," said Testaverde, who passed for 46,233 yards or 26.3 miles during his career.
"I was a natural athlete. I felt like I was always one of the more talented kids growing up playing sports. But as you get to the top level of sports, that gap between the talent closes, so to speak. Where you're playing Little League and you're one of the better players, and there's not really anybody that's close to you in talent. Then you go to high school and the gap closes a little. And as you get to the NFL, the gap is very narrow. So, if I wanted to be better, I needed to work harder. And I had a lot of people that helped me to understand that."
Testaverde is now one of those people. Making his home in the Tampa area with his wife, Mitzi, they have two daughters: Alicia, who is a medical aesthetician; and Madeleine, who will soon begin her senior year in high school. And they have a son, Vincent, who signed with the Buccaneers last week as a rookie free agent quarterback.
"I've been retired since '07, my last season, and I've pretty much stayed retired. I'm an active investor in different things. I've been in some restaurant deals with some big companies that have gone well and it has helped me to stay retired," Testaverde said. "But as of late, I'm been following my son through his college career and now with his professional career. Working with him a little bit, trying to make sure that whatever type of player he develops into that he's going to be the best that he can be.
"I always preach to him to work hard, stay confident. I think confidence is so important. There's so many young men and women that have talent, have the ability, but they lack confidence because nobody's validating that by, in my son's case, signing him to a contract. As of (a few) days ago, that hadn't happened.
"Basically, what I tell him is, 'Trust in your ability, trust what you see, and don't hesitate. When you're out on the field and you see it, just let it rip.' And I think that applies to a lot of people, whether it's in sports or business or whatever it is that you do. So many people don't trust in their abilities, they don't trust what they're looking at and it's right in front of them. And if they see it, they just hesitate and then it's too late. So, that's just part of what I preach to him. The mental part is as important as the physical part."