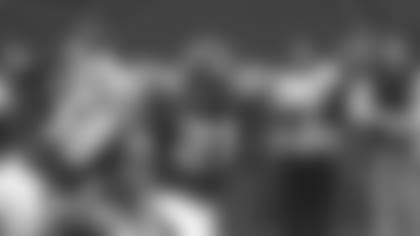 Victor Green was a popular guy.
Undrafted in 1993 coming out of the University of Akron, he was contacted by half of the teams in the NFL about signing as a free agent. Weighing his options, the safety chose to go with the Jets because they didn't choose any defensive backs during the Draft.
"That was the first year (veterans with at least five years of experience could become unrestricted free agents) and they brought in Ronnie Lott," Green said. "They brought in Clifford Hicks, David Tate. They brought in a lot of different guys that year. I went there not knowing all the guys that they brought in, but it worked out."
That, it did. Thanks in part to some of the veterans being willing to share their experiences with their new teammates.
"Ronnie Lott and Brian Washington and James Hasty kind of took me under their wings. Especially Ronnie," Green said. "I used to stay after practice with him and work on the tackling dummies. I learned how to be a professional and how the NFL works. Just hanging around those guys kind of gave me an idea of things to do and things not to do. How to prepare, how not to prepare."
Following two years as a backup and playing on special teams, Green was prepared to become a starter at strong safety in his third season. He was more than prepared the following year when he led the NFL with 165 tackles, 123 solo.
The entire team was prepared in 1998. With a 12-4 record, the Jets made the playoffs for the first time in seven years. Their season ended with a 23-10 loss to the Denver Broncos in the AFC Championship Game.
"It was (Bill) Parcells' third year (as the head coach), and I think it was the combination of Bill putting together a team and we just jammed," Green said. "We played well and I think a big part of it was Vinny Testaverde played really, really well at the quarterback position. (Wide receivers) Wayne Chrebet and Keyshawn (Johnson), they played really well. I think it was a combination of that with the defense.
"We had been together for some years now, and we knew how to play together. We had some really good players. Unfortunately, we had a bad break in Denver and we didn't get a chance to make it to the (Super) Bowl. But I think just playing together and the guys having a really good year made the difference."  
With the Jets for nine seasons from 1993-01, Green, who collected 24 interceptions, played for nearly that many head coaches. Seven, if you include Bill Belichick's one-day tenure in 1997. What makes him most proud of his Jets career?
"Being an undrafted free agent when a lot of people didn't want to give me a chance, being able to do what I did, and go through the head coaches that I did, I feel very fortunate and feel very proud to say that I was a mainstay to the different transitions that we had in New York," said Green, who also played for New England in 2002 and New Orleans in 2003.
"One of the things that Parcells said, 'Hey, that number 21, he earned my respect.' That means a lot coming from Parcells because he's a tough cookie. He actually called me into his office when he got there and said, 'I can't have my safety lead the team in tackles.' If you know Parcells' past, he always liked bigger safeties. Here I am, 5-11, up there leading the team in tackles four out of the six years. I think I grew on him as a player. And to hear him say that was pretty special.
"For me to survive those many head coaches, especially coming off losing seasons early in my career, I'm proud of that."
Green can also be proud that as part of the NFL 100 celebration, he was recently named to the Jets' all-time team. He and the others will be honored with a special pregame ceremony when New York hosts the Dallas Cowboys on October 13.
"It means a lot. I was a fan favorite because when we were 1-15 or 3-13, I played 60 minutes and they appreciated that. They appreciate the players that no matter what the circumstances are, that this guy gave it all he got. That's the type of player and the person that I am," said Green, who was also on the Jets' All Four Decades Team in 2003. "I played for the fans. They paid good money and they want to watch their players go out there and give it all they've got. I did that."
Green also founded the Victor Green Foundation while he was a member of the Jets. Its mission is to contribute money to 501(c)(3) foundations that support education, health and wellness, and character.
"I try to create opportunities for underserved kids. I take them to different places and try to put them around people that they can talk to and help them understand that there are circumstances that don't have to be," Green said. "I try to go beyond just giving money to a foundation. I try to get to the kids and help them understand that, 'Hey, you can make it.' That's the type of light that I like to shine on kids that I come in contact with, and I think that's the beauty of making a great foundation."
Making his home in suburban Atlanta, Green and his wife, Esther, have three children: Kennedy, Victoria and Elijah, who is a high school senior running back and has already committed to play for the University of North Carolina next year.
Besides his foundation, Green keeps busy with business, and has a wine label called Playbook Wine Series. "I put football plays on the bottles. I did one for each team and on the back of the bottle I tell the history of the franchise," he said. "In 2006, I came out with my first wine called 21 Blitz, and it's a white Sauvignon Blanc. Since then, I've got a Cabernet, that we do a championship series wine with every team that's in the Super Bowl, NBA Finals, etc. I was the first football player to have his own wine."