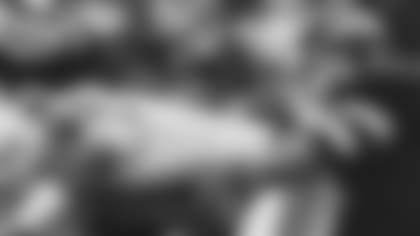 Drafted by the Jets from the University of Pittsburgh in 1985, Troy Benson hurt an ankle two weeks into his rookie training camp and was placed on Injured Reserve.
And while players on IR didn't typically travel with the team to away games, having his older brother, Brad, play offensive tackle for the Giants, allowed the linebacker to attend and learn at an NFL game every week.
"I tried to play in the third preseason game, but I was kind of lost as far as all the defenses and everything. I wasn't getting any reps," Benson said. "I was on IR, so I just practiced with the team. And when we were on away games, I would go to Giant home games. So, I got to see Brad and got a lot of good advice. Actually, my first year being on IR helped me learn what it takes to make it in the NFL.
"I got to sit in with all the meetings and learn all the defenses, and in the course of the season, to see how you game plan. It just was kind of low-pressure learning. When you're on a roster, there's no low pressure. You've got to know it."
Benson spent that first year practicing on the scout team, and also learning from a couple veterans he wasn't related to.
"Lance Mehl was my mentor. Lance and Bob Crable," Benson said. "They helped me with technique and just being a good guy."
Making the active roster in 1986, Benson may have been a rookie with experience, but he still had to produce and prove himself.
"I had a little bit of trouble with special teams," Benson said. "We played one game where I didn't even play on any special teams, and I didn't get any snaps on defense. And then I got a call from the head coach (Joe Walton) saying, 'I'm putting you on a couple special teams and you have to perform because we can't have a second-stringer not playing on special teams.'
"And after that, Lance hurt his ankle, so I moved up the depth chart. Still played special teams, but I was playing some linebacker, as well."
Benson became a starter at inside linebacker the following season, and would remain there through the 1989 campaign,
"I always wanted to be a starter. Everyone has goals to be a starter. You want to play," Benson said. "I think the most satisfaction was when you have bigtime veterans talking to you and you do feel like you finally made it. At the end of the day, you relish the fact that you played in the NFL. But the relationships that you gain from it and the people, they're still with me today.
"(What makes me most proud of my career is) maybe not being the most athletic guy in the world, I'd like to think that I made it through toughness and savviness. Being smart on the field."
Unfortunately, Benson wasn't able to be on the field in 1990. And just as was the case at the beginning of his career, he'd find himself on IR at the end of it, too.
"My neck just continually got worse and worse. Pinched nerves," Benson said. "It got rough. That was the hardest thing about it, leaving the game when you're 27 years old. Just because you feel like you're in your prime and you can't do what you love to do anymore. I wasn't bitter towards anybody; I just was a little bit bitter towards not being able to play anymore. Especially being that young."
Now making his home in the North Hills of Pittsburgh with his wife, Jeryl, Benson has four children: Thadeus, 21; Seth, 19; Mathias, 17; and Faith, 15.
In 1999, he founded Southpaw Industries, Inc., a nationwide distributor of apparel, headgear and marketing and promotional products. "I wanted to get into sales, and I started in the golf business with a couple golf lines," Benson said. "I had a couple customers that told me I should expand. So, I got into my own business and got accounts with distributors and started selling their products. I do most of my work through networking. It's a fun job."