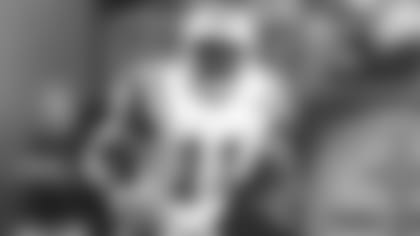 If determination had a face, it'd likely look a lot like Tory Woodbury.
"I've always been kind of the underdog. What people don't know is I only played two games in high school," Woodbury said. "I've always kind of had a mentality from people telling me I was too short to play quarterback in high school.
"So I've always had a chip on my shoulder and it comes from my late grandmother. She always instilled in me to never get outworked in anything you do, and I kind of just carried that with me."
With 120 minutes more gridiron experience than the kid who played trombone in the marching band who performed at halftime, Woodbury was not surprisingly a walk-on at Winston-Salem State University.
However, during his four years, he passed for 4,536 yards and 40 touchdowns, had a combined 60 touchdowns, and led the school to two CIAA Championships.
Still, Woodbury wasn't selected when the NFL held its Draft in 2001, and he chose to sign with the Jets as a free agent.
"I was supposed to be a second- or third-round pick. That's what I was told I was going to be," Woodbury said, "and I kind of fell due to my small school that I attended. And then once I knew the differences between the free agency where you can kind of pick where you wanted to go, it really came down to Baltimore and New York as the final two.
"I had about 13 offers, and just the Jets situation (at quarterback), I knew they had Vinny (Testaverde) and Chad (Pennington) as far as competing. And I'd get a fair chance to compete for that third spot, even with Tom Tupa being the emergency quarterback. I knew going in that anytime I'm given a chance, I like my chance. So that was an easy pick for me."
And the veterans discovered that Woodbury, who was essentially a walk-on for the second time, was easy to like. When the coaches decided to play him at wide receiver and on special teams, as well as quarterback, the group who were looking out for him during training camp grew to include the established receivers on the team.
"Actually, me and Santana (Moss) were probably the closest on the team. So once we made the transition and I was doing both quarterback and receiver, he kind of took me under his wing," Woodbury said. "And to get to learn from Wayne (Chrebet) every day and his savviness, and then Laveranues (Coles), I didn't have his speed, but to be in that situation, even with Kevin Swayne, I had all kinds of guys that just kind of took me under their wings. Especially me never running routes before, to go from quarterback to running routes is a totally different thing physically.
"Running routes. Being precise. And then the concept of once I caught the ball, that was new. But then once I got adjusted to that, I was pretty much fine. It wasn't a big, big transitional jump as some people may think. I kind of had that great ability to throw the ball and to make plays with my legs. So as far as running, I was kind of always a natural ballcarrier.
"I think God had blessed me with an ability. So it was a fairly easy transition, especially with the guys that I had with me."
With the Jets for two seasons, Woodbury's fondest memories from then began on Day 1.
"Just getting to New York and Hofstra University, I still couldn't believe it. I mean, walking in that locker room. Getting measured for my helmet. I'm like, 'Man, this is really happening,' Woodbury said. "And playing in Giants Stadium, coming from Winston-Salem State where maybe for homecoming we'd have 25,000. And that's once a year. On a regular, we'd have about 5,000 at our games. Coming to Giants Stadium with 80,000, that was overwhelming to see.
"And just to see the speed of the game. That's what I tell people was the biggest thing is. It's just unbelievable. I guess my 'welcome to the league' moment was when I saw John Abraham running with Curtis Martin. I was like there's no way the guy can be that fast. He's a defensive lineman! So that kind of opened my eyes a whole lot."
With the same never give up attitude he demonstrated since high school, Woodbury moved on from New York and spent time with New Orleans, Denver and Buffalo in the NFL, before going on to Ottawa in the CFL, Cologne in NFL Europe, and New Orleans in the Arena Football League.
Retiring as a player following the 2006 season, Woodbury would eventually turn to coaching.
"Throughout the years of playing ball, kind of the good and the bad, to be honest with you, I've seen how some coaches talk to and help the kids, and it's kind of just all about the X's and O's," Woodbury said. "I always say that I wanted to get in and make a difference for other kids and to kind of show them how it's really done. It's definitely about the X's and O's, but it's all about making memories for the kid off the field, as well.
"The gold standard I go by is – a player doesn't care what you know unless they know that you care. And I'm one of those coaches that wanted to try to do things in a different matter. More than just X's and O's. I love helping people and if I can set an example by my story that kind of led me to coaching… Even when I took some time (later) to be a scout with the Rams, coaching just kind of fell back into my lap when I tried to get away from it. So I know this is what God wants me to be."
Initially coaching at the high school level, Woodbury went on to Delaware State and Johnson C Smith University. In 2017, he became a college scout for the Rams before transitioning to assistant special teams coach in 2019. After five years with Los Angeles, he spent last season as the special teams coordinator and tight ends coach at Morgan State.
Woodbury will soon begin coaching alongside former Jets teammate and the head coach of the XFL's St. Louis Battlehawks, Anthony Becht, as his special teams coordinator/tight ends coach.
"One thing I think the Jets do with their Legends community; they do a great job with helping guys just stay in touch. So we were always following each other," Woodbury said. "And then once he got this opportunity, we spoke briefly. I was coaching at Morgan State and then we kind of just circled back around. He reached back out to me and here I am. That goes back to just being in relationships that you have from your playing days, that kind of carried over off the field."
What does Woodbury enjoy most about coaching?
"The preparation and the relationships. Some guys I coached 13, 14 years ago, they still reach out to me via social media or still text me," he said. "So what I get out of it is the relationships that I built with the players and the coaches. We spend so much time in the offices with these guys, they become, a lot of times, not even your second family, they're your first family during the season. I enjoy that camaraderie. And since I can't put on the pads any more, I kind of play through them. And that's kind of like my coaching style. I'm very high-strung because I love the game and I let them know how much I love them.
"Everywhere I've gone, from general managers of professional teams to older coaches, I've been told that they wish they had that ability to just get along with everyone and how people are drawn to me. I take that to heart. I think how somebody can give you the ultimate compliment is about your character. So that means the world to me."