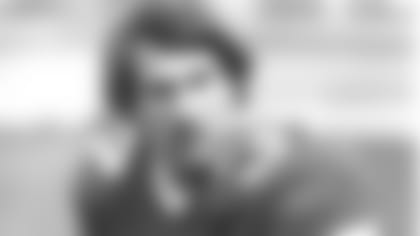 Raised in Ithaca, NY, and then going to Syracuse University, Tim Moresco could watch both of New York's NFL teams play on TV in the fall. But because one had literally traveled to his backyard as a teenager, his early allegiance wasn't with the Green & White.
"My earliest recollection of the Jets obviously is with (Joe) Namath, but I wasn't a big Jets fan," Moresco said. "I was always a Giants fan. I was in the era with Frank Gifford, Jim Katcavage, Y.A. Tittle, some of those guys. In fact, there were two or maybe three years when I was in my early teens where the Giants actually came up to Ithaca and played a preseason game at Cornell.
"I used to go up on campus all the time. So I walked right into practice. I mean, it was no big deal. I just stood right there on the sideline and watched. No one said anything to me. No one said, 'You've got to leave.' It was kind of interesting because you couldn't do that today."
A safety who was drafted by Green Bay in 1977, Moresco contributed mostly on special teams. And while saying goodbye can be difficult for some, for the Packers in 1978, yeah, it wasn't so hard.
"I was ticked off because I got cut on the last day of camp," Moresco said. "As a matter of fact, I found out that I was cut when I walked into the locker room that Monday morning for practice. There were three boxes sitting in the middle of the room. Literally three boxes with all the belongings in it. And one of the boxes was mine. You know how they've got a little nametag above a locker. They just took that tag off the locker and taped it onto my box.
"And so I picked my box up and they said, 'You've got to go to the business manager and we've taken the liberty of booking you a flight home.' Go pack your stuff and adios."
Spending the first month of the season back in Ithaca staying in shape, Moresco received inquiries from Tampa Bay and some USFL teams. But a call from the Jets showed that they had the most interest.
"They're the ones that invited me down for a tryout. And I really didn't get any other invites to do anything like that," Moresco said. "After one of their practices, I covered some people, did some one-on-ones for 15, 20 minutes, and they said, 'Look, you're No. 1 on our list.'
"A couple of weeks later they called and wanted me to come down. Somebody got hurt and they needed to fill a spot. So I filled the spot."
Signing with the Jets as a free agent three days after their fifth game, Moresco suited up for the Week 6 game against Buffalo and appeared in every game for the rest of the season. He shined on special teams, causing two fumbles that led to touchdowns.
"Those special teams, they used to call them suicide squads," Moresco said. "You're running down and trying to make something happen. Obviously, you want to make a tackle. If you happen to hit somebody in the right spot and a fumble's caused… But I don't remember us trying to cause fumbles quite to the degree back then as you see players do now, where somebody's holding on to a receiver trying to take them down, and somebody else will come in and try to rip the ball out."
A solid backup at both safety positions, Moresco continued to stand out on special teams, and was credited with a safety in a 1979 game at Baltimore.
"The role that I thought I played was making a lot of tackles on kickoffs or punts," Moresco said. "Some of those positions, covering kickoffs or covering punts, you see a lot of guys that are blocking first and there's a chance of them getting in on a lot of tackles.
"I was in one of those positions that was going to get downfield before most, and so I had more opportunities to make plays like that. I think that's what you might point to as a success because you're getting in on a lot of plays. That's the way I looked at it, anyhow."
With the Jets for three seasons, 1978-80, Moresco had the unique opportunity to play in front of family and friends who traveled from Ithaca for home and away games.
"I always had family come down (to watch games at Shea Stadium)," Moresco said. "And because we played in Buffalo and because we played in New England and because we played in Baltimore, I always had family show up to those games, as well. It was kind of interesting, for sure."
What are among Moresco's fondest memories from his time with the Jets?
"Having those guys ask me to come down and join the team was a big day," he said. "I wondered if I was going to get a chance to play again until those guys gave me a chance. Which I was grateful for.
"You know, when I look back, we didn't have the greatest teams, but the year after I left, they made it to the AFC Championship Game. And I was thrilled for those guys being able to do that.
"But just being on the team was, for me, a lifelong dream. I was always hoping that I'd get a chance to play. And, you know, what the hell's a 12-year-old kid know about the NFL? But it was just something that I wanted to do. Or wanted to try to do. And it worked out. The whole experience was the best thing in the world for me."
Making his home in the Atlanta suburb of Norcross, GA, Moresco and his wife, Donna, have two daughters: Nialya and Kira; and four grandchildren. He is a Senior VP with a commercial real estate company – Cresa Atlanta.
"I am officially a commercial real estate broker. I didn't see myself as a person selling houses, showing people houses during the week and on the weekends. I wanted to have a pretty steady Monday through Friday kind of a job. And commercial real estate just seemed to me to be a good bit more interesting," Moresco said.
"I help companies solve their problems with respect to real estate, location, things of that nature. I'm basically a problem solver. I really play a role of trying to help folks through tough business decisions that they have to make regarding their location.
"It's really satisfying when a company has a problem or they have a decision to make on what to do, and you end up helping them out. You end up being somebody that brings some answers to the table. Brings some information to the table that helps them decide.
"It's not as simple as just relocating an office space or a warehouse space. There are a lot of other things that come into play. And those are the things that you really help them work through.
"I've been doing it for almost 40 years. I enjoy it. You meet a lot of interesting people. You meet a lot of interesting businesses. It's just very fascinating how people make money and the different things that they do, the different services they provide. It's been a fun job."