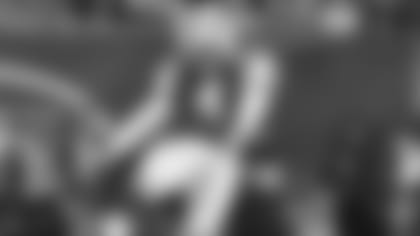 If former Jets punter T.J. Conley hadn't followed is heart in the beginning, he wouldn't have played a down of football after high school.
"I broke my leg in the state championship game my senior year, and the doctor said that I probably wouldn't be able to play any sports ever again," Conley said. "It was a really bad, bad break. And I just never accepted that. Pushing through that type of adversity at that age, I think really just stuck with me and gave me that mindset that I can accomplish whatever I want if I really put my mind to it."
Conley's next accomplishment was playing at the University of Idaho, where he began punting during his sophomore season. Two years later, he was the NCAA's leading punter with a 47.4-yard average and an AP second-team All-American.
Undrafted in 2009, Conley signed with the Jets as a free agent.
"I kind of had my choice a little bit there, which is a little different than a lot of the guys that get drafted and don't have much of a choice," Conley said. "At that time, it was just a really good opportunity. So when I got those calls (from teams) after the draft, and I got that call from the Jets, it seemed like that was definitely the right move.
"(Special teams) Coach (Mike) Westhoff had come out to Moscow, Idaho, and we did a little workout. I loved what he was talking about, loved that he had a ton of experience. And I don't know, we kind of hit it off.
"I actually didn't start punting until later on in my college career, so I was still pretty fresh as a punter. He could see the raw talent there. It just needed to be refined. He saw that potential in me. And I'm really glad that he did."
Conley didn't make the team in 2009, but when the Jets opened training camp the following year, he was back. And when he didn't make the team again in 2010, he was back for the 2011 camp. If nothing else, he had perseverance.
"I was blessed with having a lot of good leadership, a lot of good coaches, and some amazing parents that built that growth mindset in me. That grit. That idea that I'm not going to give up," Conley said. "Once I decided I was going to accomplish something, I knew I was going to if I just put in enough work."
During the 2011 preseason, Conley had a 43.7 net average and beat out Chris Bryan. What does he remember about getting the nod and becoming a Jet?
"Just finally that feeling of joy. So much joy, so much happiness that all that hard work had paid off," Conley said. "There was a lot of work in the offseasons and even during those seasons that I didn't make the team where I was back home out on the field all by myself because it was 10 degrees outside. Out there just hitting balls. Trying to get better. Trying to stay ready. There was a lot of work that went into it, and it all finally had paid off by making the team."
Even though Conley was facing the Dallas Cowboys in his first regular-season game on September 11 at MetLife Stadium, and on Monday Night Football, no less, he wasn't nervous, and looked at it as he'd been there before.
"At that point, I had played in a lot of preseason games," Conley said. "I tried to just make it another game where I'm going to go out and have the mindset of doing my best and trying to get better and gain more experience with every opportunity.
"So I tried not to look at it as anything different than it was before. I think that really helped me be able to perform at that level and not put too much pressure on myself. Just play the game. Have fun."
That game, which the Jets won, 27-24, is one of Conley's fondest memories as a Jet.
"That was a big anniversary of 9/11," he said. "We had the American flag that covered almost the entire field, and having a hand holding that American flag with tons of New York firefighters and police officers and our whole team and the Cowboys' team...
"I think Plaxico Burress was right next to me. And we had LaDainian Tomlinson, Santonio Holmes, Darrelle Revis and Antonio Cromartie, all those guys had their hands on that flag with me. And not to mention all of those incredible heroes out there that put their life on the line, literally out there saving people. It was just an incredible feeling of being a part of something amazing."
Now making his home in Spokane, Washington, with his wife, Tassie, and their children, Brayden and McKenzie, for the past four years, Conley has been working at Eastern Washington University. The last two as the Assistant Athletic Director of Athletic Performance.
"In layman's terms, a lot of people would just say strength and conditioning coach," Conley said. "But I really like to think of my position as so much more than that. It's everything that prepares an athlete for elite performance outside of their sport.
"And as we know, there's so much more than just strength and conditioning outside of sports. There are your psychological mental skills that are extremely important to elite performance. And then there's all of your health, too. Your sleep and hydration and nutrition, taking care of your recovery. There are all of those other things. So that's why I really call myself an athletic performance coach, not just a strength and conditioning coach."
Conley, who earned a degree in civil engineering at Idaho, chose this career path while he was trying to become a Jet.
"When I started playing at the next level, I started to realize how important it was to take care of my body, and really fell in love with that process. Fell in love with preparing for athletic performance and everything that went into that," Conley said.
"I spent a lot of time with (strength and conditioning coach) Sal Alosi in the summers my first couple of years and then Bill Hughan, the next head strength coach that we had, just really trying to do everything I could to prepare my body for performance. I really fell in love with that process. I learned so much from those guys. It really stuck with me and I realized that that's what I wanted to do when I got done playing football."
At Eastern Washington, Conley works primarily with the men's and women's basketball teams and also assists with the football team. What does he enjoy most about what he's doing?
"Having an impact on young lives," Conley said. "It's so much more than just improving their squat by 15 pounds in the offseason or improving their shuttle time. It's helping these young athletes really find themselves as human beings, not just as athletes. And find through motivation to be great. To excel at whatever it is they put their mind to. And to have that kind of impact on these young athletes has been the most rewarding part of my job, for sure."