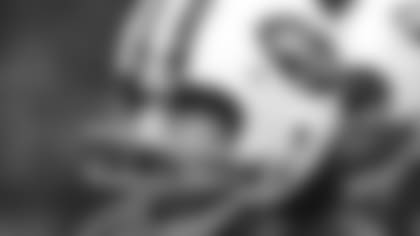 Scouting was a bit different when the Jets selected Florida's All-American cornerback Steve Tannen in the first round of the 1970 NFL Draft. The Combine wasn't an event to evaluate prospective players, it was a piece of farm equipment that cut crops.
"Nobody had any visits or anything. The first I ever knew about anything professional was when I was a junior and the Dallas Cowboys started sending me the Dallas newspaper," Tannen said.
"I was sitting in my apartment, and I thought that I would get drafted in the first round, but I had no idea what team. And then I got a phone call from the wide receivers coach of the Gators. He said they had the Jets on the line and they wanted to know if I had an agent. That was the first I heard of it.
"And then when the Jets drafted me, I got a phone call from Mike Martin, who was the assistant general manager, and he put Weeb Ewbank on the phone. He said, 'We drafted you,' yada, yada, 'I'm going to turn you over to a pool of reporters.'"
Before leaving Florida and making his way to New York, Tannen had the opportunity to become acquainted with one of his new teammates who was – and still is – most closely associated with the Jets.
"I had somebody in Gainesville, where I went to school, that was involved with Joe Namath in the restaurant business or something, and he said that I should call him up," Tannen said. "And so I drove down to Fort Lauderdale, where Joe was staying. I went over to his apartment and we said a few howdy-dos."
Not including the Super Bowl, Tannen's howdy-do to the NFL couldn't have come on a much bigger stage. His first game as a Jet, the 1970 season-opener in Cleveland, was also the first nationally-televised Monday Night Football game. That, however, didn't faze the rookie.
"When I think about it, you're going from college to the pros, and so everything is different," Tannen said. "You play on Sunday instead of Saturday. So the fact that you're playing on Monday didn't really make any difference and didn't seem different to me. Only the novelty of it because it was the first one."
Besides being an All-American, Tannen was the SEC Defensive Player of the Year as a senior, and a standout on special teams, as well. In short, he was always on the field whenever his team didn't have the ball.
But didn't mean he wouldn't end up being around it. As a Gator, Tannen had 11 interceptions and blocked four punts that resulted in touchdowns.
The same would hold true during his first few seasons with the Jets. In his third career game, against the Bills in Buffalo, Tannen blocked a punt, recovered it, and returned the ball 41 yards for a touchdown. He'd also block field goal attempts that year against the Patriots and the Steelers.
"I had kind of a knack for getting the jump on the ball," Tannen said. "And as a matter of fact, I recently saw that I still hold the record for a blocked punt return for a touchdown. So (in that game against Buffalo), I returned the blocked punt for a touchdown and I also intercepted (my first career) pass. And they gave me the game ball."
After starting every game at left cornerback as a rookie, injuries sidelined Tannen for three games the following season. And in 1972, despite still dealing with injuries, he led the Jets with seven interceptions and 125 return yards.
"Well, you know, what can I say? Things just went my way," Tannen laughed. "I thought that I was a pretty good cornerback and I liked to play bump-and-run, which they call press coverage today. I just had a certain knack of feeling when my guy was on the last leg of his route, and then I would turn around and look for the ball. And also, my inclination was always to intercept the ball and run with it rather than knock it down. So maybe that's what led to me getting so many."
Repeatedly dislocating his shoulder shortened Tannen's career to six seasons with the Jets – five active and one on injured reserve – and he finished with 21 interceptions in 61 games.
"You think about how many people get to play professional football, and that's an OK career, six years," Tannen said. "Certainly, I would have liked to play longer. As a matter of fact, for my seventh year, I was traded to the Raiders. But I went out there and didn't pass the physical because I hadn't recovered enough from my shoulder surgery. It would have been great if I'd have stayed with them because they won the Super Bowl that year."
Interceptions, blocked kicks and punts aside, some of Tannen's fondest memories from his time with the Jets occurred away from the game.
"You go to New York City, you're 21-, 22-years-old, you're playing professional football… Very few (players) lived in the city because they commuted. They came just for the season and then they went back home because in those days, 95 percent had other jobs," Tannen said.
"But I stayed in the city. I just figured I want to enjoy the place for as long as I'm here, you know, going to dinner and this and that. Namath and I were kind of friendly for a while. Sometimes we'd ride to practice together and we sometimes went out to dinner together in the city. So all those things were just a lot of fun."
Tannen had a lot of fun in his first post-playing career, too. Moving to the west coast and becoming an actor, he appeared in movies such as Capricorn One, Blue Sunshine, and She's Having a Baby. As well as in the TV series' The A-Team, Baretta, and Lou Grant.
"I was an actor for 20, 25 years. I just had a natural outgoing personality and a good sense of humor. I was studying in New York, and so when I went to California, I hooked up with some people and started my career," Tannen said. "I had six careers. I was an artist. I had four one-man shows. I was a construction supervisor for 15 years.
"I always found a love in whatever I was doing, and one thing just kind of led to the next. In my last iteration of employment, when I was an adjunct professor at Los Angeles Trade-Tech College, I kind of felt that that was what I was meant to do. To teach."
A widower, Tannen is now retired and makes his home in Gainesville, Florida.
"Well, I'll be 75 in July, and I guess the best thing about it is that I'm still around," Tannen laughed. "I play golf and ride my bicycle and take piano lessons. I started a long, long time ago. My wife and my step-daughter, we bought a piano and thought we'd take lessons. I enjoyed it, but hadn't done it for 20, 30 years.
"So I wanted something else to do and I like music. Basically, I heard a song at the end of a movie and I said, 'I love that song. I'd like to learn how to play that song.' So I bought a piano and had somebody teach it to me."