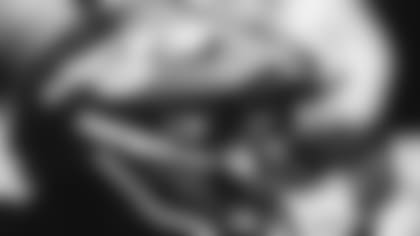 There's no question that Buddy Ryan could spot talent. Particularly defensive talent. Which is what happened in 1974, when after coaching the Jets' defensive line for six seasons, he became the team's linebackers coach and met a prospect named Steve Reese.
"He came and scouted me when I was playing for the University of Louisville. I had an ankle injury and I couldn't run when he came, but after the season was done, he came and told me to come up to the Jets and give it a try (as an undrafted free agent)," Reese said.
"I weighed 250 pounds, ran a 4.6 40, and loved to hit people. So, that kind of took care of everything right there. You've got to be able to hit somebody to play for him. We became more than just player, coach. And until he died, I became one of his favorite people. He called me 'Louisville Slugger.'"
The nickname fit Reese and he hit it off with his new veteran teammates.
"Ralph Baker was good to me, and Al Atkinson. Joe Namath, we're still great friends," Reese said. "And one of the best friends I have to this day is Richard Caster. Everything I needed to know about being a professional, he taught me.
"You've got to handle yourself like a man. Don't get caught up in being childish. And you've got to take care of your business. If there's something you're supposed to do, you've got to do it. That's just the way it was with Rich. He didn't say a lot. He spoke soft, but when he told you something, you'd better believe him."
After making the team, one of Reese's fondest memories as a Jet actually occurred moments before he stepped onto the field for the first time.
"The first game playing at Shea Stadium when they introduced us, they said, 'At middle linebacker, a rookie out of the University of Louisville, 6-2, 250, Steve Reese.' That just sent a chill through me because I played football because my father wanted me to play," Reese said.
"My father instructed me to come out for football in high school and he died before he ever saw me play a down. He was a great inspiration for me to achieve. He played on my high school's first football team. My brothers played and I was the last one and became the starter and captain, played both sides of the ball. It just meant a lot."
Playing on special teams and as a backup linebacker as a rookie, Reese would step into the starting lineup five games the following season.
"Well, I was nervous at first, but when I realized all we're doing is playing football and I knew how to do that, it came naturally," Reese said. "I'll never forget, we played the Kansas City Chiefs and the Sam [outside] linebacker got hurt temporarily. I was basically a middle linebacker, but I went in at Sam and I stopped (Chiefs running back) Ed Podolak on a sweep and we ended up winning the game on that (30-24)."
Reese would spend two years with the Jets and enjoyed playing in front of their fans. "They know football. They were real good fans," he said. "I loved New York; I really did. It's a good place to play in. It was just a good atmosphere."
He would spend the 1976 season in Tampa Bay playing for the expansion Buccaneers team that went 0-17. The atmosphere there was, let's say, less than good.
"It was trouble playing under Coach (John) McKay. I see why he won a lot of games at USC, because he had good coaches that coached with him. I didn't care for him. Just the way he carried himself. He didn't do much coaching; he did a lot of criticizing. I'll give you an example," Reese said.
"We had a scrimmage one day, and in the scrimmage, you've got to hit somebody if they come your way. His son (John McKay Jr.) caught a slant, and instead of being OK with what I did, he wanted to criticize me. I was fast enough to get to the hook when he caught the slant and I tore his butt up. When he got up off the ground, he was looking out through the ear hole."
Following football, Reese, who is now retired, was a special education teacher for 18 years at Stephenson High School in Stone Mountain, Georgia. Where he was also a football coach that helped 146 players move on to college teams.
He and his wife, Marilyn, still make their home in Stone Mountain. They have two sons and a granddaughter.