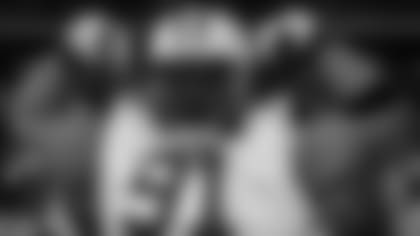 If need be, Sione Po'uha would have likely walked from the University of Utah to New York after the he was selected by the Jets in the third round of the 2005 NFL Draft.
"It was a surreal feeling, one that you always wanted as a little kid growing up watching Monday Night Football," said Po'uha. "You're in Little League, and all you're trying to do is mimic what the NFL guys would do. So, when I got called by the Jets to come and play for them, it was super exciting. It was a dream come true. It's a memory that I'll always remember."
After playing in 14 games as a rookie under head coach Herm Edwards, Po'uha's second season began with a new head coach, Eric Mangini, and also with an injury that occurred during training camp and would sideline him for the year.
"I think that year was more me learning about myself and how determined I was to overcome this challenge," said Po'uha, who had torn his right ACL. "Just trying to prove myself to Mangini and at the same time, I get this injury. I learned how I should approach that challenge, and it ended up that was a big lesson in itself. It helped me to have the career that I did the remaining years I had with the Jets."
Contributing mostly as a backup and on special teams during his first four years, Po'uha became a starter in 2009, his fifth season, under another new head coach, Rex Ryan. Did he find pride in that nothing was handed to him and that he paid his dues while working his way to becoming a first-team defensive tackle?
"No, not really. I think it's the principle of working hard," Po'uha said. "It's not really where you started, it's where you end up. Were you able to accomplish the things you wanted to accomplish?
"I think a lot of times we can see, did this guy work his way from the bottom? Does it make it that much more important? At the end of the day, it's the fact that, did you reach your goals and what did you learn along the way? Whether you came from the bottom or you came from the top, whether you're the first pick or the bottom pick, at the end of the day you still have 11 guys on the field and everyone's got individual goals, goals as a defensive unit, and goals as a team.
"It holds value where you started, but for me, I don't really take too much from saying, 'I didn't start at the beginning. I had to work myself up.' That's just the race that I was asked to run. I was just happy to make the most out of it."
Po'uha's race in the NFL lasted eight years from 2005-12, all with the Jets. While the average length of a player's career is three-plus seasons, what does he attribute his longevity to?
"Just perseverance. Perseverance on my part, but also great coaching staffs," Po'uha said. "With all three (head) coaches that I had, they all taught me something. They had patience with me and looked at the value that I was able to add.
"I attribute that to the coaching staffs that were there the years that I was there. And just the determination in oneself to do what I've got to do and be a contributor on the team."
In 2015, Po'uha returned to the University of Utah to earn a degree in sociology and work as a student assistant coach on Kyle Whittingham's staff. And then following one year as the team's director of player development and one season as the defensive tackles coach at Navy, Po'uha made his way back to Utah and is in his first season as the defensive tackles coach for the nationally ranked Utes.
Much like he experienced as a player, Po'uha didn't have anything handed to him or take any shortcuts in finding success as a coach.
"Usually when you give your best effort, opportunities will come. Just be ready and the opportunity train will come and the right one is supposed to pick you up," Po'uha said. "I've kind of approached it like that and never was looking for what's happening next. I've always said, 'Hey, you know what? I can take care of what I can take care of and things will end up panning out.' Which is kind of almost the same cycle that happened with the Jets."
Does Po'uha revisit that cycle with the Jets to help him in his role as a coach?
"All the time. Herm always said, 'Help me to help you.' So, I got that from Herm," Po'uha said. "Eric Mangini helped me to kind of learn and understand the game, how to do the X's and O's. When he came from the Patriots (in 2006), he was a real student of the game, so he helped me to know the studious part. And then from Rex Ryan, just always enjoying the people that you're with, and making sure that the loyalty and the relationships are an intricate part of the game.
"(Former Jets defensive line coach and current Atlanta Falcons head coach) Dan Quinn helped me understand the game. I could go over and over just talking about coaches. When you asked, 'What carried you to play eight years,' I could name a number of people. I just didn't do it by myself. I had a great supporting staff on my way."
Po'uha has a great supporting staff at home, too. He and his wife, Keiti, live in Salt Lake City with their children: Viliami, Sonasi, Leilani and Kesaia.
And what's the best thing about being Sione Po'uha? "That I learned from the Sione of the past, live in the Sione of today, and am excited for the Sione of the future."