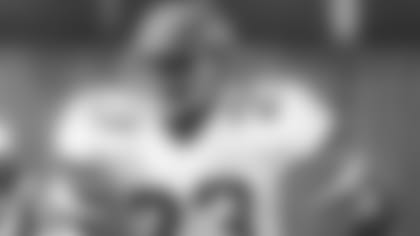 The Jets and Ball State cornerback Shafer Suggs didn't have much contact prior to the 1976 NFL Draft, and it turns out that they didn't talk immediately after New York selected him in the second round either.
"Back in '76, there was no Combine. You were really selected based off of your senior year, and I was fortunate to play in the East-West Shrine Game and in the Senior Bowl. And then based on my performance there, I heard that I would probably go in the first or second round," Suggs said. "The night before the Draft, I received calls from several teams, and it's funny, I didn't get a call from the Jets.
"That next morning, I'm sitting in my house knowing that I'd get drafted early, maybe by ten o'clock. I waited and I waited and by noon, I didn't get a call. I was freaking out. And about one o'clockthat afternoon, I get a loud bang on my door. It was my head coach, Dave McClain, 'Shafer, where have you been? The Jets drafted you in the second round and they've been trying to contact you.'
"Apparently, my phone, which was sitting next to me, I must have hit it and the cord was out of the socket a little bit. So, that whole time, the phone was not receiving calls. They finally called and I got a chance to talk to (Jets first-year head coach) Lou Holtz. It was an exciting moment, but it was full of a lot of anxiety that morning because I thought they forgot me."
As a rookie, Suggs, who had been shown the ropes on and off the field by veterans Burgess Owens and Rich Caster, made 10 starts at cornerback. The following season, under Walt Michaels, who had replaced Holtz, the Jets moved him to strong safety.
"Up to 1976, the five-yard rule didn't exist. I was big enough and fast enough and intimidating enough to really beat on the receivers after five yards," Suggs said. "And in 1977, (the NFL applied a rule where the only time a receiver can be touched by a defender is within five yards of the line of scrimmage).
"I think they just felt that with my physicality, that I can be as impactful at strong safety and then when we did the nickel, I could also be that inside cornerback. It was to my advantage when we were able to hit the receiver after five yards because I was able to beat on them until the ball was in the air."
During a 1979 Monday night game against Minnesota, ABC-TV announcers Frank Gifford, Howard Cosell and Don Meredith were able to witness one of those balls in the air end up in Suggs' hands, and 32 yards later, in the Jets' end zone for the only touchdown of his career.
"Monday Night Football was a bigger deal then than it is now because it was the only nationally televised game," Suggs said. "I remember that I went out in the flat and saw (Vikings quarterback Tommy) Kramer release the ball, and I just broke on it. I think I stepped in front of Ahmad Rashad and it hit me right in the stomach and I took it to the house.
"Just going to the sideline and knowing that everybody in the nation is watching you. You remember back in those days, the guys would say, 'Hi, Mom' and wink at their mom when they're sitting on the sideline. It was one of the highlights of my career."
With the Jets for five seasons, 1976-80, Suggs started in 53 of the 56 games he played in, and collected seven interceptions.
"It was a real good experience for me. The five years that I was there, free agency hadn't impacted the league and you were able to really build relationships with those guys," Suggs said. "And so now when we go back to alumni outings, that group of guys that played from '76 to '82,'83, are normally the group of guys that show up.
"I have so many great football moments, but what you establish as far as the camaraderie, building those relationships… I can pick up the phone and talk to Wesley (Walker) or Burgess (Owens) or Rich Caster or occasionally run into Joe Namath, who was my idol growing up, and then playing with him, that, to me, that's what it's all about."
And what makes Suggs most proud of his career?
"I think the fact that I was able to have the opportunity to play after overcoming some really difficult obstacles growing up," he said. "I had some very severe injuries (while playing basketball) when I was 15 and 16 years old. I had a dislocation in my kneecap and back in those days, there wasn't arthroscopic surgery. I had about 40 stitches on my knee and I was in a cast for three or four months. And then the following year, I broke the other leg. I was told that I probably couldn't run again. I look back on that and say, 'Wow, not only did I play Division I football and basketball, but I got a chance to get drafted by the New York Jets and play five years."
Suggs, now retired after working for 30 years as a V.P. of sales for the Cintas Corporation, DHL and Motorola; makes his home in the Chicago suburb of Bolingbrook.
"I met my beautiful wife (Susan Hoster-Suggs) and we have two beautiful kids. My daughter, Faith, and my son, Devyn. When my wife was pregnant with our daughter, she was diagnosed with melanoma cancer. We actually named her Faith because we got through it," Suggs said.
"But the melanoma came back in 2011 and took her life in two months. My daughter was 14 and my son was 10 at that time, so I just kind of committed my life to my two kids. I kind of retired, but I stayed active with the NFL Players Association, and I actually coached my kids.
"Faith, who just graduated from Duke, was a D-I basketball player. She's now the director of basketball operations/social media at Long Island University. Rene Haynes, who was an assistant coach at Duke, got the head coaching job there, and it was kind of perfect timing because my daughter was looking to get into some type of sports social media.
"And then Devyn will probably go D-I football. (A quarterback), he's going to be a senior in high school and is being recruited heavily right now. He has gotten six or seven offers in the last two or three weeks, including from Yale, Ball State, Columbia, Cornell. Harvard has come to recruit him, too. He wants to get into business finance. He's 6-4, 210, and throws a good ball. He is a 4.55-40. Not as fast as his dad yet, but he's getting there."