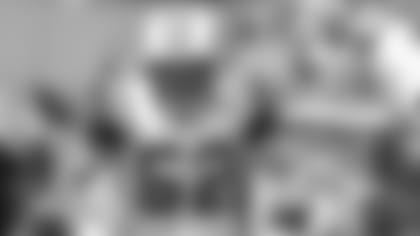 Ryan Myers did what he had to do to eventually play for the Jets. And, well, it took a while.
After transferring from Division II Ashland University to Division I Akron University, where he totaled 80 tackles during his senior season, the linebacker wasn't chosen during the 2003 NFL Draft and spent mini-camp with the Cleveland Browns as a tryout player.
That led to signing a future contract with the Jets in 2004 and being allocated to play in NFL Europe.
"I didn't know much about it, but I knew it was going to be a tough go. I ended up in Scotland and playing for the Claymores. There was a lot of big talent that came out of that league. (Future two-time All-Pro linebacker) James Harrison was over there when I was there. It was a good experience. I had a lot of fun. It was not the ideal situation, but at least it kept my foot in the door," says Myers, who set a franchise-record with 73 tackles and was named the team's co-MVP.
"You go over to Europe and play a full 10-game schedule and then you may have a month or two off and then you're going to another camp trying to make a team. But it allowed me to be there and be in training camp and get the experience and see what happens.
"Unfortunately, I got released. But I did make enough of an impression to get re-signed in the offseason and come back. So then I was able to make it without having to go back through the whole European grind of a season before training camp."
And while the linebacker did well during New York's 2005 training camp, he knew his chances of sticking around depended not so much on stopping the run, but more so on his abilities in kick- and punt-coverage.
"The way I was going to make the team was on special teams," Myers said. "You had to show enough that you could be useful. But if you're going to make a roster, (special teams coach) Mike Westhoff was the guy that you'd better be able to impress, because he's the one that's going to have the final say.
"Coming from college, a lot of guys didn't play a lot of special teams, or they played a limited amount of special teams. But if you're going to make an NFL team, as a backup, you better learn how to play pretty quick.
"Westhoff made it known that if you're going to be on this team, you'd better be one of the guys that we're using on special teams. That was my way to make the team, was going that route and being able to excel enough to make a roster. Obviously, no one makes the NFL as a backup. Your longevity, unless you're an All-Pro special teams player, you need to eventually see the field on defense or you probably have a shelf life."
After everything he'd been through, Myers' life would change as camp closed and the focus was on the '05 season-opener against the Kansas City Chiefs. He had been a warm body in the Browns mini-camp, a name on the waiver wire, and a standout in Scotland. Next was finding out if he had done enough to be an NFL player. Enough to be a New York Jet.
"I was driving a '99 Altima at the time, and I remember going to the facility for that final team meeting," Myers said. "I remember walking into that meeting not knowing if they had made all the cuts yet or not. And (general manager) Mike Tannenbaum's sitting there. I had to cross paths with him and he looked at me and says, 'Don't worry. You made it.'
"I couldn't wait for that meeting to get done with so I could go and call my family. When he told me that, I was like, 'Oh my God, I made the team.' I remember sitting in the car after the meeting and it was like euphoric. Almost wanting to cry when I made it. It was a really cool experience. I can remember that moment like it was yesterday. It might just be ingrained in my head forever."
Inactive for the Week 1 game in Kansas City, Myers' NFL debut came the following week in the home opener against Miami. While both of those games are ingrained in his head as well, when they happened, did he take a moment to soak it all in?
"I didn't, really. I wish I would have done more of that," Myers said. "You're just so focused. Only 45 guys dressed on Sunday, so I was probably 43, 44, 45 pretty much every week. So I was just so focused on the next play, and the next practice, and trying to make it last as long as I could.
 "That Miami game, I think the first (special teams) play was a touchback. Nothing happened. And then the next play, there was a punt and we were backed up on like the 2-yard line. That was my first real play and I'm like, 'Oh, my God, just don't get the punt blocked.' It was cool. My mom flew in and my family was there. It was just surreal."
Waived after three games into his second season, Myers played in 18 games for two head coaches, Herm Edwards and Eric Mangini, and is credited with 13 tackles. What are among the fondest memories from his time with the Jets?
"Probably the relationships that you make," Myers said. "You go through that and maybe you have not seen those guys in 15 years, but you can run into people in an airport and it's like nothing's changed.
"I think that I'll always remember, even though I didn't dress, that opening game at Kansas City. The crowd (finishes the national anthem with) 'and the home of the Chiefs' and the hair on the back of your neck stands up. And playing on Monday Night Football and playing in New England against (Tom) Brady. A lot of these guys you were watching or playing in college on Madden, and then you're out there.
"And in a (2004) preseason game (in Indianapolis), I remember sitting on the 50-yard line before the game watching (Peyton) Manning and (Marvin) Harrison warm up. They're just like 15, 20 yards away, and I'm thinking, 'What am I doing here? This is crazy.' So I did have some of those moments where I did get to kind of take it all in. But outside of that, I was pretty focused."
Myers was introduced to what would become his second career when he met a financial advisor after his first season with the Jets.
"He told me when I was done playing that I should look him up. And at that point, I was like, 'I'm playing forever. I'm not working 9-to-5,'" Myers laughed. "About a year later; I got released and I'm 'what am I going to do the rest of my life?' And so I gave him a call.
"He worked for a company called Edward Jones. I went and got my securities licenses and started working out of his office and then built a financial advising business, going door-to-door and cold calling, basically. I spent five years with Jones and a decade at Wells Fargo and then I came over to Ameriprise."
A financial advisor for over 16 years, since March 2022, Myers has been the V.P. and branch manager at Ameriprise Financial services in Westlake, Ohio.
"It can be a stressful job. It can be intense. And I like it," Myers said. "I like being in kind of the action. Obviously, being involved in the markets on a day-to-day basis, it gives you that kind of dopamine rush that you maybe had a little bit more on (gameday) Sundays.
"I like the flexibility it comes with. I don't have a set schedule. Every day, every year, every month is different. It's interesting to me, how the economy works, how the markets work. And being able to help people, sometimes you've got to obviously be calm in chaos."
Making his home in Westlake, Myers has a 6-year-old son, Jett. "He's a good kid," Myers said. "We got him into gymnastics at like 2-years-old and I just want him to be happy. Whatever he loves to do. If he loves to do it, he'll find a way to be good at it."