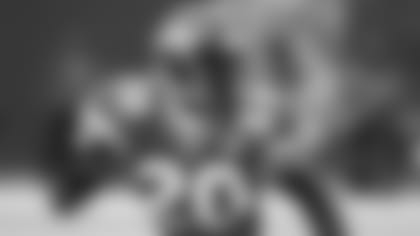 During his final season at Penn State, Richie Anderson rushed for 900 yards and scored 19 touchdowns, 18 on the ground, finishing second in the nation in scoring.
But still, when the Jets selected him in the sixth round of the 1993 NFL Draft, he was equally excited and nervous about taking the next step.
"Very excited because I had just accomplished one of my life's dreams," Anderson said. "Nervous because of the unknown. Was I going be good enough? How much better was the competition versus playing college ball?"
Anderson felt fortunate during his rookie season to have those and any other questions he'd have answered by a now Hall of Famer who had taken him under his wing, Ronnie Lott.
"He taught me about how to be a professional player," Anderson said. "How to practice. How to develop habits. How to work on my weaknesses. He gave me confidence."
The Jets were confident they were getting someone who could run the ball when they drafted Anderson. What they may not have known is that after making him their fullback, besides being a solid blocker, he'd excel as a receiver. Catching 37 passes for 353 yards during his three seasons in college, he'd total 74 receptions for 623 yards in his first three seasons with New York. And that was only the beginning.
"I worked very hard at catching," Anderson said. "Then it became very natural for me to catch the football. I took pride in catching the ball as a running back or at tight end, H-back, wide receiver. I played wherever we could get the best matchup for the passing game."
The Jets didn't match up too well with their opponents during Anderson's first five years. Playing under four head coaches – Bruce Coslet, Pete Carroll, Rich Kotite and Bill Parcells – New York won only 27 of 77 games.
"It was very frustrating and extremely difficult. Players who had been around a while became very frustrated with the change," Anderson said. "It was mostly having to restart each year with an entirely different offensive scheme, and new coaches and philosophies. We had no consistency during that run."
Consistency arrived in 1998, Parcells' second year, when the Jets went 12-4 and made it to the AFC Championship Game. Playing under Parcells, Al Groh and Herm Edwards during Anderson's last five years with the Jets, New York won 48 of 80 games.
"The team bought into Parcells winning formula of ways you win and not lose," Anderson said. "The team started to believe that we could win and we did."
During that span, in the 2000 season, Anderson experienced his fondest memory as a Jet when they pulled off the "Monday Night Miracle" against Miami at Giants Stadium on October 23.
Trailing the Dolphins 30-7 at the start of the fourth quarter in the nationally-televised game, New York scored 30 points as the game went to overtime tied at 37, and won it on a John Hall 40-yard field goal.
Anderson had a game-high 12 receptions, including seven in the final quarter and OT, to help the Jets improve to an AFC East-leading 6-1 record.
The 2000 season as a whole would be memorable for Anderson and his fans. Posting career-highs with a team-leading 88 receptions for 853 yards, he was chosen to play in the Pro Bowl.
"It meant the world to me. I played just running back all of my career before the NFL. I had to learn and adapt to being a fullback at the highest level of football. To have that respect as one of the best at my position meant everything to me," Anderson said.
"Ronnie Lott once told me, 'I play the game for respect from other players in the NFL.' That stuck with me and became my thing. I wanted the players and the coaches to respect me as a player at my position and all of the other positions that I played for the offense."
Beginning his career, Anderson was admittedly nervous of the unknown and whether he was good enough to play in the NFL. Turned out he didn't have to worry. Able to play 12 seasons – 10 with the Jets and two with the Dallas Cowboys – in 161 games, Anderson totaled 400 receptions for 3,149 yards and 14 touchdowns, to go along with 318 carries for 1,274 yards and four touchdowns.
What makes Anderson most proud of his career?
"That I had to find my way after having to switch positions while in the NFL," he said. "I had to learn so much in order to play the multiple positions that I played. I wanted to be recognized as one of the best pass-catching fullbacks in NFL history."
Following his playing days, Anderson would spend four seasons in the NFL as an assistant coach for the Jets and the Kansas City Chiefs.
Now retired, Anderson, who has three adult sons: Richy, Parris and Reggie; 8-year-old triplet sons: Cobe, Cayden and CaRon; and two granddaughters; lives near Los Angeles with his wife, Jessica.
"I am focused on my family now," Anderson said. "While I still can, I get to enjoy my kids. My every moment. I love being able to hear what they dream of and watch them grow."