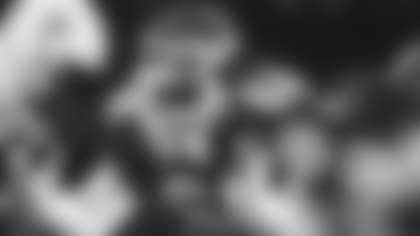 Reggie McElroy may have been a four-year starting offensive tackle at West Texas State, now called West Texas A&M University, and first-team All-Missouri Conference as a senior, but he was surprised – and then some – to be drafted by the Jets in 1982.
"I didn't expect it. I was going to a small school. I didn't realize it was a Division I school. Even the four years I was there, I didn't realize it was a Division I school," McElroy laughed. "That day of the draft, my roommate, Elvin Keller, we thought was going to get drafted because he was the best the D-lineman in the conference.
"And when the phone call came for me, I was excited, but started to backtrack my plan of going to active-duty Army after I graduated to getting into football shape and playing football."
An ROTC cadet major, McElroy didn't think moving on to playing in the NFL was a possibility.
"I was planning on going in and putting in my five years (of service) after I graduated," McElroy said. "I went and talked to my military science advisors and they told me about this thing where I can push my time back. So I was in the (Individual) Ready Reserve for the 14 years I was an NFL (and would receive the commission of Captain)."
Chosen in the second round, McElroy was the fourth offensive tackle selected overall and the only one by the Jets in the 12-round draft.
"I never thought about pressure. That may sound arrogant and I don't mean to be arrogant, but I'm not the best football player in my family. So I never thought I'd go very far in football. I just made it my duty to be the best on the field every day. The best I could be," McElroy said.
"I wasn't excited. I wasn't numb. I was more scared of being cut than I was of getting my butt beat and being embarrassed. My senior year in high school, we went 0-10. So I got about as embarrassed as you can get as far as football. But I just wanted to be the best I could be when I got there as far as rookies and trying to get a job. And then the vets came into training camp and I got a wake-up call. I held my own against the rookies and then the vets, (Joe) Klecko… Yeah.
"Mark Gastineau and I had many battles in training camp. He won a few and I won a few. And I want to believe that's probably why they kept me around. Because if I can block Mark even a little bit, then I was going to be there for a while. Klecko was another person. I couldn't block him. There was no way I could figure him out. Ever."
Suffering a knee injury during the preseason, McElroy spent his rookie year on injured reserve. He wasn't able to play, but he was able to learn from his new veteran teammates.
"The one I'd call my mentor was named Marvin Powell," McElroy said. "He brought me along to his house to eat every now and then. He taught me the proper way how to watch film and we'd try to break down opponents. We just had a real good relationship.
"Klecko and I became pretty good friends. But Marvin was my mentor. He's the one that I think got me through the first few years of my career."
Starting at left tackle in 1984 and '85, when he helped the Jets reach the playoffs for the first time in four seasons, McElroy was moved to right tackle in 1986. And in the first seven games there before spraining his knee, having arthroscopic surgery and going on I.R., he was a brick wall. Not allowing a sack or the quarterback to be hit, for that matter.
"I'm right-handed, so it made it easier," McElroy said. "I was one of the few left tackles that played out of the right-hand stance. And if you hadn't done it before, it's kind of awkward. I never had to do that in college because God blessed me with the athletic ability and I could get away with things. But when I got that level, I had to re-teach myself because I could not do the same thing I did in college."
Activated for a late-season game against Pittsburgh, McElroy re-injured his knee and had to have reconstructive surgery. Recovery and rehab would bench him until midway through the 1987 campaign.
"I never lost my confidence. I just had to keep working to get back on field. And once I got back, I had to re-prove myself," McElroy said. "After the knee surgeries and everything, I had to earn my job back. Everybody said you're the starting tackle and so on, but until I was able to do the job, I wasn't. I was a back-up hoping to get back out there."
During his eight seasons with New York, McElroy and his linemates shared the unique experience of playing for five different position coaches: Bob Fry, Jim Ringo, Bill Austin, Dan Radakovich and Rod Humenuik.
"It was weird in the sense that you had to change things a little bit for each one," McElroy said. "Until Dan Radakovich came along (in 1986) and took me aside and taught me the basics from the bottom to the top, I was still like a fish out of water. I think if I would have had Dan Rad my first couple years, I'd have been a better football player."
Going on to play for the Raiders, Chiefs, Vikings and Broncos during his 14-year career, did McElroy notice anything that set Jet fans apart from those others?
"What I loved about them in the Meadowlands was that they were extremely loud. The fans were outstanding there," McElroy said. "The one thing I could not get used to was going out and being recognized. My first year playing, I had fans who would stop me and ask me who I was, and I'd tell them. They knew the name and I'd be signing autographs for an hour.
"So I started lying about my name. But I'm not the kind of person. I didn't do stardom very well and I felt like if I continued to do that, it would have ruined me as a person. My ego would have gotten out of whack. So I kind of definitely kept it down low.
"But the fans, they were great. Even though I didn't tell anybody who I was, I feel a lot of them kind of figured it out after a while and I could go out and do as I want. They gave me my room."
McElroy headed to the sideline following his playing days and became an offensive line coach, and has done so from the high school level to NFL Europe. Along the way he also earned a pair of master's degrees so he could teach, which he's done for the past 20-plus years.
Now making his home in suburban Kansas City, McElroy, a widower, has four children: Michael, Crystal, Christopher and Clayton; and three grandchildren: Damon, Enola and Atom.
Recently accepting a position at Horizons High School to teach physical education, McElroy continues to keep his hand in football as the head coach of the freshman team at Blue Valley Northwest High School, where he'll also help coach the varsity's offensive line.
"I'm 63, and I'm just enjoying life," McElroy said. "I like seeing guys develop. We see a 14-, 15-year-old boy come in, can't walk and chew gum at the same time. Not really athletic at that age, but by mid-season, you see them starting to jell a little bit, start to come together. And at the end of the year, you end up winning more games than you're losing, and you feel like they learned something.
"The kids look up to you and basically appreciate the time you put in to help them. And that's really, really good. I feel great about that."