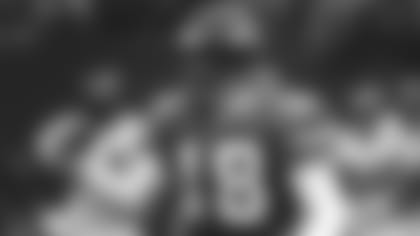 It seems fitting that Ray Lucas, born and raised in Harrison, New Jersey, and a graduate of Rutgers University, would make his way back home in 1997 and become a member of the Jets after the spending the previous season with the New England Patriots.
It also seems fitting that another guy from New Jersey led that to happen.
"Parcells. Plain and simple," Lucas said. "I wouldn't have played a day in the NFL if it wasn't for him."
Bill Parcells, in his first year as the head coach of the Jets, didn't waste words when he contacted Lucas, who was a free agent.
"I could tell you the exact words, but you can't print them," Lucas said. "But basically, it went, 'What the (heck) is going on out in New England? You have an hour and 30 minutes to get to the airport. If you miss your flight, don't bother coming.' And he hung up on me.
"So, that was basically the gist of me going from New England to New York Jets. I loaded my new baby, Rayven, and my wife, Cecy, and we took the shoulder going down to the airport just so I made it on time."
Lucas made the flight and in turn made the team, beginning a four-year stint with the Green & White from 1997-00.
"To start off by being a wide receiver, special teamer, and then two years later to become a starting quarterback in the NFL, I don't know if too many people have ever done that," Lucas said. "But if it wasn't for Parcells and him believing in me and him making me believe in myself, and don't get me wrong, I had some great, great coaches in college with (Doug) Graber and Stan Parrish being my quarterbacks coach. They all taught me the way."
The son of a Giants season ticket holder, Lucas, who grew up at Exit 15W and says he could have walked to the Meadowlands, knew the stadium well.
"Him and his friends all had season tickets, so that was our Sunday kind of thing," Lucas said. "I have some good, fond memories about being at Giants Stadium. But, of course, my father and my mom definitely turned as soon as I got to the Jets. They were no longer Giants fans. They converted."
There was, however, a difference between being in the stands with his family and friends and being on the field with his teammates.
"I wish, and I'm not sure, probably a lot of former players would say this. I wish I smelled the roses a little bit more. Realize what I was doing and how I was doing it," Lucas said. "When you get to that level, you are considered one of the best athletes in the world. Period.
"At the time, you're so worried about keeping your job that you don't really stop and say, 'Damn, man. I made it.' It just doesn't register. I wish I would have done that because when you're playing in front of your friends and your family, there's nothing better."
In the league for seven seasons: four with the Jets, one with the Patriots, and two with the Miami Dolphins, what makes Lucas most proud of his career?
"The fact that a kid from New Jersey and the one square mile town Harrison to being one of the best athletes in the world, I mean, if I could do it, anyone could do it," Lucas said. "Don't dream too small, dream big. Dream stuff that you can't even possibly think you could get to and then do your damnedest to get to it.
"But you also have to realize you can't just do it all by yourself. I had my family, it was awesome. I had the right people who were looking out for me. Parcells, a Hudson County guy. He knew I was tough, but if you don't have any opportunity, tough doesn't make a difference."
Following his playing days, Lucas began to talk about the game. And for the past 14 years, he's been a Jets analyst for SportsNet New York.
"I couldn't play anymore because of my back injury. When somebody takes something that you love away from me, the greatest thing that you could possibly do is talk about it," Lucas said. "I'm sure ESPN didn't know it at the time when they asked me to come on (their former morning show) Cold Pizza. They were actually helping me deal with the depression of not being able to play anymore.
"Broadcasting actually kept me close to the game. But at the same time, I remember how sometimes people attacked your character. I wanted to basically base my broadcasting off of what I saw. I call it the way I see it. I would never attack another guy's character saying that he wasn't putting the time in or he wasn't doing the work because I know what it takes to be where they're at."
Lucas, who lives in his hometown of Harrison with his wife, Cecy, and their three daughters: Rayven, Madison, and Kayla; is the executive director of the town's housing authority.
"My dad did it for 26 years, so I have his desk in my office that's my good luck charm," Lucas said. "I worked for Platinum Maintenance in the city, and we managed a lot of freaking buildings. I had at least 40 of my own that I had to take care of. But when I got back here, it was nothing like the city. To be here, back home, it's just awesome. In my job, I help people. It's rewarding."
Six years ago, the former quarterback turned television analyst and town housing director, became an author with Under Pressure: How Playing Football Almost Cost Me Everything and Why I'd Do It All Again.
In the book, Lucas explains how he turned to painkillers after his career-ending injury, and how the abuse of painkillers leaves many former players unable to lead a normal life once their playing days are over. Lucas also tells how he overcame the addiction and turned his life around.
Recently out for dinner with his wife and friends, Lucas met a gentleman and learned that sharing his story has helped him and others turn their lives around as well. 
"He also went through an opioid addiction and said that I helped him. He knew my story because I was so public that he knew he could come out of it," Lucas said. "When you hear stuff like that, it's life changing for me because when I was telling my story, I was afraid people were suffering in silence like I was. You don't make it to the NFL by asking people for help. That just doesn't work. But like anything else, you learn to take help from other people.
"To help somebody and then they come and tell you, 'Thank you' is the most rewarding thing you could possibly even think of. I'll put it to you this way. There is no high like the NFL. There's no drug out there on the street I can get that could make me feel the way I felt when I as playing. But when somebody says, 'Thank you' or 'You helped me,' it comes pretty close."