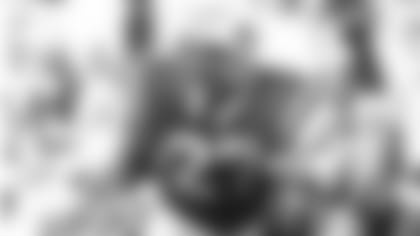 Born and raised in Nebraska and drafted by the New York Jets in 1971 out of the University of Nebraska Omaha, Phil Wise found himself shaking hands with a new world.
"Being from the Midwest and a sports fan, and coming to a team that had just prior to that won a Super Bowl and was being picked to maybe go back," Wise said, "and had a superstar quarterback and all those great athletes, man, I was ecstatic."
While he may have been ecstatic, back then, it was also a different world.
"We were segregated in training camp. The blacks and the whites and all that. Some would hold camp (meetings) in their rooms," Wise said. "I'm eternally grateful to Emerson Boozer, Winston Hill, the veterans, they expected something out of you. And let me tell you something, that's the greatest experience I had.
"Every team was not the same and in the '70s, they were different. In the '70s, we didn't have a lot of money. The athletes were fighting for all they could get. We were pitted against each other. But when they saw you were a good player, and I started my rookie year, they were all serious."
Wise continued. "Hey, I got to practice with Joe Willie (Namath). I got to question him as a defensive back about what he looked for, what he read. To be able to play with these great athletes, the two best tight ends you could ever practice with: (Jerome) Barkum and (Rich) Caster. And a Hall of Fame receiver [Don Maynard]. It was a privilege. In New York, it was a different bonding of players and we tried to look out for each other. The older players were just fantastic."
Five games into his rookie year, Wise was put in the starting lineup at strong safety against Buffalo and collected his first interception when he picked off Bills quarterback Dennis Shaw and had a 33-yard return. The Jets won, 28-17.
"Sometimes you're in the right place at the right time," Wise said with a laugh. "The ball got tipped around. I was pretty athletic as a safety, I could cover. I was so hyped about it, of getting that opportunity of making that kind of play. I probably should've had a chance to get it in the end zone. You never forget your first one. That was a big deal, but I remember the one I dropped that game that I could have walked into the end zone more than that."
Two seasons later, Wise did find his way into the end zone. During a game against the then-Baltimore Colts at Shea Stadium, he recovered a fumble and returned the ball 80 yards for a touchdown, and helped the Jets win, 20-17.
"It was fun because I thought that me and Burgess (Owens) were the most underrated DBs in NFL," Wise said. "I think Burgess was the guy who caused the fumble. I can remember picking it up and seeing all that green grass. It was interesting because it was like in slow motion. All I had to do was be in the area, keep playing, don't stop when the tackle's made, and if the ball pops out, pick it up and run."
Following six seasons with the Jets from 1971-76, Wise was unhappy with his contract and held out of the 1977 training camp. He was traded to the Minnesota Vikings for two future draft choices.
"I'm proud that I was one of the few players at that time in the history of the NFL to sit out of training camp to fight for our rights," Wise said. "If more players, I thought, would have supported the union and fought, we'd be way ahead in our pensions and how we get paid."
Wise retired in 1980 after three seasons with the Vikings with six career interceptions and nine fumble recoveries. What makes him most proud of his nine-year NFL career?
"The thing I really appreciated about my career was I had the respect of players for my talent and my abilities. And when you have players' respect as a player and you can play, that's the most important thing," Wise said. "And the fans, they were outstanding. They treated me like a king. If you could play in New York and the fans could respect you and the other players respect you, it doesn't get any better than that.
"I am proud to have been able to have played in the NFL for so many years. It has been my privilege and I'm honored by it. And I just love the people that love me for it, and there were plenty that helped me in the NFL."
Making his home in Minneapolis, Wise has a daughter, Phyllicia, and two grandsons: Yahmarri and Calvin. For the past 18 years, he has worked in radio at KQRS 92.5 FM.
"It's a legendary show. I've been doing it for 18 years, and the guy that does it, Tom Barnard, he's one of the legends of the industry and a friend of mine," Wise said. "Now, I just do it once a week, on Fridays. I'm winding down, but I've had a great time doing the show."