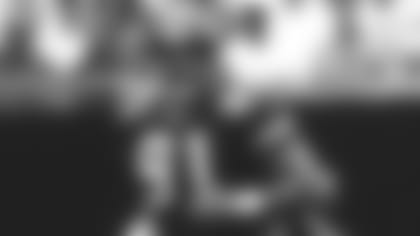 The Jets were unknowingly able to get one last reaction test and 100-yard sprint out of a college prospect, Syracuse defensive lineman Paul Frase, early on the second day of the 1988 NFL Draft.
"I didn't even know if I was going to get drafted," said Frase, whose name wasn't called during the first five rounds on Day 1. "I didn't have a phone in my house, so I was sitting at (Syracuse teammate and future Cowboys fullback) Daryl Johnston's house. I went home that night, and the next morning at 7:30, either Daryl or his roommate were banging on my door saying, 'Frase! Get your ass up! The Jets are on the phone.'
"So I ran across the 100 yards between our apartments and got the on the phone, and (the director of college scouting) Mike Hickey says, 'Paul, we're thinking about drafting you. How do you feel about being a Jet?' And I said, 'That would be great.'
"The Jets never even looked at me seriously, that I know of, other than at the Combine. But, man, it was quite an experience. It was just a dream come true for an upstate New York/New Hampshire kid, growing up in small-town America, to get drafted by the New York Jets. It was a thrill."
Chosen in the sixth round, Frase was one of two defensive linemen picked by the Jets and the only one to make the team. But then after starting 21 games during the 1988 and '89 seasons, he found himself being handedly blocked by a perennial All-Pro and an illness.
And, well, he came up on the short end of both of those sticks.
"In one of the last games in '89, we played the LA Rams and I had to go against Jackie Slater. I was like, 'He's a 14-year vet. I'm going to eat him up. I'm going to show him how it's done.' And he just kicked my ass. He was like, 'Here's a notebook and a pencil, son. I'm going to take you to school,'" Frase said.
"Looking back on it, I started to get affected with the Graves' disease towards the end of that season. I lost 36 pounds from those last couple weeks of the season until February. My heart was beating 120 beats a minute just sitting there or sleeping at night. I would sleep like four hours and wake up and think, 'What's wrong with me?' It was kind of scary. It was just a bizarre experience.
"And so finally, the doctors took a blood test after trying to figure it out. But we found out what it was in the first five minutes sitting down with an endocrinologist, who said you can get your strength back and your weight back 100 percent. You've just got to do this, this and this. So yeah, that was kind of my dance with Graves' disease. A hyperactive thyroid."
Frase spent the 1990 season on the physically unable to perform list, better known as PUP, regaining his weight and strength. His determination was acknowledged by his teammates when they presented him with the Ed Block Courage Award. It's given annually to a player from each team who is a role model of inspiration, sportsmanship and courage.
"Quite frankly, the fact that it was voted on by my peers, all the players that I sweat with and work out with and won and lost games with it, was very touching. I thought it was very special," said Frase, who would be honored with the award an unprecedented second time in 1995 while with Jacksonville.
With New York for seven seasons, six active – when he didn't miss a game – Frase totaled 211 combined tackles and 10 sacks, including in 1992, when he had a career-high five. What are among the fondest memories from his time with the Jets?
"There's two. One was on the playing field. I actually sacked (Miami's) Dan Marino during the year where he set the record for the fewest sacks ever. I think they only gave up like 11 or 12 sacks during the whole year, and I was one of them," Frase said.
"But probably the prankster, locker room teammate most memorable one was, I got married during the bye week in 1992, and Bruce Coslet let me off the practice field 30 minutes before everybody else so I could go get ready for my wedding. And so I get undressed and jump in the shower, and then come out and the guys are all in the locker room.
"I'm putting on my tuxedo, and put my first foot in my dress shoe, and all of a sudden, shaving cream squirts out all over the place. I look up and Dennis Byrd is snickering as only Dennis Byrd could do. The whole freakin' team was laughing. I was like, 'Not funny, Dennis. Not funny at all.' He had literally filled my shoe with shaving cream on the day of my wedding. It was hilarious."
Claimed by the Jaguars in the 1995 Expansion Draft, Frase went on to play for Jacksonville, Green Bay and Baltimore. An 11-year NFL career, a majority of it playing before the New York faithful.
"The Jets fans were unbelievable every single year. They would start out full of hope and energy, and obviously, we had some tough years. We only made the playoffs once in seven years. But at the end of the year, they were still tough but not filled with as much energy," Frase laughed.
"The fans always stayed with us and they always hoped for the best. And obviously, man, right now, there's reason for great hope in the first part of the season. Let's see what happens. J-E-T-S, Jets! Jets! Jets!"
On February 2, 1995, as Frase was heading into his eighth year in the league, he and his then-wife, Alison Rockett, became first-time parents. Unfortunately, their son, Joshua, was born with myotubular myopathy (MTM).
Affecting one in 50,000 newborn males worldwide, the National Library of Medicine defines MTM as a severe congenital muscle disease characterized by profound weakness, early respiratory failure and premature lethality.
"When Joshua was born, he was one of 55 known cases in the world," Frase said. "There was no research going on with myotubular myopathy, and we knew we needed to raise money. And quite frankly, the NIH or some of these big organizations do not throw money at research and development of a drug for an orphan disease. Meaning a disease that affected 200,000 or less people worldwide. Joshua had an ultra-orphan disease.
"We chose to raise money for research and development of a cure and to help families dealing with myotubular myopathy and other congenital myopathies."
In honor of their son, his parents co-authored Game Changer, which was published last November.
"Every special needs child, they have a lot to offer and a lot to give. Joshua, I'm biased, he was just a brilliant, funny, giving kid that never complained. I started to write excerpts about our life with our son. It was very important to share Joshua's hope, his love and his inspiration. And a kid like Joshua makes it easy to do. We just want to share that story," Frase said.
"We now know there's 5,000 to 8,000 kids out there with it. And through clinical trials, there's been some wonderful successes or miracles, you might say. We've had some tragedies, but we've had progress and strides in trying to help make a difference in the lives of these children and their families.
"Unfortunately, there's still 50 percent of these kids who don't make it to 18 months of age. Selfishly, we wanted to find a cure in our son's time on this earth so we could help him. But now it's for all of the other families and, quite frankly, the sisters that are carrying. It's an x-linked genetic disease. So what about the daughters of a carrier? Well, if there's a cure waiting around the corner, then that young woman who wants a family can successfully embark on having a family."
Making his home in St. Augustine, FL, Frase and Rockett are also the parents of a daughter, Isabella, who recently graduated from Liberty University with degrees in music and healthcare.
Acquiring a building contractor's license in 2000, Frase founded a home construction company, Bella Builders, named after his daughter, three years ago.
"When I got back into building after my kind of a hiatus, the first five homes have been ocean front. And we pretty much stay at the beach. I like to stay towards the coast, east of the intercoastal from Atlantic Beach down to Flagler Beach," Frase said.
"So far, I've been very fortunate. I've built for customers and I'm looking to build a high-end duplex and a triplex in Jacksonville Beach for a client. And so right now, I have not had to extend myself and build a spec. I've just been keeping very busy with particular custom clients.
"And it's kind of interesting. I think you develop a camaraderie with your subcontractors. You build a relationship with them. You try to be demanding, but you try to be fair. And let's face it, if you keep people happy and you do right by them and they do right by you with their work and their quality of workmanship, it's kind of like a team. It's a team effort.
"Ballplayers, we're team people. We still like a team atmosphere. And that's what we always complain about. We miss the locker room. We miss the camaraderie. We miss the team feel. But if you can develop that in your place of business, it definitely is a plus."