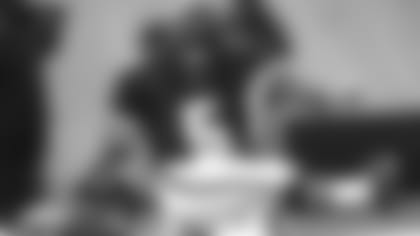 A member of three NCAA Division-I championship soccer teams while at Saint Louis University, Pat Leahy was clearly a winner before he even thought about putting on a helmet and shoulder pads and kicking a football.
"My coach, Harry Keough, knew one of the (then-St. Louis) Cardinals' scouts," Leahy said. "I could kick a soccer ball far and hard and that kind of good stuff. So, (in 1973) I went to a tryout with them and then I went to a second tryout, and a third tryout. I went to training camp with them in 1974. I knew I would get cut because they had a really good kicker, but I got a look."
One person who noticed Leahy was Jets head coach Charley Winner, who brought him in for a tryout with two other kickers after seven-year veteran Bobby Howfield was injured midway through the 1974 season. Leahy won the battle. A rookie in the truest sense of the word, what surprised him about the NFL?
"I learned on the job because I had no college experience. There were no kicking coaches at that time," Leahy said. "So, I guess what surprised me was, which wouldn't happen in today's game, I was given enough time. I guess they figured I had some talent. I was given enough time to kind of figure it out.
"There were good periods and bad periods, but I guess the mindset is to just keep going. You just try to get to the next kick. OK, that one's done; let's think about the next one. The hardest part of going from soccer, where you were always in the flow of the game, to kicking is you might be on the field for a total of like 20 seconds a game. It took a while to get to the point where you felt comfortable with it."
After converting 6 of 11 field goal attempts and 18 of 19 extra points in six games as a rookie, Leahy's comfort level rose. And by 1978, his fifth season, he was named as an All-Pro. That was while playing home games at Shea Stadium. The Jets moved to the Meadowlands in 1984.
"There was a big difference. For our first two or three games every year, Shea had the baseball field. That was very different," Leahy said. "And it was always windy. The winds at the open end were constantly changing, it was very hard to predict. The closed end wasn't bad except for the fact that the closed end was where the pitcher's mound was. I think my statistics improved dramatically when we moved over to the Meadowlands."
In 1990, his 16th season with the Jets, Leahy, who grew up and went through college more familiar with corner kicks than with cornerbacks, was named as the team's MVP. Now named the Curtis Martin Award, Leahy is the only kicker to receive it in its 58-year history.
"It was a special deal. And as I look back on it, it's also indicative that any time your kicker is a MVP, maybe the team year wasn't so good," Leahy laughed. "I think my teammates gave me a great amount of respect by doing that."
In 18 seasons with the Jets from 1974-91, Leahy appeared in 250 games. He made 304 of 426 field goals, 558 of 584 extra points, totaling a team-record 1,470 points and never had a kick blocked. What's one of the fondest memories from his playing days?
"There are a lot of different games, but my best memory is surviving New York for 18 years. Because when you're great, they love you, when you're bad, they boo you. I mean, that's football," Leahy said. "But the fact that I was able to play there for all those years, I think is the most special thing about it. I really enjoyed my time there."
Now enjoying a life of semi-retirement in St. Louis, Leahy and his wife, Colleen, have three children and three grandchildren. "I owned a couple of businesses that I sold, and for the last 10 years I've been a merchandiser with The Home Depot. It's fun, something to do. When it comes time for Christmas or spring, we put out all the products, put up all the displays," Leahy said. "I have no aspirations of moving up in the company. I just enjoy getting up a couple days a week and having something to do. I'm 68, almost, so I'm not looking for a career."