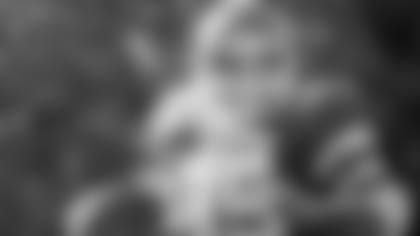 Former Jets fullback Mike Augustyniak's arrival in New York can be summarized as a case of father knows best.
Undrafted in 1980 when he came out of Purdue, Augustyniak signed as a free agent with New Orleans and painfully lasted until the final cut.
"It was a really rough training camp. It was in Vero Beach, Florida. Two-a-days, 90 degrees, it was terrible. Plus, I got the crap beat out of me. I was basically a tackling dummy for the first-team defense. It was just hell. And when I got cut, I was like, 'I'm so done with football. I don't want to see another football,'" Augustyniak said.
"When I got home, my dad said, 'Well, let's try out with somebody else.' And I said, 'Nope, I'm done.' So, I got a parts manufacturing job in Fort Wayne, Indiana. And a guy called and said, 'Hey Mike, your dad says you want to get back in football.' And I'm like, 'Not really. I had a bad experience. But who's interested?' And he said, 'The Cleveland Browns and the New York Jets.'
"He was a scout (and my dad) met him at a game between the Saints and Detroit, the last preseason game. I was amazed that my father kind of went behind my back and got this guy, but I'm glad he did."
Augustyniak, who was nicknamed "Full-Go" at Purdue because he played hard in practice as well as games, annoyed some veteran Saints who felt he should change his nickname to "Half Full-Go."
"A lot of the drills, they would wrap you and you're supposed to stop. At least that's what they told me," Augustyniak said. "They kicked me in the rear-end, the defensive players, and I was like, 'Okay, I'm sorry. I was just trying to do what I have to do here.'
"And when I did get cut, I was like, 'I didn't give them my best.' That's the only reason I went back for another tryout. I'm going to do my best and I don't care, no one's going to dictate how I run the football."
At training camp with the Jets, Augustyniak, determined to play with no less than 100 percent effort, annoyed some veterans again. But it paid off for him.
"I started playing like I played in college and the defensive players didn't like it. I got in eight fights during the preseason (training camp). I fought (Mark) Gastineau. (Joe) Klecko body slammed me a couple times. A lot of DBs, they ganged up on me," Augustyniak said.
"I had a meeting with (head coach) Walt Michaels, and I didn't know if it was going to me by last meeting or not. He said, 'Welcome to the 1981 New York Jets.' It was like a dream come true.
"I was kind of breathless and the first thing I thought of was to call my mom and dad. And so, I called and said, 'Would you accept a collect call from Mike Augustyniak, fullback for the New York Jets? Dad, we made it.' My mom and dad were both on extensions and they were screaming. It's a moment that I'll never forget."
With a 10-5-1 record in 1981 and a 6-3 mark the following season, the Jets were trying to help their fans forget the previous 11 years when they didn't make the playoffs.
"That's when the New York Sack Exchange started. Bruce Harper had a great season. I don't know, we were pretty tough," Augustyniak said. "We had a pretty good '81 season and went to the playoffs and Buffalo beat us. I was on the sideline that day because I had re-broke my ribs and I had three and a half pints of blood in my chest cavity, and they almost lost me.
"In '82, we just kind of picked up where we left off. That was the strike year, so we only played nine games. We played Miami twice in the regular season and we lost to them twice. And then we got to the playoffs and (lost to them in the AFC Championship Game)."
Injuries shortened Augustyniak's career to four seasons, three active, 1981-83. He rushed for 567 yards and seven touchdowns, and caught 52 passes for 404 yards and a touchdown. What are the fondest memories from his time with the Jets?
"I think just being a starting fullback. One of 28 at the time. That was just an honor. And running out of the tunnel when they announced the offense at Shea Stadium was, oh my God, the biggest rush you'd ever imagine," Augustyniak said. "The fans liked me, they would be going, 'Augie! Augie!' That was just a big rush for me. You feel like you've reached the top of the heap.
"It'd always been a hard road for me it seems like in athletics. I've thought about it through the years and I really had a fear of failure. When I went back home the first time from New Orleans, I was embarrassed. I thought I should have made the team. I kind of hid out. I just wanted that part of my life to be behind me.
"And then I got to the Jets, and still, I was… I didn't want to fail. So, I did anything. Like I said, I got into a whole bunch of fights. I'd be beat up and I would get out there and find the strength somewhere to keep doing it. The experience of being in New York was like no other. It was the most exciting thing I've ever done. I wish I had it back."
Making his home in Jacksonville, Florida, Augustyniak and his wife, Susan, have two adult daughters: Ashley and Danielle; and own the Augustyniak Insurance Group, an independent agency.
Because of health reasons, Augustyniak is semi-retired.
"I've been struggling a little bit with memory and headaches, just trying to deal with some of the effects from concussions," he said. "I go into the office a couple times a week. I don't really do the things I used to do – sell and go prospect for commercial insurance and stuff like that.
"It's been kind of frustrating. I'm heading to Boston (University) in June. I was part of the original detect study (which examined the effect of concussions on former NFL players' brains) that started the CTE (Chronic Traumatic Encephalopathy) investigation. They contacted me and there's another study going on that they want me to head up there for."