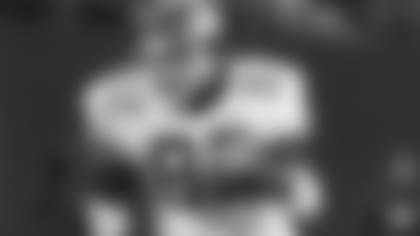 When the NFL held their Draft in 1978; ESPN was two years away from televising it, then-commissioner Pete Rozelle wasn't giving draftees a congratulatory hug, and Penn State tight end Mickey Shuler was student teaching a sex education class at Cedar Cliff High School in Camp Hill, PA.
"The guys that were in charge of me thought it would be funny," Shuler, who was chosen by the Jets in the third round, said with a laugh. "I didn't find out until later that I was drafted. I was excited."
Primarily used as a blocker in college, Shuler arrived at training camp and found veteran tight ends and mentors-in-waiting – Rich Caster and Jerome Barkum.
"I learned a lot from them about receiving. I could catch the ball and I could run routes, but in college, we didn't do it," Shuler said. "I watched how they did things and how they carried themselves, trying not to indicate anything that they were doing. I was usually with the linemen in college. So, it was different when I got there. I loved it. It was exciting."
During his first six seasons in New York – and granted, he missed 10 games one season because of an injury and seven the next because of a player's strike – Shuler totaled 75 catches and 12 touchdowns.
However, in 1984, he led the Jets with 68 catches and six touchdowns. The following season, he led the team again, catching a career-high 76 passes and seven touchdowns.
"I negotiated my own contract with Jim Royer one year. I told him, 'If you guys throw me half the balls that these other guys drop, I'll be in the Pro Bowl,'" Shuler said with a laugh. "I said, 'Look, for every ball I drop, take money off my paycheck. And for ever one I catch, pay double what you give me.'
"I came from Penn State and they said I was a blocker, and when I got to the Jets that's what they wanted to use me as. And basically, I evolved into what they call an H-back now because of how (coaches) Walt Michaels and Joe Walton used me.
"They used me as a running back, as a wide receiver, as a tight end, they used me all over the place. So, I had to learn all the positions, which made it for fun, but it was a lot to think about."
The do-everything became a key target.
"Once we started that offense with Joe Walton, I thrived in that. It gave me a lot of opportunities. I mean, you can't catch balls that aren't thrown your way," Shuler said. "When I went to Philly (in 1990), I caught some balls initially, but then I got hurt the second year on their awful field. That ended my career."
With New York for 12 of his 14 seasons in the NFL, the two-time Pro Bowler is the Jets' all-time career leader for a tight end with 438 receptions for 4,819 yards and 37 touchdowns. Shuler was cut by the team in 1990, which was also when Walton was replaced as head coach by Bruce Coslet.
"That was the worst thing that ever happened to me as far as I was concerned in the NFL, the lack of respect and the way it was handled when I was released," Shuler said. "That upset me the most. I went to the Jets before the season and asked them, 'Do you have any qualms about me coming back and playing? Tell me now and I'll either retire or you can let me go to another team. I'll do whatever you guys want to do.' And they said, 'Oh, no. we need you around young coaches.' Do this, do that. And they cut me at the last cut.
"Because they cut me at the last cut, that's how the Players Association were able to sue the NFL, because they cut me and the Giants cut Joe Morris the same way. That opened up the door and it eventually turned into the Reggie White case and got free agency."
Shuler and Morris reportedly accused the NFL and their former teams of breaching contract provisions that required payment of 10 percent of the year's total salary during the preseason.
"If I would have left the Jets, I would have preferred to just retire or have picked the team that I wanted to go to that fit my abilities," Shuler said. "But they didn't give me that opportunity. Because of the way the system worked back then, I went from being the highest paid player at my position in the league to being paid the league minimum.
"It was just weird and put a bad taste in my mouth. Not the way I would have liked to end my career because I think I was what the NFL thinks they are. Very honorable, integrity, disciplined, hard-working, dedicated. I treat people fair. I treat people with respect and dignity. I think the fans appreciated what I did and I always appreciated their effort to support us."
Following his career, Shuler and his wife, Sue, made their home in Enola, PA. They have four children and seven grandchildren, with one on the way.
"I deliberately didn't go into the media as far as broadcasting or go into (NFL or college) coaching because I wanted to spend time with my kids and work with them, and I was able to do that. I came home and started some car washes and I had started some things while I was playing, buying properties to rent. I worked for myself," Shuler said.
"I coached little league. I coached girls softball. My wife was a track coach at our high school. I assisted her, and I coached five years of football while my son played three of those years.
"About 10 years ago, I wasn't able to do the stuff that I used to do. So, I quit working and I tried to get the NFL to give me a disability benefit for my back, and they refused me three times. I can't do a lot. When I hurt my back, it kind of messed me up. I don't function as well as I would like to. My legs don't work so well. I'm not as active as I would like to be.
"Through the whole course of all this stuff, I left the NFL. Nobody knew I played. And then (former Jets coach and general manager) Bill Parcells called and asked me if I'd come back to the Jets and reunite a relationship with them. And so, I did. I appreciate them asking me to come back. They've showed me nice respect and they're real nice to me. I have no problems coming back. I enjoy it. I like seeing the guys that I used to play with."