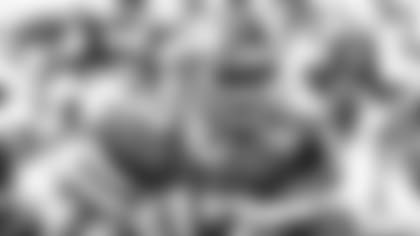 One is never quite sure who wields the most power.
Matt Robinson, a quarterback who was chosen by the Jets in the ninth round of the 1977 NFL Draft out of Georgia, was almost not around long enough to try on a helmet.
"When I got there for the rookie camp, they failed me immediately because my left knee was bad," Robinson said.
"I was standing out front at Hofstra with a cab on the way to take me back to the airport, and John Free, who was the business manager at that time, walked out and said, 'What are you doing?'
"I said, 'Well, they cut me. I'm going home.' He said, 'Are you that Robinson kid, the quarterback from Georgia?' I said, 'Yes, sir.' And he said, 'Wait five minutes.'
"So, he walked in and five minutes later he came out and said, 'Get in the locker room.' I have no idea (what occurred during those five minutes) and I never asked. I just went in and got dressed, kept my mouth shut, walked out onto the field and never heard another word about it. If it wasn't for that, I probably would have never played for the Jets."
Robinson went through training camp and made the team as the third quarterback behind Richard Todd and Marty Domres without having to worry about hailing another taxi for a ride to the airport. And what made the experience even more memorable for him was how he was mentored by some veteran teammates. 
"Richard and I became very good friends. But the one guy that I remember with a dear heart was (veteran guard) Randy Rasmussen. Randy kind of showed me the ropes, made me polish his shoes, sent me out for pizza during camp," Robinson said with a laugh. "He understood it's tough being a rookie. I remember him telling me that the veterans on the offensive line never spoke to him other than about football. They didn't socialize with him. He became a very good friend. I really have a lot of respect for the man.
"And I've got to mention Jerome Barkum, he treated me like a king. Rich Caster was the same way. So, there were some guys that really were very, very nice and made the transition into pro football a lot easier."
After making one start as a rookie, Robinson became the first-team quarterback the following season after Todd suffered a broken collarbone and was placed on Injured Reserve.
In the 11 games Robinson began under center in 1978, the Jets went 6-5. He passed for 2,002 yards with 13 touchdowns and 16 interceptions, and led the NFL with 16.1 yards-per-completion average.
The November 5 game in Denver, which New York won, 31-28, is one of Robinson's fondest memories as a Jet.
"I hit Wesley (Walker) for 75 yards for a touchdown with four or five minutes left in the game (after trailing 28-7 in the first half)," Robinson said. "Some still say that was one of the top three comebacks in Jets history, which is fantastic in that we were way behind and made a heck of a comeback. And (Broncos kicker and former Jet) Jim Turner actually missed a field goal with seconds left in the game. That was a big win for us."
Two seasons after that big win over Denver, the Jets traded Robinson to the Broncos for their first- and second-round picks in the 1980 Draft and veteran quarterback Craig Penrose.
"I kind of knew it was coming because I was in (Coach Walt Michaels') doghouse. The beginning of '79, I won the job (as starting quarterback) and hurt my thumb early on and hid it from him. We lost in overtime to Cleveland (25-22) to open the season. We shouldn't have lost that game, but we did," said Robinson, who was replaced as the starter for the rest of the season by Todd.
"(Jets offensive coordinator) John Idzik had talked to (Broncos head coach) Red Miller. John told me later on that Red had called him to ask about me and was I capable? John gave me a glowing reference, and the next thing you know the trade occurred.
"And it's funny, when you're that age, that young, I don't remember that much about the high volume of the trade, so to speak. It was the fact that I got traded and got a chance to go out there and learn from (veteran quarterback) Craig Morton and have a chance at a starting job."
Following one season with the Broncos, two with the Buffalo Bills and two in the USFL, Robinson made his home in Jacksonville, where among other things, he was a longtime radio and television broadcaster for the Jaguars.
As a former analyst as well as a former quarterback, what advice would he offer Jets second-year QB Sam Darnold?
"Take a deep breath and understand that it takes time," Robinson said. "Very rarely do you see the young guys come on and do great things right away consistently. You see spurts of great things and that's why he was drafted in the first round.
"But you've got to be patient. I guess the biggest thing I'd say is don't have a good memory. There's a lot of good memories ahead. Don't hold on to things that don't go right. It's a fine line. You've got to be able to learn from the mistakes in the film room afterwards and carry those forward. But don't carry it forward as baggage."       
For the past six years, Robinson has been an Executive V.P./GM with American In-Home Care LLC. "When you're taking care of seniors, and I did this with my mom for 13 years," says Robinson, "to be able to do it from a work standpoint, and know that there are seniors out there that don't have a lot of money, don't have people to take care of them, that we're able to do that is pretty gratifying.
"And another thing is the fact that we have a very strong Aid and Attendance program for our veterans. We work hard to get them a free lifetime entitlement for homecare paid by the V.A. So, those are the two things that I think are the most gratifying thing about the job."
Robinson has one daughter, Mattison (Mattie), who graduated from Florida State with a dual major in criminology/psychology. She's now in graduate school at Arizona State, studying forensic psychology, with the goal to work in a behavioral analysis unit.