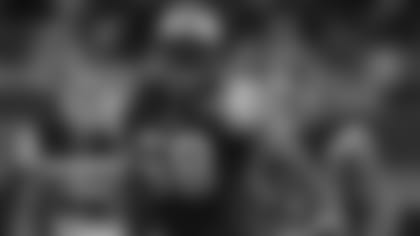 They didn't actually carpool from Foxborough to the Jets' facility in 2006, but what are the odds that New England's three-time Super Bowl champion linebacker/special teams standout Matt Chatham joined the Green & White because Patriots defensive coordinator Eric Mangini had just become New York's new head coach?
"I would say basically 99 percent," Chatham said with a laugh. "My other free agency options were the Texans and Niners, and those never even advanced to the stage of a visit. It just, in part, happened to be Eric's year where he got that job, and the opportunity to potentially have a bigger role than I had (with the Patriots) was going to be available. So I think the familiarity was obviously appealing."
Chatham's "bigger role" was intended for him to be a starter as well as a cushion between Mangini and the players who were already there. But…
"Those were your best laid plans. But what happened is, I arrived and I think a big part of it was, yes, trying to sort of teach the system and the kind of culture he was looking for, and just bring some familiarity to the room. But I actually, relative to my own role, tore ligaments in my foot in mini-camp. It was like my sesamoid joint was sort of destroyed. It snagged on that old ragged Hofstra turf. I was covering Thomas Jones, and just out in the open, I cut and it grabbed and just popped," Chatham said.
"I ended up playing that first season without opting for surgery and was still able to do everything I always did as a special teams guy, but I had to wear special shoes. I had a carbon fiber plate in my shoe. It was zero flex. Basically, just walking around with a clubfoot and trying to make the most of it. I was there for a role, to kind of come in and be a leader and help make the transition. Unfortunately, (the injury) happened. I think that definitely harmed my ability to go show what I thought I could do. But I made it work."
Especially in the Jets' 2006 Week 10 game in Chatham's old stomping grounds. New England had won nine of the previous 10 meetings, including the Week 2 game at Giants Stadium. But at that November 12 game at Gillette Stadium, 68,756 Patriot fans left disappointed after the Jets won, 17-14.
"It was just weird. You've always seen it from the other side. You always hear how difficult it is to play there, all the banners hanging up and all that," Chatham said. "We won sort of an ugly game in the mud and prompted them on their bye week to change it out to turf. So it was fun go up and compete against old friends.
"I think once you get going, it was just time to compete. I'm not a Patriot, I'm a Jet and I care more about us coming out on top. And we did. That was an awesome feeling. But unfortunately, we came back (against them) in the playoffs and didn't get it done."
After having surgery on his foot and toe during the offseason, Chatham was placed on the reserve/PUP list. Activated in late October, he was able to play in the final nine games of the 2007 campaign. A Jet for just those two seasons, Chatham's time with New York was brief, but memorable.
"We had a really strong group of linebackers," he said. "Older guys like Eric Barton and Jon Velma. Super solid players. Excellent guys off the field. Great teammates. And then other guys around them like Bryan Thomas, who was kind of the up-and-coming young guy that played several positions. Victor Hobson, Brad Kassell, Cody Spencer, David Harris and David Bowens. Just a lot of really good dudes. It was a blast to be a part of it, and those guys are people you'll know the rest of your life."
Undrafted out of Division II South Dakota in 2000, Chatham spent six seasons with New England before joining the Jets. Playing in 91 games, he totaled 143 combined tackles and recovered two fumbles, one which he returned 38 yards for a touchdown against the Giants in 2003. Besides earning three Super Bowl rings, what makes Chatham most proud of his career?
"I think my perseverance is probably the thing I'm most proud of," he said. "It sounds excusey when you talk about injuries you're dealing with while you're playing, but I endured some stuff that I probably could have sat out with. But it probably would have ended my career, as well.
"So you kind of just keep logging seasons. I was never going to be a Pro Bowler or anything like that, but I could always figure out a way to make a role and do some things at a high level. But just not all things. So I think that's probably the thing I'm most proud of, just finding a way to be net positive for whatever team I was trying to be a part of."
Chatham was pre-law coming out of college, doubling in criminal justice and English. And he returned to school following his playing days and earned an MBA from Babson College.
"They've been the No. 1-rated entrepreneurial MBA program in the country for, it's an outrageous number, something like 27, 28 years," Chatham said. "If you're going to start a small business, this is the premier place to be.
"And when you're going through the program there, basically everyone in the room wants their own small business. They're trying to learn how to do it. You meet a ton of really good food people, people that are in food production or operations or brand building or marketing focus people."
Spending 12 years as a football analyst with the New England Sports Network and working college games for ESPN and the ACC Network, Chatham also wrote for the Boston Herald and The Athletic. But in June of last year, he became one of those students at Babson College who wanted their own business. He created a product and has built a business around it – Rub Smoke Love.
"The gist of the business is basically we're a seasoning company," Chatham said. "Our two main blends, Beef Cake and Gold Bark, are home formulas. I've been kind of a smoking food guy. Love to entertain parties at the house, friends, families, holidays, stuff like that. So my thought was just, 'Hey, these are unique to what's out there. They're all natural. I've got enough of a background and enough connections to put together a production and delivery chain for these things, let's try to build a business around it.'
"So I had these two formulas that I've always used. One, obviously, it's more aimed at beef products. But there's nothing on the market like either of them. The Beef Cake has a little bit of coffee in it and sort of an herb blend that you don't typically find on steak or beef ribs. And then the other one, it's kind of fusion. The Gold Bark has a bit of a Carolina back, but it has a little bit of Asian barbecue in it, as well. And it's got some of the herbs that we use.
"(What I enjoy about the business is) just the opportunity to be creative. I love it. Since we launched, we've gotten in a little bit north of 150 stores. We're on Amazon. We also sell online at our place, rubsmokelove.com. But what I enjoy the most is just finding new applications. The idea behind this was not to be like a typical web company or seasoning company and come up with 20 flavors or something like that. It was more to like really, really nail a couple and find unique ways to use them."
Chatham, who makes his home in Wrentham, MA, with his wife, Erin, and their children: Lex and Emm; has found the unique ways by producing glazed cashews covered with the Beef Cake rub and glazed pecans covered with Gold Bark. There's also a plan to release a smoked salt in time for the holidays.