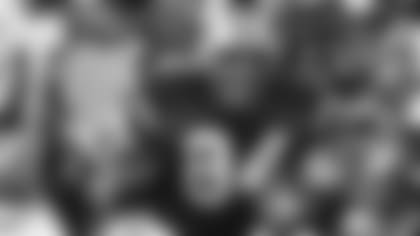 Chosen in the eighth round of the 1970 NFL Draft, Mark Lomas, a defensive end from Northern Arizona, would embark on a Lewis and Clark-like adventure.
"I'd never been past the Mississippi River. The east coast was a whole new world for me," said Lomas, an Orange County, California native. "I was a little surprised because I really hadn't talked to them. I was just looking for an opportunity and they gave it to me. You adjusted, and the Jets, it was pretty well structured during that time."
The Jets may have been pretty well structured, but they and every other team were pretty well short of veteran players when training camps opened thanks to a 21-day lockout/strike.
"The veterans didn't come to camp until the second or third week. So, we started out with a lot more rookies and it was just a matter of attrition," Lomas said. "Training camp in those days was truly a training camp. It was a kind of a gut check to see who could hang in there. If you had the skills, but maybe you didn't have the guts, you weren't going to be around.
"They kind of really beat you up pretty good. Today, you can only practice in pads so many hours a week or what have you. That would have been wonderful. Back then there was no limit and they took full advantage of it, believe me."
Just two years removed from winning Super Bowl III, did Lomas believe he had his work cut out for him to even make the Jets?
"Oh, yeah. It was a long shot at best," Lomas said. "I was in the right place at the right time. (Seventh-year veteran defensive end) Gerry Philbin got hurt and Weeb (Ewbank, the head coach/general manager), didn't want to spend a lot of money, and I wasn't making a lot of money. He said, 'We think you can do the job.' And I said, 'Hey, I'm your guy.' If Philbin hadn't got hurt, I don't think I would have had a shot at it."
But Lomas did have a shot, and he made the most of it. When the Jets opened the 1970 season on September 21 in Cleveland, the very first Monday Night Football game, the rookie was on primetime TV as a starting defensive end.
"Everybody's bigger and faster, but a pass rush is a pass rush. My (position) coach was Buddy Ryan, and he was pretty demanding. I can remember the sportswriters, 'Hey, the Jets aren't going anywhere with this defensive end,'" said Lomas, who as a rookie was credited with having four sacks in a game 12 years before it became an official statistic. "But time went on and Philbin came back and I moved over to left defensive tackle. I started every game that first season at either left defensive end or left defensive tackle. Then the next year, somehow Verlon Biggs left for Washington, and so they moved me to right defensive end."
Lomas was a solid starter until late in the 1974 season when he suffered a torn Achilles tendon during a game against Miami while chasing Dolphins quarterback Bob Griese, and was sidelined the final three games.
"I missed the next season altogether," Lomas said. "I came back in '76, and in the very first exhibition game, this guy, (then-St. Louis Cardinals running back) Jerry Latin, cracked back on me so hard that he broke my leg and it just blew out my knee.
"After that, Walt Michaels became the head coach, and he called me up and said, 'Hey, Mark, we're not going to bring you back. Thanks for your time.' When you've have no production for two years, you're looking for a new job. I just kind of figured, my kids were starting school and it was time to move on."
Returning home to Southern California, Lomas moved on to new heights. Literally.
"I sold mobile cranes for about 35 years, until 2011, and then I started my own business, CranesBoomandJib.com. I buy, sell, broker, appraise mobile cranes," Lomas said. "It's kind of like playing football. You make your presentation and you follow up, you work on it, and then you get a sale. And that's good. Sometimes you lose and you don't get a sale. You're interacting with different people, that's interesting. It's good to be out and about, meeting people, and doing different things."
Splitting time between homes in California and Colorado with his wife, Christine Nyholm, Lomas has three adult children, six grandchildren and a step-son.