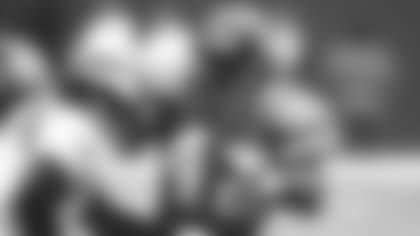 Marcus Coleman has gone from student to teacher. Or in the football world, from player to coach.
An All-America safety at Texas Tech, he was chosen by the Jets in the fifth round of the 1996 NFL Draft.
"I was just happy to get drafted," Coleman said with a laugh. "You're lucky regardless of where you go. To get drafted gives you an opportunity. I was thankful to take advantage of that opportunity and make the most of it."
After posting a 1-15 record during his rookie season, Coleman and his teammates didn't begin to make the most of it until 1997, when two-time Super Bowl champion and future Hall of Fame coach Bill Parcells joined the Jets. Successful, but hard-nosed, his reputation preceded him.
"You hear all the stories and see what kind of coach he is and how he went about his business, so there is a small level of fear about that. But outside of that, it's just a new coach and a new way of doing things," Coleman said. "In the sports industry, it's ever revolving. You have to be able to adapt. You have to be able to understand what the coach wants and what he expects. Just knowing who he was prior to that, everybody knew the expectations were going to be high. So, you just have to go out and do your job and hopefully he likes you and keeps you around."
Coleman was indeed kept around. And in 1998, helped New York go 12-4 and play in the AFC Championship Game against Denver. What clicked for the Jets that season?
"Everything," Coleman said. "It was weird because the year before, we were 9-7 and barely missed the playoffs. But I think after that first year and understanding what the coaching staff wanted, what they were implementing, obviously they were moving pieces in regard to players. But once they got it set, everybody knew what their role was and at that point, everybody just did their job and tried to focus on doing it to the best of their ability.
"Everybody understood the expectations. There wasn't a lot of guessing with any of the schemes on both sides of the ball. Once we got that down, everybody just used their natural ability and it just kind of took off."
Really taking off the following season, Coleman, starting at cornerback, led the team with six interceptions. One came during a Monday night game against Dan Marino and the Miami Dolphins on December 27, which he returned 98 yards for a touchdown in a 38-31 victory.
"I knew the play was coming, to tell you the truth," Coleman said. "If you go back and look at the interview that Dan gave, he said I guessed on the play. But we'd seen that play from watching film. So, just based off their formation and who was out there, you knew there was only one or two things they were going to do. I got the opportunity and stepped in front of it, got the interception, and from there you're running for your life trying to get to the end zone.
"Playing on Monday Night Football, once you get the opportunity to get to that level, it's like playing in front of the world. You're the only show in town. So, having the chance to make that play in front of so many millions of fans that are watching the game, and contributing to the win, it's a lot of fun. If you get satisfaction out of doing your job and making plays when it's time to make your plays when the opportunity presents itself, that's really the expectation. You want to get the chance to do that."
Following an 11-year career in the NFL – six with the Jets from 1996-01, four with the Houston Texans from 2002-05, and one, 2006, with the Dallas Cowboys – Coleman got the chance to coach.
"I was actually doing a little radio, just trying to get back into the real world," Coleman said. "And I was coaching 7-on-7 football in Pflugerville, Texas, just outside Austin. I was really having fun doing that. And through a mutual friend, I learned there was a coach that needed a DB coach in an indoor league. My name came up and I spoke with the (Tri-Cities Fever) head coach at that time, Ryan Lingenfelder, and he brought me in."
After serving as a defensive coordinator for the Iowa Barnstormers, Coleman became the head coach of the Tucson Sugar Skulls. He's now the head coach and defensive coordinator of the West Texas Warbirds of the Champions Indoor Football League.
Having played for four head coaches in New York: Rich Kotite, Parcells, Al Groh and Herm Edwards, as well as for defensive coordinator Bill Belichick; has Coleman found himself learning from his past to help him now?
"All the time, the way I may be coaching some of the players or with the way that I put things together structurally within the organization," Coleman said. "Yeah, there's always something that I pull from each and every coach that I played for. And actually, a lot of that stuff, some of the notes, I still have. I still pull from some of the things that they said, how they put things together, how they ran practice. I always fall back on that and try to implement that into what I do right now.
"Since I've been in the indoor game, it's more about the journey for these young guys that are trying to get an opportunity to display what they have. We get a lot of small school guys or guys that circumstances may have led them to the indoor game, there's just things that they need to work on in order to move up to the next level. And then there's some guys that just love playing. Period."
Coleman continued. "Everybody's journey is different. So, if you get the opportunity to move up, great. Regardless of where you started, it's about taking advantage of the opportunity that you have. Even if it is in indoor. But the rules that we play are similar to outdoor rules. There are two or three little kinks that are catered more to the indoor game to make it more exciting. But for the most part, our schemes and how we run things is kind of towards the outdoor game.
"So, I think for me, it's more about helping them get the work that they need, helping them understand what's in front of them and hopefully be given an opportunity where they can be successful and move up. If they don't move up immediately, at least while they're here they're getting better and they're still involved in the game. That's what it's all about."
Coleman and his wife, Lisa, make their home in San Antonio, Texas. He has a daughter Gabriella, who plays soccer at Oklahoma State University. And a son, Jonathan, who's in high school and plays volleyball.