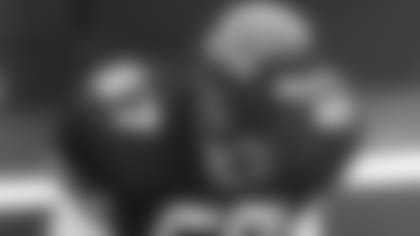 Mac Stephens wasn't with the Jets as long as he would have hoped, but what he experienced during that time has more than benefited his post-playing careers. – That's careers with an s. – And the thing is, he's experiencing them all at the same time.
Undrafted out of the University of Minnesota in 1990, the linebacker signed as a free agent with the New England Patriots. But despite turning heads during training camp, the numbers didn't add up and he was released.
"They brought some veterans off the I.R. and had to make room, so I was the sacrificial lamb," Stephens laughed. "We played Cincinnati (in the final preseason game) and they released me the next day. Three or four days later, I heard from the Jets organization and that's kind of where it started."
After making the just shy of four-hour drive from Boston to New York, Stephens made a fresh start by quickly impressing his new position coach Monte Kiffin and defensive coordinator Pete Carroll. As well as fifth-year veteran and first-year Jet Joe Kelly.
"Joe was instrumental in kind of helping me make that adjustment. Especially being a fellow linebacker," Stephens said.
Stephens was initially placed on the practice squad, and activated for New York's Week 13 game in San Diego.
"A lot of young guys want to grow up and play in the NFL. I worked really hard to get to that level," Stephens said. "And at that point, one of the things I thought about is even though I wasn't a starter and was just trying to stay on the team week to week, I was one percent of one percent. So it was a major accomplishment. And I was on cloud nine, to be quite honest."
Stephens' NFL debut, a 38-17 loss to the Chargers was memorable not only because it was the first time he stepped foot on the field, but also because of what he had to overcome to do so.
"When I was 11 years old, I had gotten hit by a car walking to a youth football practice. And at the time, they talked about possibly amputating my foot," Stephens said. "So for me to be in San Diego, running down on kickoffs and kickoff returns, and being on the punt team, all of that stuff, it was a huge achievement."
Stephens is still piling up achievements. – That's achievements with an s.
Stephens is the Director of Recreation for the city of Euclid, Ohio.
"Basically, I oversee youth recreational programming, adult programming, senior programming," he said. "I have some responsibilities over a golf course here in the city of Euclid, and some of the playgrounds and parks."
Stephens owns and operates Coach Mac's Speed, Power, and Fitness Gym.
"I do some speed, strength and agility training in the evenings. Again, just focusing on helping middle school, high school and collegiate athletes develop the skill set necessary to give themselves an opportunity," he said.
"I do have some professional players. In fact, one of those clients is my own son, Linden. He played in the NFL for, I don't know, seven or eight different teams, and he's now playing in the XFL. (A cornerback at the University of Cincinnati, he) was drafted by the Seattle Sea Dragons."
And in 2015, Stephens became the head football coach at Cleveland Heights High School.
"(What led me into coaching was) just wanting to give young people the opportunity that I had, which was I was able to go to University of Minnesota on a full scholarship," he said. "And then got an opportunity to live out my childhood dreams. I met some great people along that journey that impacted me in a tremendous way. So I just try to do the same thing for the young people that I coach in Cleveland Heights. In fact, our first seven seasons, we placed over 80 young men in colleges. So for me, that's the reward. Seeing things like that unfold.
"It gives you a sense of accomplishment. They don't always get it initially. Teenagers are going to be teenagers, but it's always fun to see a kid mature from their freshman year to their senior year and really buy into the overall philosophy that you're instilling in a program.
"We always talk about – if you just trust us, by the time your senior year comes around, you'll be on a pathway to success. We know not every kid wants to go to college. Some kids want to go to a trade school. Some kids go right to the workforce. But the hope is that they take some of the lessons they've learned through playing football and apply it into their next career or their next level of education."
Now 30-plus years later, Stephens still finds himself using things as a coach that he learned as a player for the Jets.
"Especially with Pete Carroll because he was a player's coach back then, and he still is. I just remember how much energy he brought to practice every day and I just couldn't figure it out. But you could tell he just loved coaching and just loved what he was doing," Stephens said.
"And Monte, he was always one of those sticklers about doing the small things right. And I kind of carry that to this day in my coaching. I always tell my kids, 'Got to do the small things right in order for big things to happen.' I got that from Monte Kiffin."
With everything Stephens has going, one may wonder how he can fit it all in during a 24-hour day. He, however, can and does.
"You know, every day when my feet hit the floor, I do what's called, operate my God-given purpose," Stephens said. "I just feel like that's to try to impact as many young people as possible. It's not easy. It can be tiring. But again, when you see the kids achieve great things…
"I have a young man that was actually a rookie in NFL this year, Tyreke Smith. I remember we had to beg him to play high school football and now he's with the Seattle Seahawks. So it's always nice to see a situation like that, or to see a guy like Jaylen Harris, (who played for the Buckeyes and) graduated from Ohio State with a degree.
"I've had young men graduate from Georgetown University, Ohio University, and many other universities. So when you see that, it energizes me and just helps me to just want to do it every day and year after year."
Making his home in Euclid, Stephens has another son, Collin, who is Linden's twin. He graduated from Bowling Green and is a successful graphic designer. And he also has a daughter, Kim, who has provided him with two grandsons.