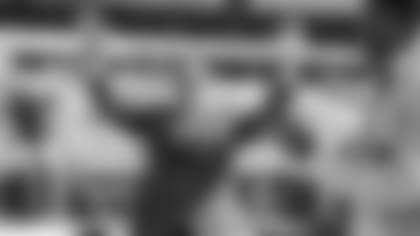 In 1998, following four seasons with the Seattle Seahawks, free agent center Kevin Mawae literally liked what he saw when he visited with Jets head coach Bill Parcells.
"I just felt like Parcells had the best plan not just for the future of the team he was leading, but for what the plan was for me as the center," Mawae said. "The thing that kind of sealed it was that he reached behind his desk and pulled out this big three-ring binder and it was basically his plan to build the Jets. And on the front page it said these are his top three needs for this off-season, and the No. 1 need on this list was a center.
"He explained to me that while with the Giants, he had Bart Oates (at center) and that he thought they were going to have the offense that he needed to have to win a championship. And he thought I could be that kind of player for the Jets. For me, that was the best selling point he could have."
During Mawae's first season in New York, the Jets posted a 12-4 record and made the playoffs for the first time in seven years. They'd return in 2001 under new head coach Herm Edwards.
"Herm came in and brought this whole different mentality and vision of excitement. Just a different vibe than we had under Parcells," Mawae said. "Guys just bought into one another and they bought into Herm and we went to the playoffs three times in the five years that he was there. We had a veteran locker room. We didn't have a lot of off-the-field issues. The guys that were there were willing to do what they had to do to win games."
In a league where the average length of a player's career is between three and four years, Mawae played 16. Eight seasons with the Jets and four seasons each with the Seahawks and Tennessee Titans.
"Spiritually, I really believe God did a favor on my career. My goal was to play 10, I got 16," Mawae said. "And I think that my ability and athleticism helped. I wasn't an offensive lineman that was on the ground a lot. I kind of had a knack for knowing where the piles were around me and to stay out of those things.
"And then a whole lot of it is learning how to play hurt, the suck-up factor. You just kind of go with it. You learn the difference between being hurt and being injured.
"Also, it was all I wanted to do. I mean, there was no Plan B for me. It was the NFL or nothing. I graduated from college, but really, my choices – go to the NFL and make a go of it or the possibility of joining the military and going in as a commissioned officer. I really didn't have any other choices. All I wanted to do since I was eight years old was play football. Whatever it took. Play as long as I possibly could, that's what I would do."
Frankly, Mawae would do so very well. A three-time First-Team All-Pro, he was selected to the Pro Bowl team eight times, six consecutively, 1999-04, as a member of the Jets. In 2017, they inducted him into their Ring of Honor.
He was recently named as a semifinalist for the Pro Football Hall of Fame's Class of 2019. What makes him most proud of his extraordinary career?
"Well, I think a couple things. My longevity is one that I take great pride in. For me it was a pride factor not to let my teammates down, knowing that I would be on the field and that they could count on me no matter what," Mawae said.
"The other thing I'm proud of is how I changed the revolution of how everybody's basically using the center position. With the Jets, we did a lot of outside pulls. There are some teams prior to me that would dabble in the center being a puller in the outside game, but when I got to the Jets that's all we did.
"Everybody was trying to emulate me and copycat the Jets, and some of them could get close to it, but never duplicate the success that we had in that running game. Of course, they didn't have Curtis Martin either. That makes a huge difference.
"And then off the field, I was the NFLPA president (from 2008-10). For me, off the field was just as important as everything I did on the field. I really, in my heart, believe that I left the game a lot better both on and off the field than I found it."
Now back on the field, Mawae has reunited with Herm Edwards at Arizona State University as the football team's quality control analyst.
"I analyze and do self-scouting. I do opponent scouting. I have certain responsibilities within our scouting reports in terms of game-planning," Mawae said. "I work more closely with the offensive line than with anybody else. I work under (offensive line) coach Dave Christensen and help him by being another set of eyes.
"The other part is that everybody knows that I'm Herm's guy and so I'm kind of like the voice between the head man and the staff. Guys that don't know Herm and how he operates, sometimes I'm like the sounding board. I give them a leaning to which way Herm's going to go in certain situations, whether it'd be practice scheduling or thought process in the offense.
"I like being around the young players and talk with them and share my experiences. One thing I have learned is 100 percent of every kid that plays college football thinks they're going to go to the NFL. And I can guarantee not all of them know exactly what it takes to get there and even more importantly, what it takes to stay there. And so in that aspect, they respect me for my career and what I was able to do. But then you've got to earn it too by being able to live what you preach."
Before taking the job at Arizona State, Mawae began his quest into coaching by taking part in NFL internships with the Buffalo Bills, Minnesota Vikings and Chicago Bears, with whom he also spent time as an offensive coaches assistant.
"My ultimate goal is being the best offensive line coach I could possibly be. I want to be a coach where I can take five guys and put them together and people know who's coaching them by the way my guys play," Mawae said.
"There's a signature to really great offensive line coaches by how their players played. Somebody says that's a Howard Mudd offensive line or that's Mike Munchak's offensive line. That's the kind of coach I want to be.
"I'm at a job as an analyst, and after a career like I had; people would think I'm crazy. I've had coaches ask me, 'Why would you want to do this?' And my first response to them is, 'Why would you even ask? Why are you doing this if you think it's such a bad job?' And then the next thing I tell them is, 'Because I want to. This challenges me. I want to see if I can be that top offensive line coach that I want to be.' I was the best to play the game at my position and I want to be the best offensive line coach at the coach's position."