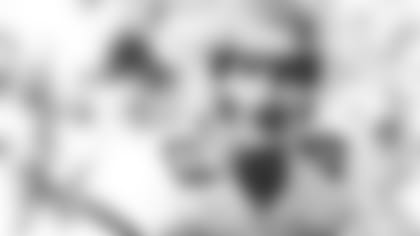 In battles between Ken Schroy's ankles and AstroTurf, Astroturf won and delayed the start of the University of Maryland safety's NFL career.
A senior in 1974, Schroy broke an ankle in the regular-season finale at Virginia while returning a punt, and wasn't able to play in the Liberty Bowl against Tennessee. He believes the injury also caused him to slide down to the 10th round of the 1975 NFL Draft, before he was selected by Philadelphia.
The rookie was released by the Eagles during training camp, claimed off waivers by the Jets, and spent the year rehabilitating his ankle.
"I made the team and then in the last (preseason) game against the Pittsburgh Steelers at Three Rivers Stadium, with that AstroTurf, I broke my other ankle returning a punt," Schroy said. "I broke both of my ankles because of AstroTurf."
In 1977, two years – and countless hours of physical therapy – after he was drafted, Schroy was finally able to step onto the field for a regular-season game.
"It was a wonderful feeling. Actually, when you think about it, it may have been a blessing in disguise because I got to practice with veterans who knew what they were doing," Schroy said. "They kind of taught you their way. Sitting around and observing helped me later on. Instead of coming in fresh off the college ranks, I got to learn the system in the pros."
Despite playing in only 14 of the 16 games, starting 10 at strong safety, Schroy led the Jets with what would be a career-high eight interceptions in 1980. What clicked for him that season?
"I think the fact that I was the new kid on the block and (the opposing teams) wanted to see if I could cover. They just kind of picked on the new guy," said "the new guy." "I think that's what happened and they found out the new guy could keep up."
Someone who found that out firsthand was then-Houston Oilers veteran quarterback Ken Stabler. During the opening quarter of the November 23 game between the Jets and the Oilers at Shea Stadium, Schroy came up with an interception which he returned it 82 yards for a touchdown.
"I read that it was a pass and I think I was covering the tight end, Mike Barber, and he released out. Stabler, a lot of times when he checked off, that's one of his checkoffs, the tight end on a quick out," Schroy said. "So, I read the play and cut in front of it and it was nice having nobody to run around. It was just a straight line right to the goal line."
With 16 career interceptions, plus two more in the 1982 AFC Championship Game against Miami, Schroy's longevity is what makes him most proud of his career that came with bookends.
"I lasted 10 years, but to be fair, I started off on injured reserve and I ended up on injured reserve. So, I played eight seasons but got hurt in two others. The ankles, that was in the beginning and was because of the turf. I was pretty quick and I would stop on a dime. A lot of times your foot slips on AstroTurf. A lot of torque is put on those ankles. (At the end of my career) I blew out my left shoulder. It's because of hitting guys like (Houston Oilers' Hall of Fame running back) Earl Campbell," Schroy said with a laugh.
Now enjoying retirement and fishing when he can, Schroy and his wife, Susan, make their home on Long Island in Garden City. They have two adult children, Matthew and Lindsey, and two grandchildren.
"I worked with elementary schools and designed these educational playgrounds that you put in school systems. It was so cool," Schroy said. "The company (American Recreational Products), we helped design it and we built it. We put the safety surfacing on and made it all nice and safe. It was probably the best job I've had since playing with the Jets.
"I did that for 10 years. And before that, I was working with Field Turf for 10 years. That was even more fun because I was putting in turf that I knew wasn't anything like AstroTurf. So, I was always in some kind in the sporting field somewhere along the line."