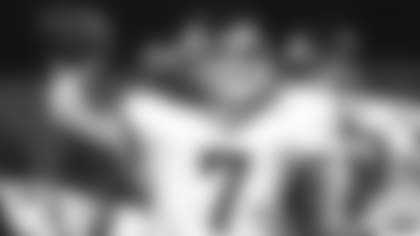 Born in New York, but raised in California, Ken O'Brien, a Division II All-America quarterback at the University of California-Davis, was back in a New York state of mind when he was chosen by the Jets in the first round of the 1983 NFL Draft.
"I was thrilled, excited as can be. I grew up as a Jets fan with all my family, my mom and dad, aunts and uncles, everybody from New York," O'Brien said. "My uncles were all New York City cops, so when we'd visit, they'd give my parents a break and take all the nephews. We'd pile in the car and go out to either the Mets practice or the Jets practice. I was able to meet Joe Namath when I was just a little kid. That's always stuck in my mind."
In 1985, just his second active season, O'Brien was the AFC's leading passer and earned his first of two trips to the Pro Bowl. How was he able to make the leap from Division II to the NFL so well and so quickly?
"I think it's a combination," said O'Brien, who passed for 3,888 yards and 25 touchdowns and was named as the team's MVP. "First, it's the coaching and learning how in college. I was real fortunate to have Jim Sochor as my coach. He was excellent in terms of teaching you exactly what's going on from a point of view that you could understand what defenses were doing, what you were trying to do. It really gave me a solid background to make the jump.
"And when I got to New York, I had some great veteran leadership and became really good friends with Richard Todd and Pat Ryan. Mike Faulkner was the quarterback coach and he would spend extra time with me every day. I was the recipient of a lot of good mentoring by them.
"And then at some point, you had to have the talent to back it up. It just seemed like it was a good fit all the way around with all those guys. I got fortunate to be able to keep it going as I got there."
O'Brien threw 25 touchdown passes for the second-straight season and helped the Jets post a 10-6 record in 1986. New York would notch its first playoff win since Super Bowl III with a first-round 35-15 victory over Kansas City.
"When you're doing well, there's certainly a lot more enthusiasm. New York is different than all places because it's so small and there are so many people there. Sports are such a big priority and that's what makes it special," O'Brien said.
"It's awesome when you're winning and doing well. When you're not, you're striving to get better. I think throughout the whole thing, it never changed. You're always working to get better. That's the goal and you stay even keel throughout the whole thing."
During O'Brien's nine seasons with the Jets from 1984-92, he is second to only Namath as the team's all-time leading passer, totaling 24,386 passing yards with 124 touchdowns and 95 interceptions. What will he never forget from his time with the Jets?
"It's the people, all the friendships that you make over the years that you're there," O'Brien said. "Those relationships and the time you spend together and the bonds that you have, that's what makes football. It's a team sport, but the camaraderie really sticks out at the end of the day. Those are things that I remember more than anything.
"Things certainly didn't always go the way that you were shooting to go, but I think you always could say that it was a full 110 percent effort to try to get the best for everybody and myself. It was just trying to get better. When you're younger and you look at it, you have a different perspective. When you look back and you're older, there's things you may have done a little bit differently, but that's part of growing up. That's how you learn.
"I think one thing that rang true was that there was never a doubt that everything was given trying to get there. I certainly wish we'd done things better, but it wasn't for lack of trying."
O'Brien is now a partner at IWP Wealth Management in Manhattan Beach, California.
"Our clients are families and we basically do everything that we can to help them be ensured that they're prepared. We take care of any financial need they have, from investing to protecting their wealth to trying to work with their kids," O'Brien said.
"I started doing it originally with my partner, but we've grown because there was just a need. Every time you read the paper you see about all these unfortunate incidents that are taking place with athletes. It's in every sport and it's also in every other line of work.
"You want to establish yourself as somebody that can be trusted and does things the right way. We're trying to do a small part in trying to help people so they don't have to get in the situations."
Thirty-six years after joining the Jets, O'Brien is actually a rookie again. He and his wife, Stacey, have four adult children and became first-time grandparents in December.
"It's awesome. I don't know who's liking it more, my wife and I, or the siblings who are aunts and uncles now. It's a lot of fun and I'm looking forward to that part, having the family grow," O'Brien said. "Every day I wake up and I don't have a bad day, I have a good day. There are no people I'd rather spend time with than my family and my friends and I'm fortunate I get to do that quite a bit."