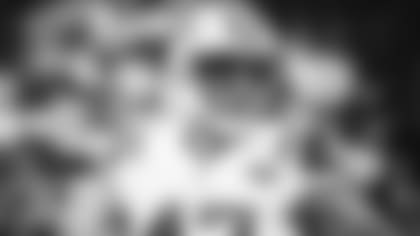 Acquiring a veteran tight end who blocks can certainly help a team's running game. And when he also owns a Super Bowl ring, well, so much the better.
The Jets signed Kellen Davis, a free agent who was in his eighth season, in March 2015.
Beginning his career with the Bears in 2008 after being drafted out of Michigan State, he played with the Chicago for five seasons, was with Seattle in 2013 when they won Super Bowl XLVIII at MetLife Stadium, and was with Detroit in 2014.
What led Davis to sign with New York?
"Really, I think it was the coaching staff and some of the players that kind of swayed me to going there," he said. "My position coach, Jimmie (Johnson Jr.), he kind of explained that they wanted me to come in and potentially be the starter, and work on mentoring some of the young guys. They really wanted me to fit in and be that veteran presence on the team. And I thought we had a chance to have a good team."
While Davis was relied on more for his blocking than his receiving, he did catch the 13th touchdown of his career in his seventh game as a Jet on a 1-yard toss from Geno Smith against the Raiders in Oakland.
"Geno and I had good chemistry and good trust between each other," Davis said. "So he kind of put it out there and for me to go get it."
That chemistry and trust couldn't help the following season, when the Week 8 game at Cleveland would unfortunately be Davis's final one in the NFL.
"We were on the goal line, and my best friend, (first-year Jets halfback and former Bears teammate) Matt Forte, (took the handoff). I went to block the safety that came up to try to fill the hole," Davis said. "I hit him and then the corner came up, so I kind of put one hand on each of them. And then Matt came through and put his helmet right on the back of my elbow, and it ended up bending the wrong way about 90 degrees. So that was my last snap."
Because of the career-ending injury, Davis was only able to play in 24 games over two seasons for the Jets. "When I look back and think about things, I remember a lot of big game moments and stuff," he says, "but the majority of the time you're on the field, or you're at practice, or in the facilities. I kind of miss that brotherhood camaraderie of the day-to-day.
"And the New York crowd is different. It's a big market and they expect a lot from the team, and they should. But I thought that it was kind of different for me too because it's the first market I'd been in that had multiple teams. You have that fan base where people are really for the Giants and against the Jets or they're rooting for the Jets and against the Giants. And we shared a stadium, so it's a bit different. But I think for the fan base that shows up to the games and roots for the team, I think that they are pretty diehard."
In the league for nine seasons, Davis played in 125 games with 55 starts, and caught 53 passes for 579 yards and 13 touchdowns. What makes him most proud of his career?
"I would say the (Super Bowl) championship is something I'm really proud of. It's one of those things that you can only dream of when you're a kid," Davis said. "But I think what makes me the proudest is just that I was able to produce and play at a high level, and that I was able to have the long career that I was hoping for.
"I'm proud of the fact that I was able to finally realize that dream and get to continually work and kind of be that guy for a while."
Making his home in Greensboro, NC, with his wife, Jill, Davis has gotten a real estate license and may use it more in the future. Right now, however, he's focused on his job of being a dad to his daughter, Hope, 7, and sons, Dash, 5, and Koda, 3.
"I really enjoy my time. You know, being in a position to be able to spend more time with my family after years and years of hard work is, to me, that's like priceless," Davis said. "I get to be here for my kids while they're growing up. Most dads don't get to do that because they still have to work and have to provide. Just to be in this position, I'm really grateful.
"I'm coaching my daughter in basketball. She's got several camps through the summer and she also plays in a couple leagues. And the other two, Koda is too young to do sports yet, but Dash is doing Taekwondo. I'm not coaching that, but I try to be involved in pretty much everything as far as supporting the kids. Getting them doing as much different activities as possible, so they'll end up being more well-rounded."