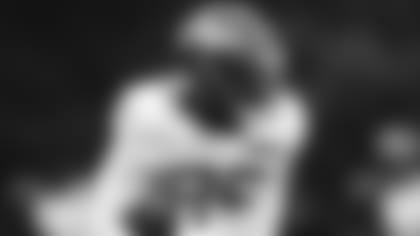 After rushing for 1,430 yards and nine touchdowns as a junior at Notre Dame, an offseason ankle injury may have played a factor in why Josh Adams wasn't one of the 21 running backs selected during the 2018 NFL Draft.
So taking the free agent route instead, Adams signed with Philadelphia. Beginning the season on the practice squad, injuries, ironically, hurried him onto the active roster, and he would end up leading the Eagles in rushing with 511 yards and three touchdowns.
Released at the end of the following year's training camp, Jets' first-year GM Joe Douglas, who had been Philadelphia's VP of Player Personnel, had firsthand familiarity with Adams and claimed him off waivers.
"For me, as a guy going into his second year, I just saw it as an opportunity to go out there and prove what I could do," Adams said. "Joe Douglas and the guys in the front office were the ones that gave me an opportunity to do that. One of the few that gave me an opportunity to do that. So I'll always have respect for those guys and always have appreciation for them allowing me to get a chance to kind of prove myself. I was just focused, ready to go, and ready to show that I can improve from my rookie year.
"Just go out there and kind of be a baller. There wasn't much talk about me playing. Obviously, that goes with how the season is going. But for me, I was just trying to stay focused on the practice squad, making those reps count, and making sure that I was prepared if one day my number would get called."
Adams' number got called to play in 12 games before he was released one day before New York's Week 4 game against Tennessee in 2021. He rushed for 169 yards and two touchdowns and had six receptions for 29 yards as a Jet.
"When I first got there, I think we were 1-5 or something at the beginning of the season, and then we knocked off (six of eight) at the end of the year. So we ended up finishing 7-9," Adams said. "That was tough, especially starting off not the way you want to start off and kind of looking like it's going downhill. And then being able to be resilient, especially in the league with that long schedule, and putting together some wins back-to-back, I think that was pretty exciting.
"Leading into the next year and having high hopes, although it didn't turn out the way we wanted to, but just having that confidence going into next year and individually developing, that gives you a lot to look forward to. I think that's my fondest memory, just being a part of that experience with that team. Because every year, you know it's not going to be the same team. So just taking in those memories and not letting those pass, I think that was probably my best experiences with my time on the Jets."
Spending some time on New Orleans' practice squad, Adams then signed with the USFL's Michigan Panthers last December. In March, he decided to retire as a player and pursue a coaching career.
"I always knew that once I got to the end of my career, whatever time that would be, that I wanted to get into coaching," Adams said. "I've been grateful and blessed to be around a lot of great players and a lot of great coaches who were able to feed different things into me to help better my skills and help me perfect my craft as a running back. And so I knew that one day, I wanted to be able to give that back to the younger guys because it was instilled in me from a lot of great people. I wanted to be able to pay that forward.
"After I signed to the USFL, I kind of put myself out there, looked around a little bit, and I felt that passion growing. Kind of like the same feeling I felt when I left Notre Dame and moved on into the league. It was a similar passion in the coaching world. I knew right then, when that hunger started to build, that this was my next step."
Attending the American Football Coaches Association [AFCA] Convention earlier this year in Nashville, Adams met up with some of Vanderbilt University's coaching staff who he had played with in college. That led to an interview with their head coach Clark Lea and a job as an offensive quality control coach.
"I have a lot of responsibilities. I do film study and put the film together, draw up the scout cards, and work with the scout team. Whatever the running back coach (Jayden Everett) needs and helping him with that. Just doing those little things to try to make an impact wherever I can," Adams said.
"But really, where I found my role is talking with the players, sharing my experience with them, sharing little things that I picked up. What to expect if you ever want to go to the league. What to really expect from your transition to when you get there. Because that's one thing that I really didn't have coming up as a player, somebody that tells me what the league actually looks like versus what it looks like on TV."
Granted he's only nine games into working on a D-I coaching staff, but what has Adams, who makes his home in Nashville with his fiancée, Jackie, enjoyed most about it so far?
"I love being able to give back to the younger generation," he said. "It was a blessing for me to have a lot of great people in my life: Darren Sproles, Bilal Powell, Le'Veon Bell, Jay Ajayi, Duce Staley, Autrey Denson, who's the all-time leading rusher at Notre Dame. A lot of influential people that were able to show me the game. And it was only right to be able to give that to the younger guys, different things that I picked up along the way. Things I did well. Things I didn't do well.
"Trying to teach them how to go up and perfect the craft and chase their dreams. I think that that passion and that hunger and doing those things is the same as playing. My time is up and it's their time now. I get a lot of excitement from that, and I really appreciate the opportunity to be able to cultivate positive things within them. That's really what got me into this and that's what's going to drive me for years to come."