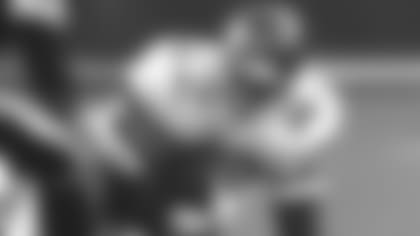 The Jets experienced their own version of Groundhog Day nearly five years before the Bill Murray movie came out.
During the 1988 NFL Draft, New York selected defensive back Terry Williams in the second round. Defensive back Erik McMillan was chosen in the third round. Then defensive back James Hasty was also picked in the third round. And finally, John Booty – wait for it – a defensive back, was taken in the tenth round.
"It was the second day of the Draft and I got frustrated and asked my agent to take me to the airport so I could fly back home to Texas," Booty said. "So, I'm at the Atlanta airport, and I hear over the intercom, 'John Booty, call your agent.' So, I called my agent and he said, 'Well, John, you just got drafted by the New York Jets.' People were walking by while I was on the phone, and I was like, 'Hey! I just got drafted!' And they're looking at me, 'This guy's crazy.'"
Actually, there were hints of it being a crazy day for Booty.
"When I woke up that morning, I looked in the newspaper and it showed all the guys that had got drafted on the first day," he said. "I saw the New York Jets had drafted Terry Williams, and it said out of Texas Christian University. Wait a minute. He didn't go to Texas Christian University; I went to Texas Christian University. I told my agent, 'They wanted to draft me. The Jets made a mistake. They wanted to take me in the second round.' "
While that will likely never be known, Booty, nevertheless, made his way to the Jets facilities in New York, which was the first time the East Texas native had ever visited the city.
"I was this little country boy just amazed at all the skyscrapers. I'm just looking and said, 'I am actually in New York.' My heart was a little nervous, but racing at the same time because of the excitement," Booty said. "The first mini-camp, I just played loose. I was making plays. I'm just having a good time.
"When we got into the locker room, another rookie said, 'Who's this number 42? He's playing some good football out there.' And (defensive coordinator) Bud Carson and (secondary coach) Mike Faulkiner were talking to me. I felt good."
After making a favorable impression during camp drills such as the vertical jump, Booty would soon be feeling better than good.
"I'm going through the locker room and Freeman McNeil said, 'Hey, son. Come here.' And I'm like, 'Oh, my goodness. What did I do? I've got this veteran calling me over to his table. He's going to get on my case about something.' And he said, 'Son, I'm going to teach you how to be a pro.' I just felt 10 feet tall because the great Freeman McNeil was talking to me," Booty said.
"So, Freeman was my mentor. He was on offense, but he was my mentor. When I finally made the team and got all the stress off of walking a fine line of getting cut, and needed some inspiration or guidance, I would go and sit beside Freeman McNeil and talk to him.
"He saw something in me that I probably didn't see myself. He saw this green rookie who was very athletic. When he said those words, 'I'm going to teach you to be a pro,' that made me feel good. He saw something in me that if I would listen, pay attention, do my job, and have some fun with it, I could be a pro."
Heeding McNeil's advice, Booty listened, paid attention, did his job, had fun, and made a mark during his first season as a pro by coming off the bench and collecting three interceptions. Each memorable.
"My first interception, we were playing the (then-) Houston Oilers. Lining up as a dimeback, I was so nervous, my knees were shaking," Booty said. "I'm quite sure the receiver went back to the huddle and said, 'Hey, number 42 is nervous, nervous, nervous. Let's go after him.'
"So they went deep on me in the end zone, and I picked the pass off. My confidence went sky high. It was my first interception. It was against the home state team that I grew up watching, and we ended beating the Oilers, 45-3. And then the following week, I got another interception against the Detroit Lions. I said, 'Whoa, boy, you're playing good football now.'
"(Later that season) we were playing the Pittsburgh Steelers, and I had another learning experience from a veteran, Carl Howard. I made a rookie mistake and bit on a route and they went up top on me. My confidence was low. I went to the sideline and Howard said, 'Hey, rook. Put that play behind you. Bud's not going to take you out of the game.'
"I thought that was my shot and I messed up. But I go back in the game and I recovered a fumble and then blocked a punt that we went and scored on. And I got an interception in the fourth quarter. I went from being low to being like the MVP of the game."
With the Jets for three seasons from 1988-90, Booty went on to play five more with the Eagles, Giants, Cardinals and Buccaneers.
Now making his home in Maryland, Booty works for the Sport Fit Health Club in Bowie as its director of corporate memberships.
"It's a great staff. And it's a big club, about 100,000 square feet. Ten thousand members," Booty said. "There are all kinds of activities, tennis, swimming and all that. There are a lot of kids' programs. That's what I like about it, it offers everything and I get to represent all that they have to offer."
Booty also offers his gridiron knowledge as a guest NFL analyst on WJLA 24/7, a regional cable news station based in Washington, DC. Which is where he is also involved with the semi-annual Congressional Flag Football Game.
Started in 2004, the game, which will be held on Gallaudet University's Hotchkiss Field on September 24, pits the U.S. Capitol Police against Members of Congress and ex-NFL players including Booty and former members of the Jets: Marvin Washington and Santana Moss. It benefits three non-profit organizations: The Capitol Police Memorial Fund, Our Military Kids, and A Advantage 4 Kids.