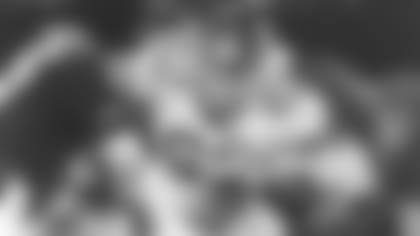 What are the odds that two men named Joe Pellegrini played for the Jets?
Not related, the first, a defensive tackle from Idaho, spent two seasons on the team, 1978-79. The second, an offensive lineman from Harvard, made his way to New York in 1981. And considering the path he took to get there, those odds may have been high, as well.
While admittedly not a particularly talented athlete when he was at Archbishop Williams High School in Braintree, Mass., he literally grew into being one.
"When I became a freshman, I always wanted to be a hockey player, but I sucked," Pellegrini laughed. "We had a great basketball team and a great baseball team, but I wasn't good enough to play on it.
"And I was so bad as a freshman in football that I barely even played special teams, never mind be a starter. So my track and football coaches said, 'Why don't you try throwing the shotput and the discus?'
"So I started to throw and I think the way I would describe myself is on a scale of one to 10, I probably was a six or seven on skill. But on a scale of one to 10 on determination, I think I was an 11.
"I got recruited by the Ivy League because I was the valedictorian. I wanted to go to Princeton, and the football coaches were gaga over me because by the time I became a senior, I was a pretty damn good offensive and defensive lineman because I grew into it.
"I mean, I was 5-foot-11 as a freshman and 6-foot-5 when I was a senior. And I was really good at track. I broke not only my high school records, but some of the league and state records, as well."
Princeton's football coaches may have been "gaga" over Pellegrini, but the track coach… not so much. Deciding to enroll at Harvard, he'd become a national champion at discus and a starter on the football team his sophomore and junior seasons.
But with the goal of participating in the Olympics, Pellegrini skipped his senior year to travel to Germany, where he trained for the 1980 Summer Games in Moscow. However, with the U.S. choosing to boycott the event to protest Russia's invasion of Afghanistan in 1979, Pellegrini never accomplished that goal.
Returning to Harvard, Pellegrini didn't accomplish the goal of playing his senior football season either.
"I skipped my senior year to train with the understanding with my coach that when I came back, I could finish my last semester and play football," Pellegrini said. "But the coach said, 'Yeah, you left the program. It's better that you don't come back.'"
Not permitted to re-join the team, Pellegrini continued to work out on his own while earning a degree when a conversation with a high school teammate, Chris Keating, who was playing linebacker for the Buffalo Bills, led to a new goal.
"He said, 'Why don't you try out? You're 260, 265, the biggest you've ever been and you're stronger than most of the linemen that play for the Bills,'" Pellegrini said.
Deciding to take Keating's suggestion, Pellegrini called an old college coach who was now scouting, and he set up a tryout with New England's Director of Player Personnel, Dick Steinberg.
"I did all these lifting drills and jumping drills, and he looked at me and said, 'Wow, that was really good. Stay right here,'" Pellegrini said. "And then he called me in the office and said, 'You know, we were really looking for a defensive lineman. But I have Jim Royer, who is the director of player personnel for the Jets, on the phone. He wants to talk to you.'
"I picked up the phone and Jim Royer said, 'Do you have an agent?' And I said, 'No. I didn't even think about an agent.' He goes, 'Good. Because if you said you had an agent, I was going to hang up. I'm going to send you a contract. If you don't get it back to me within 48 hours, don't bother sending it.'"
"I got it. I signed it. And a short time thereafter, I showed up at (the 1981) minicamp."
Pellegrini may have been in great shape, but throwing a discus is one thing. Throwing a block on a defensive lineman is another. Plus, he hadn't played a down of football since the end of Harvard's 1977 season.
"It was sort of like, do you remember (the movie) Legally Blonde? That one scene where she hands out a resume and someone says, 'Do you think one day she just woke up and decided to be a lawyer?' You know, I just woke up and said, 'I'm going to give this a try,'" Pellegrini said. "And I never really thought about failing. I just said I'm going to do my best. I'm going to give 110 percent every practice, every play."
Holding his own during training camp against the veterans, Pellegrini discovered that he caught the attention of Head Coach Walt Michaels.
"The end of the training camp, I was walking out of the locker room and Coach Michaels was there," Pellegrini said. "There's only one cut left to go and he came up to me and said, 'I just want you to know that Ivy Leaguers are a bunch of wussies.' And I said, 'OK, Coach. Whatever you say.' And he goes, 'But you're one tough son of a bitch. I think I might keep you around.'"
Inactive during the 1981 season because of a back injury, Pellegrini earned a roster spot the following year and helped New York reach the AFC Championship Game against Miami. And even though the Dolphins won, it is among his fondest memories as a Jet.
"That was exciting to see that whole. Every time we left the complex, having the entourage of police officers escorting us to the airport, and the preparation for the game, and the excitement of the electricity walking out on the field, that's something I remember," Pellegrini said.
"Obviously, my first start I remember vividly. And I remember Bruce Harper dancing to Michael Jackson in the locker room. We were all cheering him. You know, the things I remember the most are the things I really miss."
Studying more than the playbook while he was with the Jets, Pellegrini earned an MBA from Columbia University's Business School.
"I felt like it was an honor to play in the NFL," said Pellegrini, who was with New York for three years and Atlanta for three. "I was like that sixth offensive lineman that can fill in, start when I need to, and help out the team when I can. And the fact that I played for as long as I did helped me pay for my education. And now today, I'm 66, and I've built one of the most successful franchises in investment banking around sports."
Making his home in Charlotte, NC, with his wife, Valerie Mitchener, the father of four and grandfather of one, has been in the business for 33 years, the last 15 with Baird as its strategic advisor and financier to fitness and sporting goods sector.
"I built a team in investment banking only focused on branded consumer outdoor lifestyles, sports fitness, all the best names that you can think of in sports," Pellegrini said. "And what I've applied to real world business is the preparation for a game. It's communicating with your linemen about how to pick up a blitz, or anticipating what could go wrong and how we would correct it. In many ways. football is a metaphor for great business.
"We all had our role. If one of us didn't do our role, the play would break down. But when we organized ourselves and we really performed as a team, we could win. And that's something that I think I took with me for the rest of my life in banking, was how to prepare."