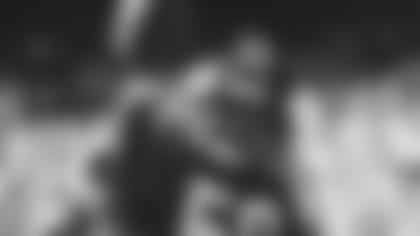 After four years in the league, Joe Kelly, a linebacker who was chosen in the first round of the 1986 NFL Draft by Cincinnati, was thrown a curveball when he was traded to the Jets.
And, well, it initially didn't go over too well.
"I wasn't a happy camper. I was distraught, man. I was pissed. I was every expletive that you can imagine," Kelly said with a laugh. "We went to the Super Bowl a year before that, and I played through an injured shoulder my fourth year. But coming into mini-camp, (head coach) Sam Wyche and (defensive coordinator) Dick LeBeau asked me to buy a home in Cincinnati because they were going to do all these different things on defense.
"They asked me to buy a home in Cincinnati, and so I did. I was moving in the house the day I signed my contract, and that same day, I went to practice and they handed me a plane ticket. Just like that. It was something that was totally not expected.
"It was a wakeup call. It was wakeup to the NFL that this thing was a business. I think I had played well enough as far as linebackers are concerned. I felt that I was the best linebacker on the team based on what they asked me to do."
Part of the deal that sent unsigned second-round pick Reggie Rembert to the Bengals less than two weeks before the 1990 season opener, Kelly wasn't the first one who made his way from Cincinnati to New York that year. After being the Bengals offensive coordinator for four seasons, the Jets had hired Bruce Coslet as their new head coach on February 7.
"I had never had any communication with Coslet. He was an offensive guy and a good coach, and when he took the Jets job it wasn't like we had any kind of conversation prior to that," Kelly said. "But he knew what kind of a player I was. I was a 3-4 inside linebacker. And when I got there, I was asked to play Will [weakside], which is a different position, different responsibilities. So we had a small conversation. That was pretty much it.
"When I got there, the first guy that welcomed me with open arms and could kind of see how distraught I was, was Dennis Byrd. 'Byrd-man' made the transition a little easier. And so all those things – getting thrown in the fire in a whole different environment, a whole different team, a different state, a different city – it was an adjustment."
Playing and starting in 12 games during his first season with the Jets, Kelly finished fourth on the team with 74 combined tackles. The following year, he finished third on the team with two interceptions.
In the 1991 season opener at Giants Stadium, he picked off Tampa Bay's Vinny Testaverde and helped the Jets win, 16-13.
"It was playing coverage, reading the zone," Kelly said. "Vinny made a bad read and I made a good break on the ball. It was just trying to fit in. And me being a sixth-year player at that time, (the defensive coordinator) Pete (Carroll) had a philosophy. (And linebackers coach) Monte (Kiffin) had a philosophy. Sometimes they didn't mesh. My thing was just trying to go out and do my job and take care of my responsibilities."
In the season finale at Miami's Joe Robbie Stadium, Kelly collected an interception off of Dolphins quarterback Dan Marino, and helped New York walk away with a 23-20 victory over its division rival.
"Yeah, that was my highlight with the Jets," Kelly said. "That was one of the few games that was I was totally healthy. I had a pretty decent game that game reading Marino. I did act like I was blitzing and the whole time I knew I was going to curl to the flat.
"We knew from film what they were going to run. He read it and thought I was blitzing. I jumped out of there and he tried to get that ball over me. I was fortunate to catch it and help win the game."
With the Jets for three of his 11 seasons in the NFL, Kelly also played for the Raiders, Rams, Packers and Eagles, as well as the Bengals. What are among the fondest memories from his time with the Green & White?
"If anything, it was the fans. It was my teammates," Kelly said. "And it was the Hamptons. The whole family were equipment guys. They were awesome. All of them, from the dad all the way to Derek to Billy. All of those guys treated me well, treated my family well. I will always have a special place for them."
Kelly was introduced to what would become his second career by a former Raiders teammate, Pepper Jenkins. And while he helped win many games as a player, what he's been doing for almost the last 25 years as the Founder/CEO of K.E.L.L.Y. Youth Services, has changed lives.
"He was in Los Angeles working in a group home. It's kind of a population of kids that were really forgotten as far as society is concerned," Kelly said. "Seeing all these kids from broken homes and bad situations, I thought about it, I looked at it, and it was something on my heart.
"I played four more years after that, and when I finished, I called Pepper and told him. 'Hey, man. I think that's what my calling is.' I told him I wanted to open up some group homes in Cincinnati. We got started on Cinco de Mayo of 1998. Pepper moved to Cincinnati and he's actually still with me. He runs our older boys' independent living facility."
With five facilities and dual facility, K.E.L.L.Y. Youth Services works with boys and girls as young as nine, and can service them as old as 21.
"We have several levels. We have our group home level, which is our most intense, most supervised level of care. And then we have what they call semi-independent living. Those kids are 16 to 21. We're trying to get them in their own apartment and teach them how to shop, how to budget, how to fill out job applications, go on interviews, things of that nature. Get them ready for independent living," Kelly said.
"It's a structured environment. It's just trying to provide that sense of normalcy for them. We want them to do the same thing as teenagers that are raised in regular families, regular homes. Getting to go to the mall, getting to go to the movies, things of that nature.
"We've had kids that are 16, 17 that never had a birthday cake in their lives. That's kind of hard to imagine, but that's not something that was very rare. We're just trying to give them an opportunity to be successful in life."
What does Kelly, who has a wife, Tiffany, and four adult children: Andraya, Brandi Jo, Kevin, and Kirkland, and who has served over 2,200 kids, feel when he sees he's made a difference in so many lives?
"You want them all to succeed. And success comes in different outcomes," he said. "With our kids, some have never been in the home environment. They don't know what it is to wake up at the same time. They don't know what it is to eat dinner at the same time. To have dinner, let alone eat at the same time.
"So it's kids coming back and calling and saying, 'Thank you for providing the structure and the guidance.' Or 'I have a family.' 'I'm living on my own and working every day.' 'I haven't been in trouble.' I've had young ladies who got married and asked me to walk them down the aisle. It's priceless."