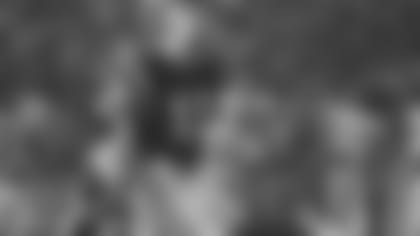 When Jim Turner was at Utah State, his coach had a simple rule. If you played on offense, you had to play on defense, too. So, not only did he play quarterback, Turner also played safety and was the team's kicker. The latter is what led him to a career in pro football.
Drafted by Washington in 1963, he failed to make the Redskins and chose to enroll at San Francisco State to work on his master's degree and a teacher's credential.
The following year he heard from Jets head coach and general manager Weeb Ewbank. It turned out, however, Turner wasn't the only kicker he called.
"Weeb was funny about that. (In college) I set the league's all-time field goal record and scoring record for a non-receiver, and he still brought in about six kickers," Turner said. "I think probably I was equal or better than most of them in kicking, but because the roster was 33, 34, and I (had played) quarterback helped. Because the roster was so small, I think the more you could do in those days..."
Turner became a Jet the same year Shea Stadium opened and he was less than impressed with the team's new home.
"It was a dump and it should have continued to be a dump," Turner said with a laugh. "It was awful. I think the Beatles opened it up, and then the Mets and the Jets came in that first year. But because they made it specifically for a baseball team, when you got past the dirt in the infield, from the edge of second base down to the other goal line it dropped about two and a half feet."
In 1968, the fifth-year kicker led the AFL in scoring for the first of two consecutive seasons. His 145 points in '68 is still a Jets team record, and the 129 points the following year is tied with Jason Myers for second all-time.
"I was amazed because we were kicking in Shea, which on a good day the wind is blowing from right to left down at the outfield end zone," Turner said. "I became a veteran kicker through experience, but I've always felt the greatest kicker of all time is (Kansas City's) Jan Stenerud. And when the Chiefs came to Shea, he'd be sitting there moaning and groaning and saying, 'Jim, how do you kick it here?' It helped us that that was our practice field and our home field."
While Turner was splitting the uprights, the Jets were piling up wins. Compiling an 11-3 record in 1968, they won the AFL championship over Oakland and Super Bowl III over Baltimore. With three field goals and an extra point, Turner tallied three more points than the Colts in the 16-7 upset victory.
"I think it saved the Super Bowl. I had heard many a time, and I believe it, that there would be no more Super Bowls, that the NFL wanted to snub this little league. We were called 'the pitch and catch league' and they were called 'three yards and a cloud of dust,'" Turner said.
"It was a great rivalry. Now everybody's cousins, but in those days, it was for real. (The Colts) laughed at us when we walked on the field because Weeb Ewbank had this thing that since you're going out for pregame warm-ups and your uniform's a little tighter because they're dry-cleaned or whatever – and I think he said he learned it from Paul Brown when he was an assistant in Cleveland – that you could loosen it up. The Colts came out in shorts and t-shirts and they kind of snickered a little bit until the game got going.
"Years later with my radio show, I had pre-asked Don Shula if I could ask him a couple pointed questions. And I said, 'Coach, did you guys overlook us? Think we weren't that good?' And he said, 'Probably a little bit, yeah.'
"They didn't realize how tough and how good Joe Namath was. How stout Matt Snell was. We were led by Al Atkinson and a bunch of no-name guys on defense. We had a very good defense that was quick. And our kicking game was better than anybody."
Following the 1970 campaign, Turner's seventh with the Jets, he was traded to the Denver Broncos for kicker Bobby Howfield. Turner left with 697 points, which is still third on New York's all-time scoring list.
"That was pushed by me," Turner said. "Weeb was very tight with money. You would think it was his money. You think you're going to get a good raise, Super Bowl kicks and all and leading the league (in scoring). The offer was totally embarrassing and I said, 'Get me out of here.' (Denver's coach) Lou Saban said that he had been trying to get me for two or three years.
"My wife and I went back home to the San Francisco Bay area. I didn't know if I was going to play any longer. And Saban was fabulous. He said, 'Get your family in here. Go buy some land, build a home,' and we've been here for 43 years.
"I enjoyed playing for the Jets and in the Super Bowl and the All-Star Games. To be a part of the (AFL-NFL) merger, that was a big part of saving football because they needed us because we had (quarterbacks) Johnny Hadl and Lenny Dawson and Joe. We were throwing that football better than a tennis ball. And then coming to Denver and playing here (for nine seasons) and going to Super Bowl XII with the Orange Crush in 1977, you can't ask for much more than that. I look back now and have very fond memories."
Following football, Turner hosted a sports talk radio show in Denver and was an NFL game analyst for NBC Sports. He and his wife, Mary Kay, are now retired. They have three daughters and eight grandchildren.
"They're all active in various sports. One of my granddaughters is a tremendous volleyball player. A grandson is a terrific little tennis player. And another grandson is great at soccer. My wife will say, 'OK, you've got to go to this side of town, and I'll go to the other side of town, and we'll try to catch everybody,'" Turner laughed. "It's fun. I just enjoy them. I enjoy them a lot."