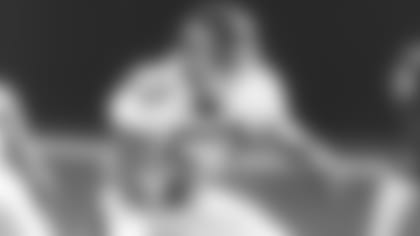 Three things were certain from December 9, 1984 to December 24, 1994 – death, taxes and that Jim Sweeney would be a starter on the Jets' offensive line.
"I wanted to play in as many games as possible and I understood that there aren't a whole bunch of opportunities," said Sweeney, who would start in 158 consecutive games. "I just loved to play the game. It was what I was meant to do. So, if it was what I was meant to do, I didn't want to waste a little bit of God's talent because I don't want to show up at the pearly gates and have him say to me, 'Hey, you wasted my talents.' I wanted to make sure I utilized every gift he gave me. I figured play as long as you can, play as hard as you can, and play as often as you can."
Drafted out of the University of Pittsburgh in 1984, Sweeney was named to the All-NFL Rookie Team. After making two starts to close out his first season, he was the starting left guard in 1985 and moved one step to his left the following two seasons to start at left tackle before moving to center in 1988.
"That was my natural position. All through grade school, high school and most of college, I was a center. I was just able to play other positions. I have to give a lot of credit to my father who said, 'The more you can do, the longer you'll stick around,'" Sweeney said. "When I was at Pitt, I played different positions. I had a pretty good coach, Joe Moore, who wanted players to play more than one position. He would rotate me in at guard, so that's where I first got my playing experience.
"We really didn't have a set position. It was always, what can you do? What could you do for the team? I learned that early, about team concept, that you're not just a positional player. You're an offensive lineman."
Enjoying a 16-year NFL career, Sweeney played 11 seasons with the Jets, one with the Seattle Seahawks in 1995, and four with the Pittsburgh Steelers from 1996-99.
When did he begin to contemplate a second career as a coach?
"Probably before I even hung up my cleats," Sweeney said. "My buddy was the head coach at Duquesne University, Greg Gattuso. We went to grade school together, high school together, played against each other when I was at Pitt and he was at Penn State.
"He asked me when I retired if I'd be interested in coaching. And I said, 'Absolutely.' To the point where now he's my head coach again here at (the University at) Albany (NY).
"When he was (an assistant coach) at Pitt and at Maryland, he always wanted to be a head coach again and he likes this level, Division I-AA. We talked about it for 10 years. So, when he got the job, he called me and says, 'Are you in?' I said, 'I'm in.' That was the extent of our conversation. We're going on our sixth season."
Albany's assistant head coach/offensive line coach, Sweeney previously worked as an offensive line coach at Duquesne, a high school coach in Pennsylvania, an offensive line stand-in coach for the Arizona Cardinals and as an offensive line consultant for the Arena Football League's Pittsburgh Power. Even with this much experience, he still finds himself echoing men who've coached him along the way.
"I had a lot of great coaches and each one had a little different personality on how they wanted you to understand what they were talking about. And humor was a big part of that," Sweeney said. "I loved them all, they all taught me lessons. I don't necessarily coach like they did. I take little bits and pieces of what they did, put them together and then put my own spin on it. I mean, you're not going to reinvent the game, but there are ways to get your point across differently.
"I want (my players) to love the game because it's a hard enough sport when you love it to do it because it is a tough sport. The physicality is a big factor and there are no dumb guys playing football. I coach them like they're in the NFL. I make sure they know more than one position. They know mentally and physically how to do different positions, and that's a lot for young men.
Sweeney continued. "I used to tell my kids, 'Take the blinders off. The more you see around you, the slower the game becomes, but it also becomes more enjoyable.' I always knew what I could do as a player because I was inside my head. But to have the ideas and relay that knowledge to a young man, and have them love the game like I do, and learn the game like I have, that's pretty powerful to get someone to believe in what you believe in.
"And that's what's rewarding, that they put so much trust in you that they know that the only reason you're there is to make them successful. Not only as football players, but as students and as young men and eventually as husbands and fathers. That's our goal."
Making his home in Albany, Sweeney and his wife, Julie, have five children: Shannon, 25; Liam, 21; Aislinn, 18; Kilian, 7; and Teagan, 4.