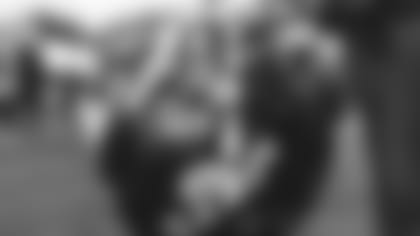 A Division III All-American offensive tackle who also set five school records as a kicker at Norwich (VT) University, Jim Luscinski wasn't chosen during the 1980 NFL Draft, but he still had a couple of opportunities.
"After the draft, I got a call from the Jets and they offered me a free agent contract to play offensive line. And then I got a call from the Cleveland Browns to go there as a kicker. They said I couldn't play offensive line and kick at the same time," Luscinski said.
"Well, I'd rather be an offensive lineman than a kicker. And they had (12-year veteran) Don Cockroft, so I figured I had no chance to get the kicking job in Cleveland. So I went to the Jets.
"And I was shocked a little bit in the beginning. When you get to the Long Island Express to get out to Long Island, you bring your bag, and all these other guys are showing up with bags from Penn State and USC and Notre Dame. I had all my stuff in a duffel bag. We didn't have team bags or any of that stuff."
Beginning training camp fourth on the depth chart behind Chris Ward at left tackle, the duffel bag-toting Luscinski felt his chances of making the team over those with monogramed luggage would improve by keeping an eye on the other end of the line, right tackle Marvin Powell.
"Basically, what I did was follow him around and mimic him because he was an All-Pro at the time," Luscinski said. "I'm very good at repeating what I see. I saw his footwork and his balance and the way he handled himself on and off the field, and I kind of figured that's the type of guy I want to be. That's the way I want to play.
"And he couldn't have been more helpful and more of a gentleman and not treating me like a (wet-behind-the-ears) rookie. He just treated me like a teammate."
Performing well in practice and the preseason, Luscinski moved up the depth chart by impressing his coaches – one, enough to have him not say anything, and another, enough to receive guidance on how to make the jump from a small university to the NFL – and came close to becoming Powell's teammate.
"Walt Michaels was my head coach," Luscinski said. "He didn't really say much to anybody. You just didn't want him calling your name.  Bob Fry, he was the line coach that showed me more footwork and how to handle yourself in different positions.
"There was a 41-man squad. And that Tuesday (before the season-opener), we were down to 45 guys and they had to let four of us go. I was one of the last four."
Viewing the games from his living room couch instead of playing in them in 1980, when the season ended Luscinski's phone rang again. This time the call came from the NFC Champion Eagles.
"They moved me down to Philadelphia for the offseason, promising that if I signed with them, they wouldn't draft an offensive lineman. And then they drafted an offensive tackle (Utah's Dean Miraldi) in the second round," Luscinski said.
Luscinski went through the Eagles' training camp and had the same experience he did with the Jets – being one of the final cuts.
"As soon as I got cut, I called (the Jets' pro personnel director) Jim Royer and asked him if they needed any offensive linemen," Luscinski said. "He told me they were full, but to call him every Monday morning during the season and if an offensive lineman gets hurt, that they'd pick me up and bring me in to play. But they went the whole season without having an offensive lineman go down."
The third time was the charm for Luscinski. After coming so close to making the final rosters and having to sit out two seasons, he had the attention of more than a few NFL teams leading up to the 1982 campaign.
"I got letters from a bunch of different teams that wanted me to sign with them as a free agent. Like Denver, Miami, Washington," Luscinski said. "And I figured, well, if Jim Royer had confidence in me for me to call every week, I was going to go with them."
Making his debut on November 21 against Baltimore, the third game of the season and the first one following the 57-day players strike, Luscinski was excited to lose the picket sign and take the field.
"I was psyched. Everybody I knew was real happy for me. My parents were ecstatic," Luscinski said. "And, you know, you're real proud of yourself, but it's just the work you put in one day at a time, every time, every day, every play, every practice. You just work as hard as you possibly can and try to get a little bit better every day. And sure enough, I guess that I was as good as most of the guys there."
In 1983, just days after new head coach Joe Walton announced that Luscinski had earned the starting spot at left guard, the Jets traveled to Cincinnati for a nationally-televised preseason game against the Bengals.
Unfortunately, it would be Luscinski's final game in the NFL.
"I broke my neck on the field," he said. "They had a front where the nose man went around to the left, away from me, and they were bringing the defensive end around from the other side. I went towards the nose man, but he was gone.
"I saw the defensive end come around, so I kind of reached out to try to cut him and got my head caught in his hip and it jammed my neck straight down and broke three vertebrae and what they call a subluxation. The dislocation of a vertebrae."
Luscinski's last game ironically produced his fondest memory as a Jet. More so, perhaps, because of what that night meant 490 miles away from Cincinnati.
"My fondest memory was probably running out there to start," Luscinski said. "Because I knew I was going to start, my parents had a big party at the house in Boston, Massachusetts. And as soon as the game started, some people started talking and my mother threw everybody out of the house except for her and my father because you don't talk when Jimmy plays football."
As challenging as it was for Luscinski to play in the NFL and subsequently recuperate from his injury, that may pale in comparison to some of the things he's gone through in his life after football. He, however, was up for the fight then. Just as he surely is now.
"I became a stockbroker in Boston for nine and a half years until I came down with cancer. And then I was a mortgage broker for 10 years," Luscinski said. "And I went to (my alma mater) Hanover (MA) High School to coach, and was the head coach there for two years.
"And when I was a mortgage broker and the football coach, that's when I came down with Guillain Barre Syndrome. That left me (temporarily) paralyzed from the waist down and in both of my arms.
"It took so long for them to diagnosis it that did an awful lot of nerve damage in my legs and arms. It killed a lot of the nerves. You have what they call proprioception in your feet which keep you balanced, and that kind of wrecked the nerves and I had a hard time standing up. It still sends pain signals and I'm dealing with it now. The pain never goes away.
"And I just came down with two different types of cancer a month ago. But I'm going to beat both of my them. I had colon cancer and esophageal cancer at the same time and I'm in the middle of recovery from both surgeries, but I'll be fine."
Luscinski and his wife, Lisa, have "more than 100 kids. All the kids I ever coached," and make their home in Hanover.
"When I was coaching, I'd invite different kids over for dinner and talk to them about where they're going to go, what they're going to do," Luscinski said. "They all end up on the straight and narrow if you treat them like a human being instead of a chess piece on a football board."