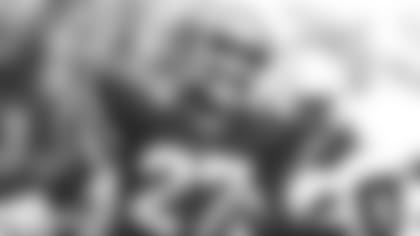 Coming out of the University of Colorado two years before the Scouting Combine began in 1982, Jesse Johnson and other NFL prospects would travel around the country to meet with and be evaluated by teams.
Johnson liked what he saw during one of his stops when he visited the Jets' facility at Hofstra.
"The Jets had a number of athletes who were college seniors at the time going through this process," Johnson said. "There were four of us from University of Colorado that made that trip and we were all happy with those in the organization that we met, mostly the training staff, a few of the coaches. It seemed like they were headed in the right direction and I thought I would like to be in that organization."
The feeling was mutual, and the Jets selected the defensive back in the fourth round of the 1980 NFL Draft. Johnson became more assured that he was in the right place during training camp when he got to know his new boss, Head Coach Walt Michaels.
"He told me out of the gate that he was expecting me to be on the field, to play, contribute. And that everybody was going to be reviewed. Who would be starters would be those that earned the spot. So he was very forthright with me," Johnson said.
"Walt and I had an extremely good relationship. We were actually probably closer than most people. He would encourage you to work on the skillset that you need to build, so that the defense could utilize more set matchups against the other team's strengths."
Other team's strengths, however, got the better of the Jets in 1980. Losing their first five games and finishing 4-12, their game tapes from that season assuredly aren't playing on a loop at the Pro Football Hall of Fame.
But the following year, the Jets almost reversed that mark by going 10-5-1, and they made the playoffs for the first time since 1969. The key to the turnaround wasn't only what happened on the field, but what happened in the locker room, as well. The players believed in one another.
"You know, to this day, most all the defensive backs keep in touch that are able to," Johnson said. "During that period of time that we were on the team, we were really a brotherhood. The defensive guys knew that we had to play well all the time. And if we made a mistake, nobody jumped on anybody. There was a lot of young guys on the team, rookies. Gosh, I think there were three of us in the defensive backfield, the guys that were rotating in and sharing a lot of time.
"So we had the skillset to play. We were getting coached well. It just took experience. You just can't jump into the high level of ball that we were playing at the professional level. Even out of college, no matter how good you are, people can say that you can, but you can't at that position. There's just too many talented wide receivers and offensive coordinators and offensive sets that you have to become familiar with and understand and learn. So it takes experience. And the Jets were willing to allow us to get that experience."
During the strike-shortened 1982 season, the Jets experienced something for the first time since Super Bowl III – winning in the playoffs. In fact, they beat the Bengals and the Raiders before traveling to Miami to battle for the AFC Championship. The Dolphins won the rain-soaked title game in the Orange Bowl, 14-0.
"It's a matter of opinion because I wasn't in the offensive game planning, but we had set up for more of a speed finesse game in that weather. We tried it and wound up throwing a couple interceptions early and it put us behind," Johnson said. "And then there was one call in the game where Abdul Salaam hit the tight end and the ball came out. We recovered it, but they didn't have replays back in those days, and they gave it to Miami and it kept that drive going. If we would have turned that around, they wouldn't have scored the second touchdown.
"But it was a tight game even with the errors that we made. It was just disappointing as it would be with anybody. Anybody that goes to championship and you don't win it, it's disappointing because it's tough to get there.  
"One thing that I wanted to share was a great kind of mentoring part of my life with Walt Michaels. I actually rode back from the championship game with Walt. Him and I sat together and I saw a troubled man in how he was taking that defeat, and I got to speak to him in capacity that wasn't player to coach, but a young man to a man who was troubled by some things that were probably out of our control."
With the Jets for four seasons, Johnson's versatility proved to be valuable insurance for the team.
"It was a good feeling because Walt trusted me to do that," Johnson said. "I knew every defensive position in the backfield, but it didn't allow me to hone one specific skill. I started in a number of games throughout my career, but didn't become that penciled-in player at that one position.
"But I was the guy that didn't bark and moan and groan and pout because I didn't get what I thought I deserved; I knew I had to contribute when called upon to do what was necessary."
What are among the fondest memories from Johnson's time with the Green & White?
"The DBs, all of us were located in the locker room in a corner and we really became very tight. We would attack anybody that came in there. A few offensive linemen would sneak in and try to get some snacks that we had, and we would gang up on them instantly," he laughed. "All in fun, nobody got hurt. But it was those things that were good days.
"As far as on the field. There were a lot of good memories. Against Green Bay, I'm not sure if it was '81 or '82, [Dec. 20, 1981] we beat them (28-3) and the (New York) Times had a photo of myself, Darrol Ray, and I think, Al Washington. We were standing over somebody. It kind of showed we were moving forward, and that was a real good feeling. I remember it because it meant that we were gaining ground and becoming a contender. And that's what you play the game for, ultimately, to win. It's not how good you played, but that you won."
Now enjoying retirement, Johnson worked for the Altria Corporation for 29 years.
"I had a wonderful career there," Johnson said. "I went through several management positions, and the last one was a regulatory inspector position where I traveled the world and performed inspections and audits on their vendor partners and for their operating companies."
Johnson and his wife, Latasha Clark, have three children and four grandchildren.
"She's an angel. She treats cancer patients," Johnson said. "We do the snowbird thing, but our home is in Midlothian, Virginia. We traveled down to the Naples (Florida) area where she treats out of four different centers."