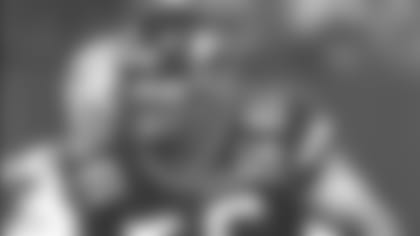 Sure, ESPN's Mel Kiper offered his opinion and demeaned the choice by essentially saying the Jets had no idea what they're doing. But New York's selection of Jeff Lageman with the 14th pick in the first round of the 1989 NFL Draft turned out pretty well.
"I'm glad I wasn't one of those guys that was just sitting there watching TV and listening to the reaction of it because it was certainly a controversial pick and one which some of the Jets fans certainly booed very loudly," Lageman said. "Even though I laugh about it now, when I was younger I certainly wanted to rip Mel Kiper's head off and do things to him that most people wouldn't want to think about. But now that I'm older, it's not a big deal.
"The one thing about that moment, and I look at it from a perspective of you've got a lot of young men that are realizing their dreams, to have an analyst potentially ruin it or to make it not as great as it should be, that can be a shame."
A Mike or strong-side inside linebacker at the University of Virginia, the rookie was asked to play a new position – outside linebacker. He started all but one game and totaled 4.5 sacks and 72 tackles. The following season under new coach Bruce Coslet, he was asked to play a new position again – defensive end.
In 1991, Lageman had a Pro Bowl-type season with a career-high 10 sacks and helped the Jets post an 8-8 record and reach the playoffs as a wildcard team. It was their first trip to the post-season in five years.
"We played well. We got better on defense and offensively we didn't make a lot of mistakes. To say that we were a great football team I think would probably be a little bit of a stretch because we barely made it into the playoffs," Lageman said. "But it was a great year. I had a lot of respect for our head coach Bruce Coslet, one of my favorite head coaches that I ever played for as far as the personal relationship. I loved the guy and was very fortunate to play for Pete Carroll, who was the defensive coordinator.
"It was a lot of fun to play on that football team with some great teammates like Ken O'Brien, James Hasty, Dennis Byrd, Marvin Washington, Kyle Clifton, just great relationships."
During his six seasons with the Jets, 1989-94, Lageman recorded 34.5 sacks and 349 combined tackles.
"I think the greatest part of the game is the stories that you get to carry with you forever," said Lageman, who concluded his 10-year NFL career with the Jacksonville Jaguars. "And not just stories from the game, but stories of the people that you got to encounter and the moments that you would have never been able to experience otherwise."
And even though Lageman didn't experience a winning season while with the Jets, he was able to develop a "tremendous friendship bond" with a teammate, the late Dennis Byrd.
"It didn't start out that way because when we were drafted, they put us together as roommates. I remember after one weekend of mini-camp, I was like, 'I've got to find another roommate,'" Lageman laughed. "Every night he'd be on the phone with his wife, Angela, 'I love you. No, no, no, you hang up the phone first.' I mean, my God, I was going crazy.
"But we became great friends and we got to share a lot of things as teammates. But after his (career-ending spinal injury in 1992), our relationship really expanded. Our passions merged, which was the outdoors, and we'd make trips out west and do all kinds of hunting experiences.
"I learned a lot from him. Some of his thoughts were pretty amazing as far as how advanced thinking he was when it came to putting thoughts down on paper, whether it was keys to success, how to be great. I have some of his writings and when you look back on it, you sit there and go, 'Wow, he was right on the money.'
"He was a tremendous person and obviously he had some battles that he was going through before he lost him (because of an auto accident on October 15, 2016). I stay in touch with wife and the kids through Facebook. He's still a special part of me."
Now making his home in Jacksonville with his wife, Tera, and their children: Dylan and Taylor; Lageman is a color analyst for the Jaguars' radio and television broadcasts.
"I have never been one to sugarcoat things, but I think there's a very respectful way to go about it," Lageman said. "The way I've always looked at it is you can criticize the play or the performance, but to me, you don't criticize the person. I think there's a difference. I always try to be honest."
Lageman also co-hosts a long-running weekly radio program, the Nimnicht Outdoors Show. "If you can imagine what sports talk is today and you take that platform and instead of football, baseball and all the major sports, the sports that we talk about are hunting and fishing. Here in Jacksonville, we have a little bit of an outdoor paradise. We have the ocean, saltwater marshes, and some unbelievable freshwater fishing, and also hunting opportunities in this area."
Away from football, fishing and Jacksonville, Lageman owns a timber farm, Ochwalkee Creek Plantation, in Georgia.
"The passion of being outdoors and also the desire when I was a kid and was around farming, I always wanted to be a farmer," he said. "So, in 2006, I bought a piece of land that I grow trees on, whether they be pulpwood or saw timber or the different timber markets that are available. It's 954 acres and I'm the manager and call all the shots."