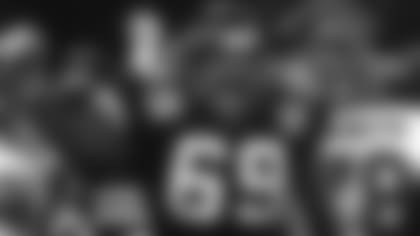 The 1987 NFL strike turned out to be an audition for Jeff Criswell.
Undrafted in 1986 when he came out of NAIA Division III Graceland University, the offensive lineman was on Indianapolis' replacement team for three games and caught the attention of other teams around the league.
"I had an agent; I think I was his only guy. And evidently, he had talked to a lot of the teams about me prior to the '87 season. No one picked me up," Criswell said. "When I was released after the strike, I did have about five other teams that wanted to bring me into (the 1988) training camp.
"So, we did a little investigating to what we thought teams were going to do, who they were going to draft, what their strengths and weaknesses were on the offensive line. And we came up with out of five teams, that the Jets would be my best opportunity.
"Unfortunately, our research on the team wasn't quite what we thought it was going to be. They ended up keeping all the guys that they had from the previous year and they brought in three draft picks. It was pretty stacked, but I had a little leg up because I did really well in the mini-camp, and I was there for the OTAs."
Criswell initially backed up that year's top draft pick Dave Cadigan at tackle and Mike Haight at guard. He then took over the left tackle position after Cadigan suffered an injury during practice after the fourth game of the season.
He played well, impressed more than a few people, and basically stayed put on the left end of the line.
"I got a lot of press because I was a nobody from nowhere," Criswell said with a laugh. "I wasn't really anybody's guy with them bringing in first- and fifth-round guys. I kinda caught (pro personnel director) Jim Royer's eye. I think he was a guy who was in my corner as things continued to develop. And, of course, Joe Walton was the coach, and he liked me, as well."
Developing into a cornerstone at left tackle, Criswell was with New York for seven seasons from 1988-94. What are the fondest memories from his time with the Jets?
"Making the team and finding out that first week of the regular season that I was not only on the team, but I'd be contributing. That was exciting," Criswell said. "Of course, winning football games is the name of the game once you finally get over the feeling of, oh, wow, I made it. Now we've got to win some football games. We did make the playoffs one year, '91.
"And the other thing, almost every guy I know that's been out and played as long as I did, you miss the camaraderie. Playing for the Jets was a great experience. Although we didn't win a lot of games, we definitely had good teams and there were good players on those teams."
In a league where the average length of a player's career is less than four seasons, Criswell played 12. The final four years, 1995-98, with the Kansas City Chiefs. The key to his longevity?
"I think for the most part, some of it was luck. To be quite honest," Criswell said. "I have faith in God, I'm a Christian. I think God had a plan for me not only during football, but well outside of football. And I'm still on that plan.
"But to play as long as I played with not really having any serious injuries – over time I think I had two or three injuries, so the injury bug did not catch up with me like it did with a lot of guys I played with – that was all part of it, as well."
Retiring after the 1998 campaign, Criswell became involved in various small businesses in Kansas City before heading east and embarking on a new career.
"I moved to Connecticut about five years ago with a college sweetheart of mine, Lisa Sullivan, and got my real estate license," Criswell said. "I'm independent, but I do work with Berkshire Hathaway. I've been doing it locally, but I've been involved in various real estate opportunities over the years for myself where I didn't have to be a licensed agent to do it."
Two years ago, Criswell looked at his past and returned to football, and is the offensive and defensive line coach at Brunswick School in Greenwich.
"I didn't know if I would have the passion to be a coach, even at the high school level," Criswell said. "But I can tell you, I've really enjoyed it. To take my trade and skills that I've learned over the course of a hundred years and put that towards teaching young men how to play and so forth has been gratifying.
"Helping them live vicariously through your life experiences, that's what teaching and coaching is really all about. Obviously, we want to win. We put much effort and time into it and teach them how to win graciously and lose graciously, as well."
Making his home in Greenwich, Criswell has a daughter, Hailey, who was a standout volleyball player at Missouri Valley State and is now a nurse in Kansas City.