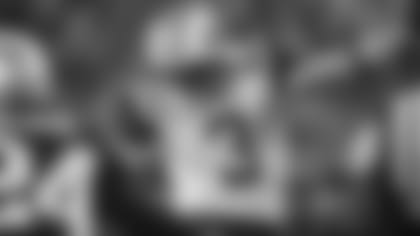 Jay Feely wasn't assured of anything.
In 2008, after seven years in the NFL with the Falcons, Giants and Dolphins, he was waived by Miami during training camp. And then was waived again by the Chiefs two weeks later.
"It was a weird part in my career, and the weirdest part was I had led the league in field goal percentage the year before," Feely said. "I had been a captain for the Dolphins. I was Man of the Year for them. I was a player rep. So everything had gone, for me, really well during that season even though we had a terrible year. We went 1-15.
"And then (Bill) Parcells came in (as Executive VP of Football Operations) and pretty much just got rid of all the veteran guys on the team. So I kind of knew I was probably going to get cut. And it had nothing to do with me or my performance, which is kind of tough.
"So I get cut and go to Kansas City. Mike Priefer, who had been the special teams coach with the Giants was there, so I knew him and thought it'd be a great fit for us because we really liked each other. I went 15 for 16 in the practice, the only one I missed was like 55 (yards), and then got cut after practice.
"Mike apologized profusely. So did (Head Coach) Herm (Edwards). Said it had nothing to do with me. And you're like, 'How is this happening right now? Is my career going to be over after I just had the best year of my career?'"
The simple answer is no. In the Jets' 2008 season opener in Miami, fourth-year kicker Mike Nugent injured his thigh in the first quarter, and Feely, who was still living in South Florida, received a phone call.
"I get a call from (General Manager) Mike Tannenbaum at halftime," Feely said. "He's like, 'We need you to come up to New York.' And I joke with him, 'Hey, I'm 10 minutes from the stadium. I can be there before halftime's over.' And so I was on a flight before that game even ended."
"They brought in three or four guys, but Mike Westhoff, who was the special teams coach at the time, pulled me aside before the workout even started, and kind of like only Mike can do, said, 'Hey, you're my guy. Go out there and kick the way I know you can kick and we'll sign you right after this workout.' So I went out there and kicked well and they signed me."
After connecting on 24 of 28 field goal attempts and all 39 extra point tries, the Jets kept Feely on their roster in 2009 when Rex Ryan replaced Eric Mangini as the head coach.
"The two coaches couldn't be any different, and it's always fascinating to me to look at head coaches and to see how they run their teams and what their personalities are like," Feely said. "Eric Mangini is one of the smartest coaches I've ever been around. When he did a Monday meeting, he could tell all his players everything about their tendencies, who they are, and the way they're going to approach the game. So to watch him was fascinating. But Eric's fault was, he didn't develop relationships with players. And he's a good guy when you get to know him. I always felt if he let that personality come out when he was the head coach, he would have been a lot more successful.
"Then with Rex as the head coach, my personality matched perfect with his. We had a blast. He loved the fact that I was aggressive, that I would go down and hit on kickoffs, and that I was just one of the guys in the locker room.
"On Day 1, he told me I was his 'make it right guy.' He said, 'I don't like to fine players. So if a guy is late or whatever, you go and collect X amount of money from him for the 'make it right' fund. Keep all that money and then take the guys out to dinner.' And I was like, 'Well, that job sucks. I don't want that job.' And he's like, 'No, you'll be fine. You're my 'make it right guy.'
"Rex was just a blast. I had more fun playing for him because you never knew what was going to happen. And it was always something exciting or funny or crazy. It was fun to come to work every day."
And in Ryan's first season, the Jets worked more days than they had in four seasons. Finishing with the same 9-7 record that they had in 2008 when they didn't make the playoffs, this year they'd advance all the way to the AFC Championship Game against Indianapolis.
"In 2008, if Brett Favre's arm doesn't fall off, I think it was a Super Bowl team. Brett tears his bicep and tries to play through it and just can't throw the ball. We become one-dimensional," Feely said.
"And then with Rex, he did a phenomenal job despite Mark Sanchez being a rookie quarterback. He did a great job of getting the most out of that team. And with Mark, it was don't screw it up, at that point. I remember he told him after a four-interception game at a team meeting, 'Hey, if you don't throw an exception, we'll win.' And we did all the way to the AFC Championship."
With the Jets for two seasons, Feely went on to play four seasons with Arizona and one with Chicago. Over 14 years, he played in 211 games, and tallied 332 field goals and 449 extra points. What makes Feely most proud of his career?
"I think that I was a survivor," he said. "That I wasn't given anything. That I was brought in as a camp guy and not expected to win the job. I had to make my way. I survived for 14 years and then I was able to parlay that into another job where nobody expected me to succeed."
And again, Feely has proven any naysayers wrong. Joining CBS Sports as a college football analyst less than a year removed as a player, he has been an NFL game analyst and sideline reporter for the playoffs since 2017.
"CBS gave me a shot and said, 'We'll let you do one game and see how you do.' I did BYU - Middle Tennessee State and had no idea when I finished the game if I was terrible, if I was good, because it's so subjective. They kind of liked me and Ross Molloy, who is the head of talent at CBS, I give him a ton of credit because he's the one who believed in me, said, 'Hey, I think you can do it,' Feely said.
"My back had given out on me, and I just couldn't kick anymore. I would say it was like I was hitting off the tee with a 3-iron. I didn't have a driver anymore. And so it was a good time for me to kind of take that next step. And it keeps you around football. I think the thing that you miss the most when you're done playing is the relationships. You kind of still have that when you're working in TV."
Feely will join Jim Nantz, Tony Romo and Tracy Wolfson calling the AFC playoff game between the Bills and Dolphins for CBS on Sunday, January 15.
He and his wife, Rebecca, make their home in suburban Phoenix, Arizona, and have five children: Lexi and Delmonte, who are each married; Jace, who is also a kicker and just transferred from Arizona State to the University of Colorado, where he'll play for Deion Sanders; and Abby and Olivia, who are in high school.
On the Board for Klein Tools and a defense company, Strongwatch, Feely also co-owns a medical company and is involved in a real estate business in Arizona.
"We've got a 60-home development, that we just completed our first 30 homes," Feely said. "And so, yeah, I've got my hands in a lot of different areas."