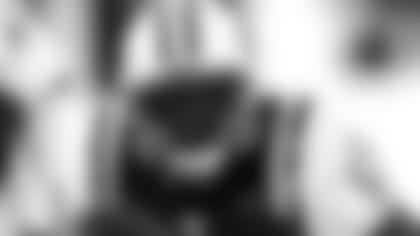 It's 2001, and you're first-year Jets head coach Herm Edwards. What's better than having one Glenn on your team? Two Glenns.
So, when rookie linebacker Jason Glenn, who was drafted by Detroit in the sixth round out of Texas A&M, was waived by the Lions, New York signed him and he became teammates with his brother, veteran Pro Bowl cornerback Aaron Glenn.
Because of a seven-year age difference, this was the first opportunity they were able to be on the same team.
"It meant a lot," Glenn said. "It helped me get accustomed to the NFL a lot faster than probably most rookies. I lived with him and it was a day off every Tuesday, but not for me. We worked out in the morning and came home. He had a long-term plan set for me, what I wanted to do and what I wanted to get out of football."
With the Jets for four seasons, 2001-04, Glenn contributed mostly on special teams and as a backup linebacker. He concluded his career by playing two seasons with the Miami Dolphins.
Glenn is now the athletic director and head football coach at Klein Oak High School in the Houston suburb of Klein, Texas. How did playing in the NFL help in his second career?
"Well, obviously there's a big difference between playing and everything else, but the thing that helped me most was relationships. Learning how to deal with different people, different backgrounds, different cultures," Glenn said. "When you're playing, you have so many different types of personalities, so many different types of people to get along with to make it work.
"As the A.D., I have the same thing with kids. There's so many different kids that you've got to adjust to. One thing Coach Herm Edwards told me was, 'I will not treat everybody the same, but I will treat them all fair.' And I treat my kids fair. You've got to know their background, what they have going on at home, what type of parents they have, single mother or both parents at home. It taught me how to deal with different types of personalities in different kids. That's more important than X's and O's."
The head coach for the past two years after spending five years as the school's defensive coordinator, Glenn has found himself saying things that he picked up from Edwards while playing for the Jets.
"We were his first group (in New York). And with that being said, everything that he said, we hung on to it," Glenn said. "I've always wanted to be a coach. I wasn't sure at that time at what level, but I was leaning towards being a high school coach more than anything. So, I just took whatever he said in our meetings and wrote them down and wanted to use them for myself.
"I love Herm. I try to talk to him whenever we've got time. He's a great mentor for me as far as a head coach. You've got guys like him, (Pittsburgh Steelers head coach) Mike Tomlin, they're all on the same (Hall of Fame coach Tony) Dungy tree. So, I try to emulate what those guys do because they're successful. I believe it can work at the high school level."
Klein Oak is a class 6-A high school with around 4,000 students. There are 330 boys in grades 9-12 who participate in the football program. And while Glenn calls it "a blessing to be in a position to be a head coach in Texas" and was successful last season with a 10-3 record, he greatly appreciates that he's able to help students achieve away from the game.
"It's rewarding. First of all, we have an outstanding school. It's a really, really good school," he said. "We have some really good kids here. Some need that father-figure to help and I have some great coaches here that believe in the vision that we all have. That's what we enjoy most, helping kids off the field more than we do on the field."
Glenn and his wife, Terrika, make their home in Klein with their two children. Their daughter, Kaidance, who is a sophomore and plays on the basketball team, has a connection to her dad's days with the Jets.
"(In 2002) we were actually on the plane to go play the Chicago Bears and my wife's water just broke," Glenn said. "I ran to the front and told Coach Herm to stop the plane. He stopped the plane on the runway and let me go watch my daughter be born. I had to fly out the next morning to go play."
Their son, Jason II, or J.R., is in the sixth grade. "He's very much into academics. He's an extremely intelligent young kid. Just this morning in the car, my son was explaining to my wife the difference between talking Mandarin and Japanese and Chinese," Glenn laughed. "We were all just sitting there listening to him. He's trying to pick what third language he wants to speak."