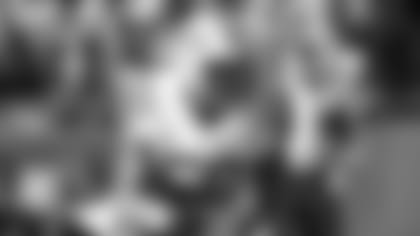 A free agent in 2014, 10-year veteran and two-time Pro Bowl defensive end/linebacker Jason Babin brought his 130 games of experience and 64.5 sacks to the Jets for basically one reason.
"Well, truthfully, I didn't have a Super Bowl ring and still don't," Babin said. "They were one of the options of teams that were looking like they were going to make a playoff run and needed a pass rusher. So it was an opportunity with hopefulness of making the playoffs."
The head honcho of New York's hopefulness, Rex Ryan, in his sixth year as the Jets' head coach, made an immediate, not to say, an undoubtedly memorable first impression.
"I had not known Rex before I got there and came into his office, and so keep in mind this was right around when the whole foot thing come in public," Babin said. "I'm sitting there in his office and I see a picture of his wife and she's got her feet kicked up. The feet are in focus and she's a little bit blurry. And I'm thinking to myself, 'Dude, no way.' He catches me staring at the picture, and he knows what I'm thinking, right? It was obvious, I guess. He looks at me and smiles, nods his head, and is like, 'Yeah, baby. That's me.'
"I was like, 'Well, if that's what a man does.' So first of all, I appreciated it was, 'Alright, I'm not going to give some bullsh** excuse.' He just owned it without saying a word. And two, he was very straightforward. 'I know where you're at and know what you've done. I know what you bring to the table from a physical standpoint, but I want you there as well as a leadership standpoint. Teaching these younger guys.'
"Football is a game of highs and lows. How you handle it usually dictates the outcome of the season. So I understood my role, coming in as a veteran to produce and a veteran with leadership qualities, as well, that will help the team get to the goal. So he knew why I was there. I made no bones about it. I wanted the ring."
Unfortunately for Babin and his teammates, earning that special piece of jewelry wasn't a possibility that season. A 4-12 record will do that. But the veteran had been through disappointments before in his career and kept a forward-looking attitude.
"I was one of those people that wouldn't say it's come natural to me, but I've always been able to find the positive in every situation and keep it going," Babin said. "I mean, loved playing football. I would still be playing right now if by some miracle I could physically do it. It's not hard when you kind of look at it from that perspective."
With New York for just one of his 12 seasons in the NFL – Babin also played for Houston, Seattle, Kansas City, Philadelphia, Tennessee, Jacksonville, Arizona and Baltimore – his time with the Jets may have been brief, but it left him appreciative of the experience.
"I really knew nothing about Long Island and the people of Long Island. We went there to do some practices at the old facility and I was like, 'Oh, Long Island people. Those are my people,'" Babin said. "I really figured that out quickly. They're just salt of the earth, good people. Loved football. Loved America. I just had a much better understanding of Long Island. That was a cool moment for me, personally."
Babin experienced another "cool moment" as a Jet before the 2014 season-opening 19-14 victory over the Raiders at MetLife Stadium.
"They did a flyover and there was still that patriotic, football, 9/11, New York, just that emotional feeling that happens at that moment. You could feel it in every person in that stadium, which I thought was super cool," said Babin, who had a sack and two solo tackles in the game.
Retiring from the NFL in 2016, Babin began working on his second career of developing neighborhoods, building homes and commercial spaces while he was still playing.
"We're an outdoor design company, and then we also implement all of the facets," Babin said. "Someone comes in and says, 'Hey, I have a blank slate' or 'I have something dated,' we'll come in and help them within their space. Design it. They want cabanas; they want a pool, they want landscaping, lighting. What product do they want to use, contemporary or traditional? So we help them develop a concept and then build it out.
"I've always enjoyed the creative space. It's that starting with a blank slate, listening to the customers, and me helping read between the lines and understanding what they want and what they say they want are slightly different.
"And then we have the finished product and they're like, 'Oh, my gosh. This is what I wanted. I didn't know I wanted this.' But I deduced that they really wanted this. So that aha moment when they first see the drawing and we first finish the entire backyard, those are kind of like my currency, if you will."
Babin, his wife, Sara, and their sons: Maddux, Talan, and Bronson; make their home in Ponte Vedra Beach, FL. Especially during the fall, Fiji Outdoors isn't the only thing that keeps him busy.
Maddux, a senior, and Talan, a sophomore, are following in their dad's footsteps and are starting linebackers on the Ponte Vedra Beach High School football team.
"I wouldn't say I didn't push them to do it, but I think it was inevitable when you know their personalities and what they like to do with their free time. They're normal boys. They like sports. They like outdoors," Babin said. "But, I think, they just growing up around the locker room and being around the fellows and going to games with me, they're like, 'Man, this is cool. I want to be a part of this. I want to somehow figure out how I can do this.' So they're so intrinsically motivated. It almost brings tears to my eyes.
"I started them working out, probably the older one started eighth grade summer. It's just a cool time for me. As the kids get older, it's harder to get one-on-one time when your parents are like, 'You're not cool.' But I've been able to steal some extra time in that world because of the situations: coaching them at their high school and working out with them. It's been awesome for me, selfishly. That's for sure.
"The older one's an outside backer and has gotten a bunch of (college scholarship) offers. We're going to try and narrow it down here shortly. When the season's over with. And the younger one's my starting middle linebacker. He's just now getting offers. So seeing them both out there at the same time, getting to coach them at the same time, it's been definitely pretty cool."
And what's the best thing about being Jason Babin today?
"I would say getting to be a dad and getting to be a husband. I think so much of my early-adult life was defined as a football player. It wasn't who I was, but it's what I did. It was just all-consuming," he said. "And then I made the transition to being dad, being a more present husband because of available time. And I guess coming at it from a selfless approach, all I want is to help everyone else achieve their goals and dreams. It's been a really rewarding past six, seven years for me, personally."